Epic skiing is synonymous with the Colorado Rockies. And with that comes iconic ski towns. Most of Colorado's resort towns grew into their role after years as mining camps.
These are the best ski towns in the state. Each of them has an awesome ski resort located only minutes from town. They feature some of the best ski slopes and village combinations in the country, welcoming guests from around the world for winter festivities. You can view a complete list of ski resorts in Colorado, to get a feel for what the Centennial State offers.
1. Aspen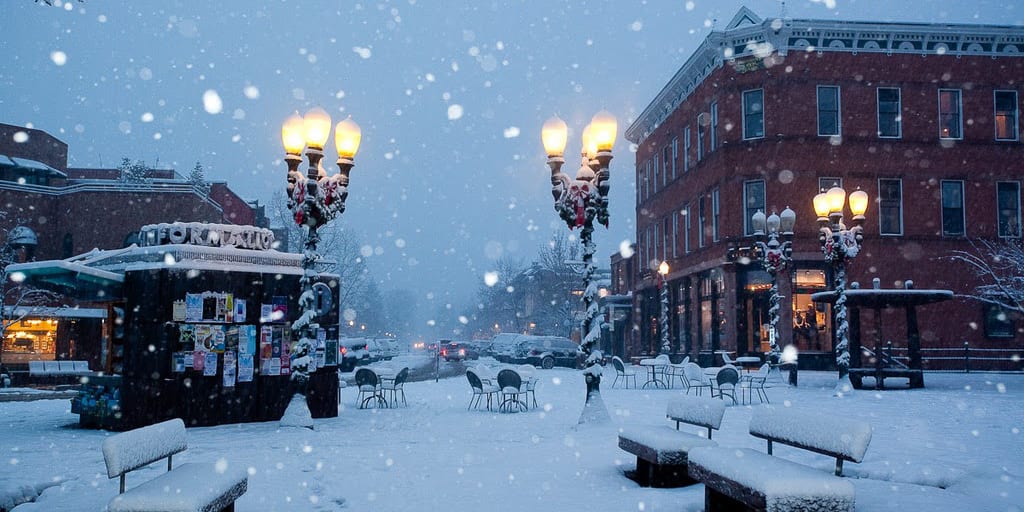 Aspen really has it all when it comes to a ski town. The beauty of this place is seldom matched, with expert ski slopes that flow directly into its impressive historic downtown. On top of that, there is skiing at three other mountains on the same pass: Highlands, Snowmass, and Buttermilk.
If you're more into shopping than skiing, Aspen is definitely your ski town. Famous brand-name stores line the streets, matched by some of the country's premier boutiques. Kemo Sabe offers among the finest handmade cowboy boots and custom-fitted hats, immortalizing the Old West.
Along with the "Power of Four" resorts, Aspen has lodging throughout its beautiful valley. Snowmass Village is another fun outlet for apres ski entertainment. It also boasts the most ski-in/ski-out lodging of any town in the state. A free shuttle connects all the ski areas.
2. Breckenridge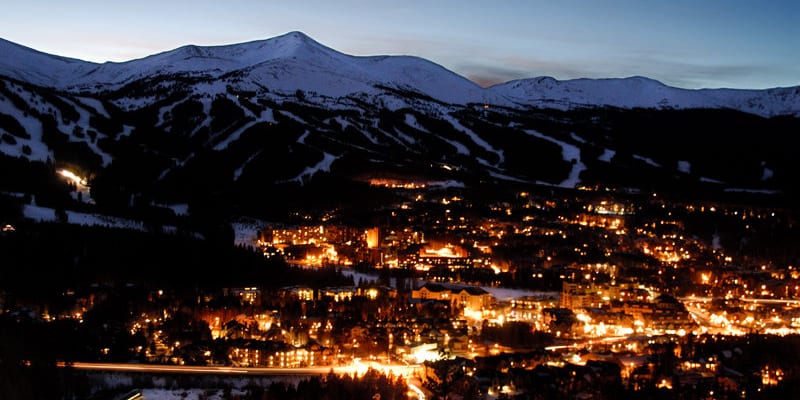 Sitting at the base of the stunning Ten Mile Range, Breckenridge is known for its high-elevation life. The former boomtown sits at 9,600 feet above sea level, making it the highest town on this list (Leadville, home to Ski Cooper, takes the cake for ski towns at 10,152 feet).
Breckenridge Ski Resort features five fun peaks to shred on: Peaks 6 to 10. Some folks will complain that Breck flattens out and is a beginner's mountain, but with 2,908 acres, if you can't find the expert line you're looking for, keep looking.
Breck's a party town that's absolutely loaded with restaurants and nightlife. You can't walk down the street for more than a few minutes without passing dozens of happy hour specials. And while Colorado's recreational cannabis is easily purchased around the state, Breck still makes itself known as the "Amsterdam of the Rockies."
3. Telluride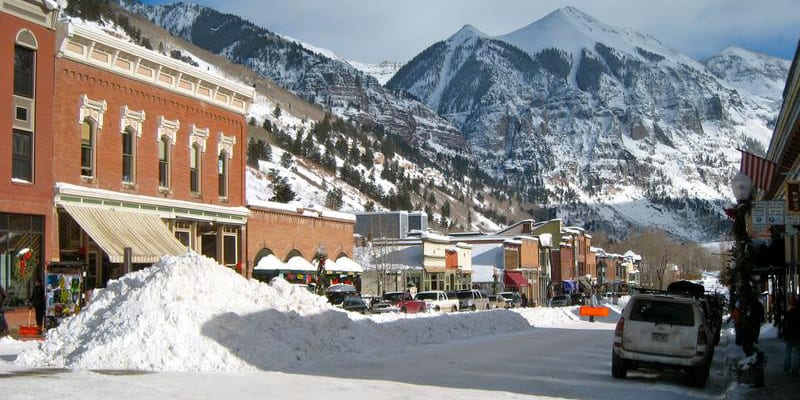 Few towns can match the natural beauty of Telluride's rugged box canyon. The Gondola rises directly out of its historic district offering unparalleled views and access to its internationally renowned slopes.
The ski trails begin at 8,750 feet and rise all the way to 13,320 feet (with a little hiking). This happens in the San Juan Mountains too, some of the state's steepest.
After skiing, this Old West town is just waiting to be explored. Low-key restaurants serve up fantastic fare. A separate mountain village offers even more options. Festivals happen nearly every weekend, keeping the spirits at a high all winter. This added to Telluride's remote location, making it a truly special place to be.
4. Steamboat Springs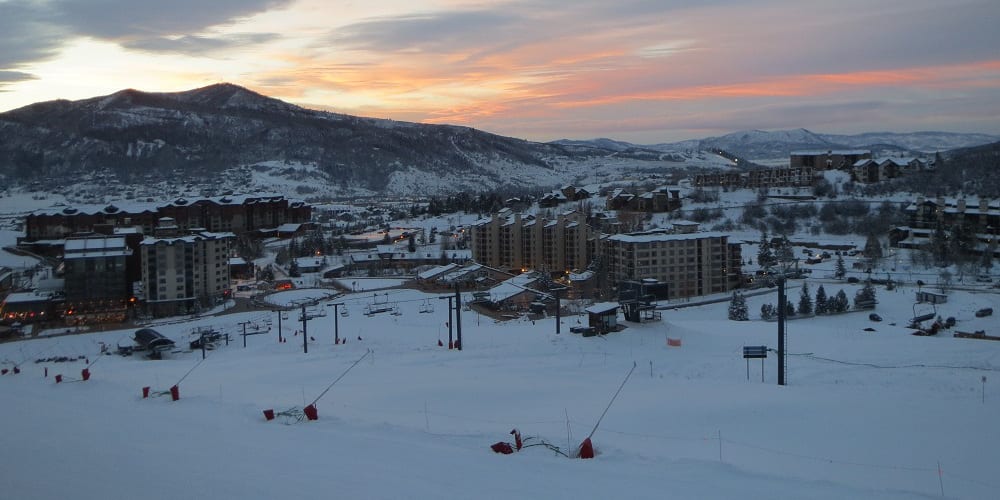 Steamboat is home to the best tree skiing in the state, bar none! Combine that with Champagne Powder and an awesome mountain town and you get tourists that turn into locals after the season's over.
Those who come to the Yampa Valley to live will never be able to leave.
That's the Yampa Valley curse put on the town by the Ute Indian Chief Colorow. So don't expect to leave this Western charmer without returning year after year. Steamboat's 2,965 acres and down-to-earth amenities will please nearly anyone.
Downtown Steamboat has everything you need for an epic ski vacation, including two hot springs: Old Town and Strawberry Park. While in town stop by F.M. Light & Sons for an authentic Cowboy get-up. They have been outfitting Routt County for over 100 years.
5. Crested Butte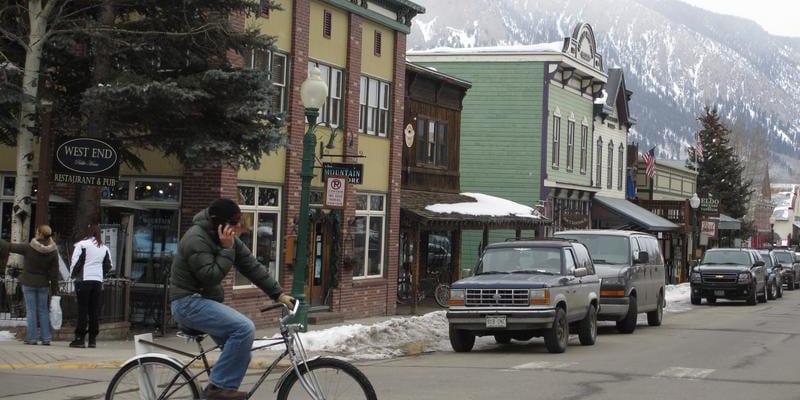 Crested Butte is often referred to as Colorado's "last great ski town". And for good reason, the town is sweet and the mountain scenery is spectacular.
The mountain makes the most of its 1,547 acres, with expert steeps and long, groomed cruisers. You can even ride its iconic butte if you hike a little. The Crested Butte Adventure Park will keep the kids busy while off the skis with tubing and mini golf.
Downtown CB is as picturesque as they come, lined with colorful Victorian storefronts and homes. Locals ride their bikes to the slopes, which are only five minutes away by car. A separate base village provides additional dining, lodging, and attractions. Families will enjoy frequent deals that combine lodging or airfare with free lift tickets.
6. Vail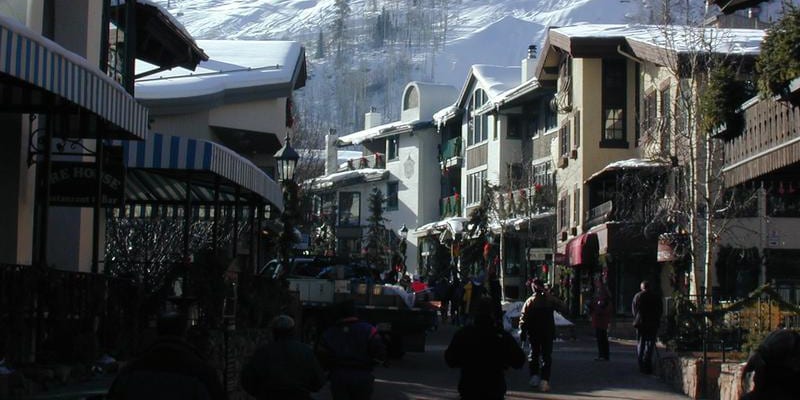 Of course, the biggest ski area in the state has an equally impressive home. Vail's Austrian-inspired village is absolutely gorgeous around nearly every corner. In addition to its two striking base areas: Vail Village and Lionshead, the Vail Valley is dotted with places to stay and play, including plenty of cross country ski and snowshoe trails, as well as I-70, which divides the town.
Much like Snowmass Village was combined with Aspen earlier on this list, Beaver Creek is with Vail. It's a Vail-owned resort nestled high behind a gate above its home in Avon, ten minutes from Vail on I-70. They also share a daily lift ticket so you can ride both in one day, but that's unlikely given their combined 343 trails and 7,121 skiable acres.
Nearly every business in both towns strives to deliver world-class service and experiences. Stay at either the Ritz Carlton or Osprey in Beaver Creek and you'll walk right out onto a chairlift. To escape the crowds, head into Minturn and grab a beer at the Saloon.
7. Winter Park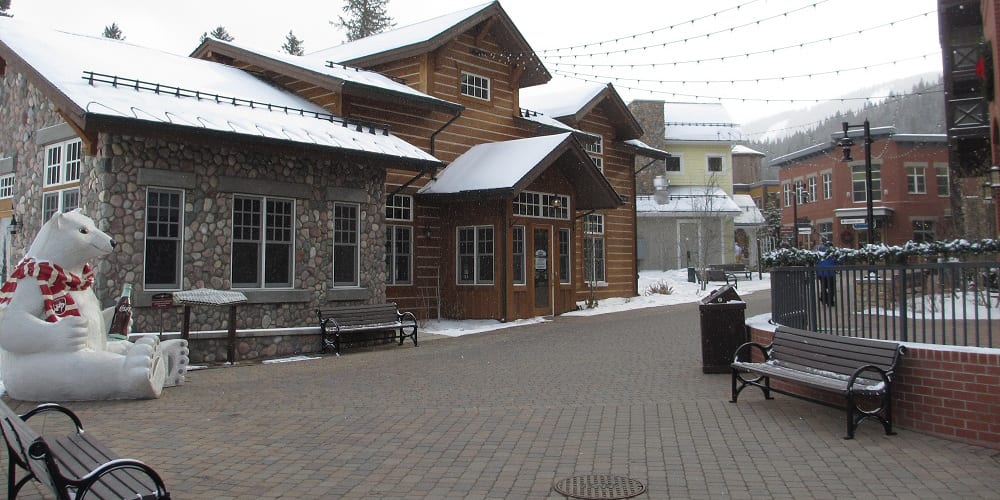 Winter Park is perfect for those looking for a reliable ski area, with a variety of things to do, but no attitude. Its relaxed personality is reflected in every beautiful town in Grand County, which all happily welcome visitors with their western charm.
Combined with Mary Jane, Winter Park reps 3,081 skiable acres, including a wide bowl and backcountry gates. The tree skiing at Mary Jane is among the best in the state too. There are known to be a few ski shacks built by locals in the woods so keep an eye out for them.
Winter Park is another resort with both a mountain village and a separate downtown. The village is quaint and charming, complete with a Cabriolet, or small gondola, that brings visitors to its car-free streets. The downtown may be less walkable than some, but it's got variety in restaurants, affordable lodging, and easy-to-access recreation.
8. Keystone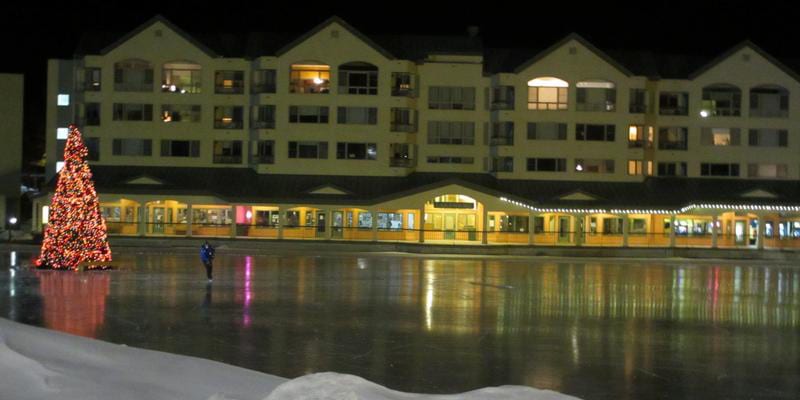 Below Keystone's steep slopes, you'll find a well-thought-out ski village waiting to be uncovered. It has probably the best outdoor ice rink in the state at Keystone Lake. It's one of the largest zambonied lakes in the US.
Like Vail, Keystone's mountain village is also its downtown. It's not as busy as Summit County neighborhood Breck, but there are still plenty of places to eat and stay, and you can always find a deal if you look.
The ski area is Summit's largest at 3,148 acres, with three incredible peaks: Dercum Mountain, North Peak, and The Outback. There's also night skiing on weekends and holidays. If you get bored somehow, you can ski at A Basin, which is also in the city limits.
Many awesome mountain towns like Durango and Pagosa Springs didn't make the cut, simply because their ski resort is too far away from the town center.
Hope you enjoy your time at these amazing Colorado winter destinations. There's nothing quite like a hot cup of cocoa or a cold beer after a day on the ski slopes.