The thought of an elite group of skiers who scale cliff faces and fight bad guys atop mountains sounds like the stuff of predictable action movies. However, unpredictably, this division of the US Army is very much real and known as the 10th Mountain Division.
Now based in Fort Drum, New York, the 10th Mountain Division's historic role in WWII created a fascinating Colorado legacy that's still alive and well in the state today.
Here is a brief history of Colorado's 10th Mountain Division, in chronological order:
Please note that while we do our best to fact-check everything, there may be some inaccuracies below, as details get lost over the years and conflicting information exists.
Formation of the 10th Mountain Division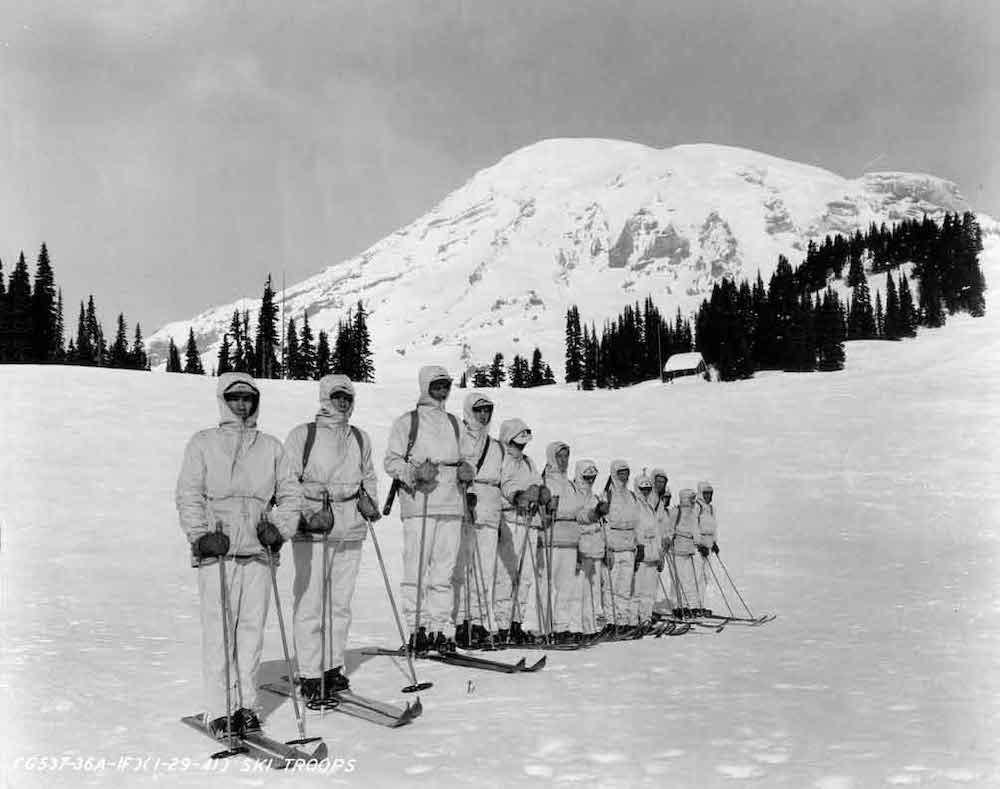 The idea to create the Tenth Mountain Division was inspired by a stunning embarrassment of the Russian military that took place during the Winter War of 1939 when a small Finnish ski patrol defeated a larger and far better-armed invading Soviet force. Charles Minot Dole, the president of the National Ski Patrol, took notice and set about forming an official mountaineering division of the US Army.
Army Chief of Staff George C. Marshall signed off on the idea after seeing Greek troops based in the Albanian mountains best a much larger Italian group of fighters in what historians call the first victory against Axis forces in World War II.
Training at Camp Hale in Leadville
To form America's first mountain warfare unit, the US Army enlisted Dole's help. He traveled the nation scouring ski clubs and universities to find experienced skiers who were up for the challenge. The unit first trained at Mt. Rainer in Washington before a garrison was built at Camp Hale in Colorado in 1942 to accommodate the new division.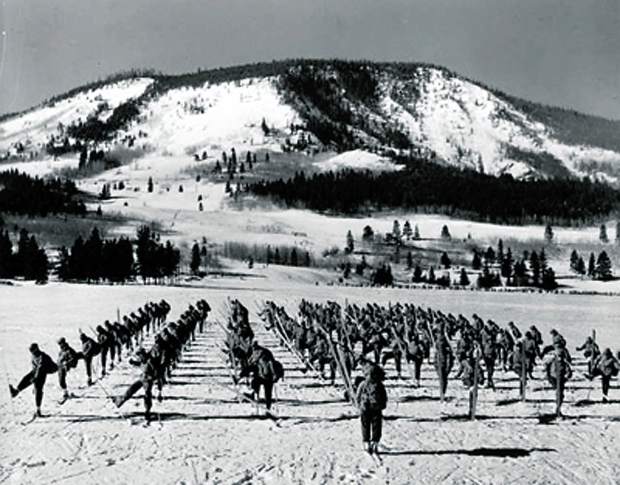 Camp Hale was situated between Red Cliff and Leadville on US-24 in Eagle County, a stretch of road now known as the 10th Mountain Division Memorial Highway. You can visit the ruins of this historic landmark today, and even camp close by at the Camp Hale Memorial CG. It's managed by the Forest Service and located within the White River NF.
In addition to the surrounding rocky alpine terrain and ample snowfall, plus railroad access, Camp Hale's location was chosen due to its proximity to Cooper Hill. This 11,700-foot summit is known today as Ski Cooper and is one of Colorado's oldest ski areas, opened in 1942 to Camp Hill. It would later open to the public after the war. So you can train on-location as the early 10th Mountain Division did.
10th Mountain Division in WWII
At an elevation of 9,200 feet, Camp Hale was notoriously rough to train at, and its isolated location deep in the mountains of central Colorado didn't offer soldiers easy ways to unwind when they weren't training. After a winter of fierce training and challenging weather conditions, the Tenth Mountain Division was called for its first mission.
Unfortunately, what followed was so disastrous that Army officials seriously considered closing down the unit. After being sent to Alaska's Kiska Island to fight Japanese forces, 11 members of the Tenth Mountain Division were killed due to friendly fire. There were other groups there, including Canadian soldiers, and they misinterpreted each other as the enemy. It was later revealed that Japan had abandoned the island before the Allied assault took place.
After it was decided the Tenth Mountain Division should be kept intact, it regrouped and trained for two more years. In the winter of 1944-45, they were tasked with the seemingly impossible mission of penetrating a defensive line that Germany had set up in Italy's Apennine Mountains.
Known as the "Gothic Line," it was a line of defense that was crucial for keeping the Allied forces from advancing through Europe. From their vantage point high in the mountains, the Germans were able to prepare for attacks long before they happened; an advantage that made the line difficult to break through.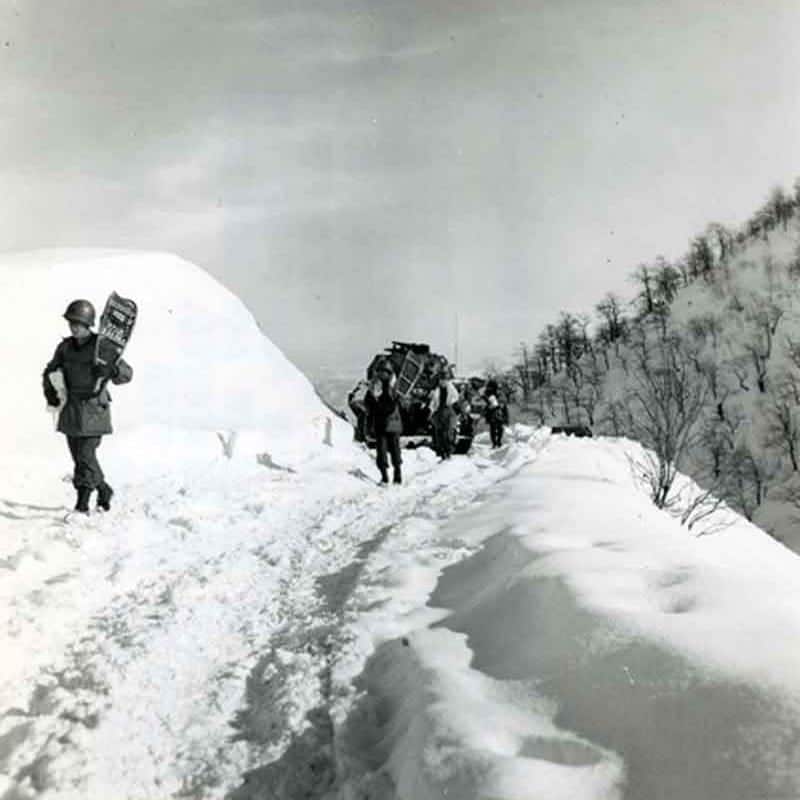 With heavy gear in tow, the Tenth had to climb steep cliff faces as silently as possible to not alert German forces. However, their stealth and perseverance ultimately paid off. Riva Ridge was captured that February, which allowed Allied forces to finally break through the line and advance through Europe. The mission turned the Tenth's members into internationally recognized heroes virtually overnight.
10th Mountain Division After the war
Proceeding WWII, many soldiers from the Tenth Mountain Division continued to do what they did best: skiing. Members established ski resorts across the US, including:
One of Colorado's earliest ski areas, Arapahoe Basin was founded by 10th Mountain veteran Lawrence Jump in 1946, and assisted by several other veterans: Earl Clark, Wilfred Davis, and Merrill Hastings.
Officially opening on December 14, 1946, Aspen Mountain was founded by Walter Paepcke with the help of 10th Mountain veteran Friedl Pfeifer. Two other 10th Mountain veterans, Percy Rideout, and John Litchfield were also employed at Aspen during its early years.
Vail was founded by Tenth Mountain Division veteran Pete Seibert in 1962.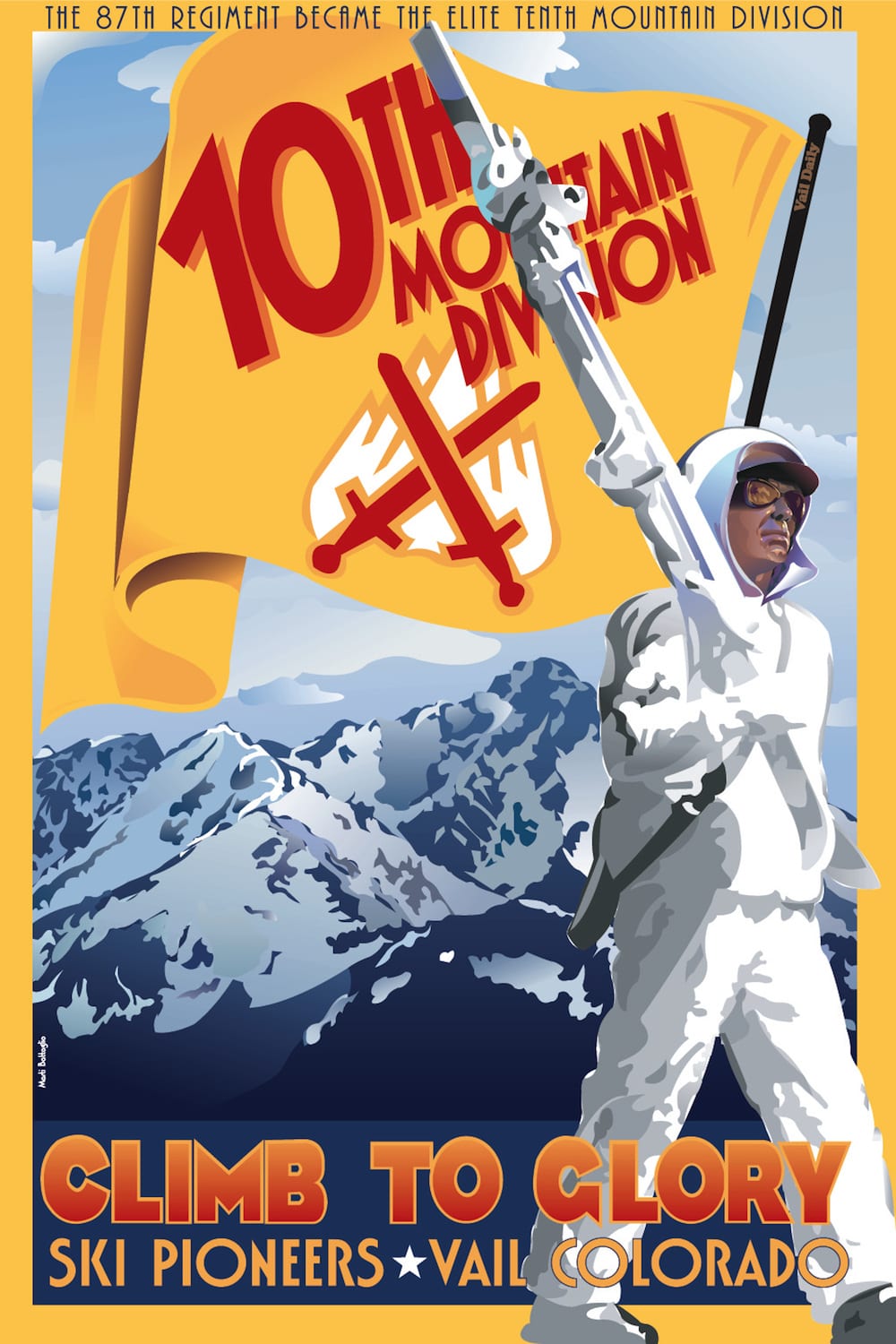 The Tenth was inactive until the mid-80s when it became officially reactivated. Since then, it's fought around the world in Somalia, Afghanistan, and Kosovo, and has assisted with relief efforts in the US.
The Tenth Mountain Division Hut Association was founded to help preserve the Tenth's legacy in Colorado by building recreational mountain huts. There are more than a dozen of these huts today across Colorado's backcountry, which gives visitors access to skiing, snowshoeing, and hiking opportunities.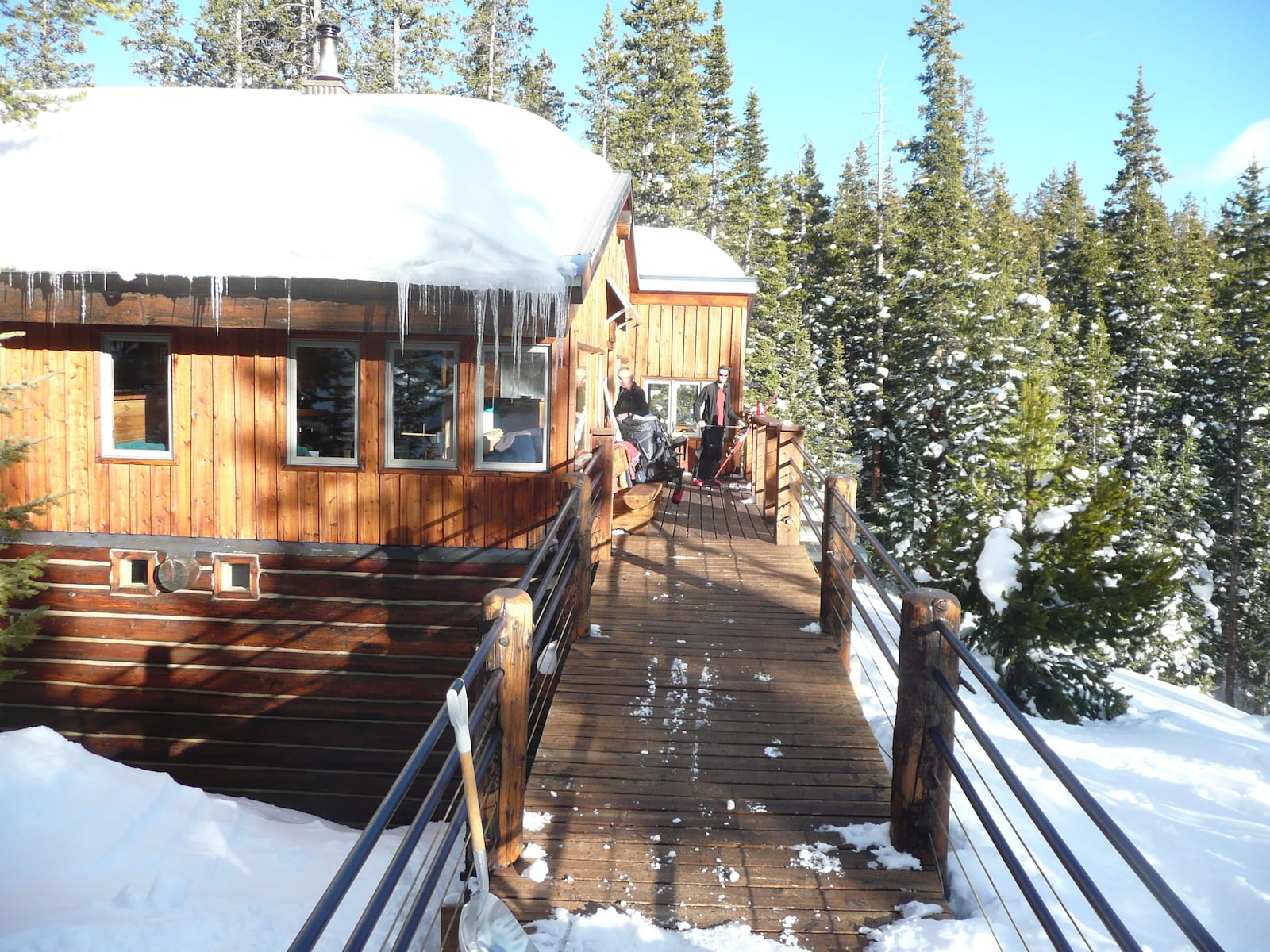 Skiing is a purely recreational pursuit to most, but there was a time when the ability to navigate difficult, snowy terrain on skis helped America face one of the gravest threats the world has ever known. Learn more about Colorado's fascinating ski history.