Colorado's mountainous landscapes hold many natural hot springs, several of which have built-up resorts and nighttime accommodations. Relax your worries away in mineral hot springs, then retreat to your on-site room. These hot springs resorts all offer overnight accommodations, ranging from your typical hotel room with shared access to the pools, to secluded cabins with your own private soaks.
List of Hotels and Cabin Rentals with Hot Springs
You can stay overnight at more than a dozen hot springs around the state, with options ranging from typical hotel/motel rooms to yurt and teepees. There are even a few hot springs with camping. Some are private resorts and others are open to the public during the day for hot springs use.
Map of Hotels and Cabin Rentals with Hot Springs
Featured Hot Spring Lodging
Guide to Lodging in Colorado with Hot Springs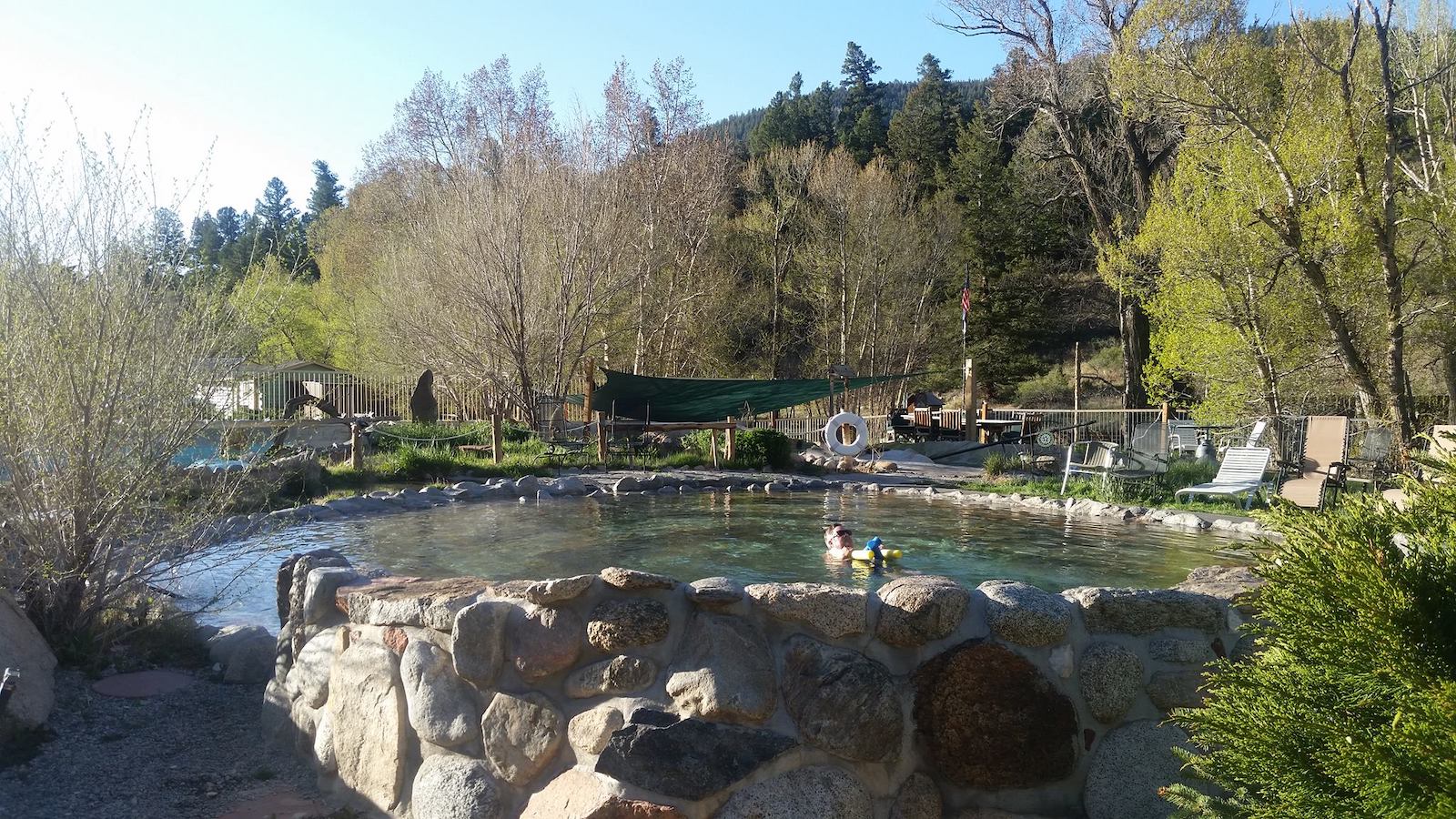 Melt away your stress, aches, and pains at one of the natural hot springs hotels in Colorado. These are places where you can spend a night or multiple nights with the privilege of being near therapeutic mineral soaking pools.
After decompressing in the steamy water, head back to your on-location guest room for a fantastic night of sleep. Some locations offer public day-use passes, but why not indulge and stay awhile for the ultimate relaxation session.
All of the hotels and resorts listed offer accommodations ranging from standard rooms with communal pools to cabins and suites with private soaking areas. Make the most of your time at Colorado's hot springs by spending the night. Here they are in alphabetical order.
Antero Hot Springs Cabins
Antero Hot Springs Cabins is located in Nathrop at the foot of Mt. Princeton. There are three cabins that are available to be rented all year long, each with a different bed set up of queen and double beds. Additionally, every cabin has its own hot springs pool with water varying between 100-112℉, along with an on-site spa and self-care treatment services.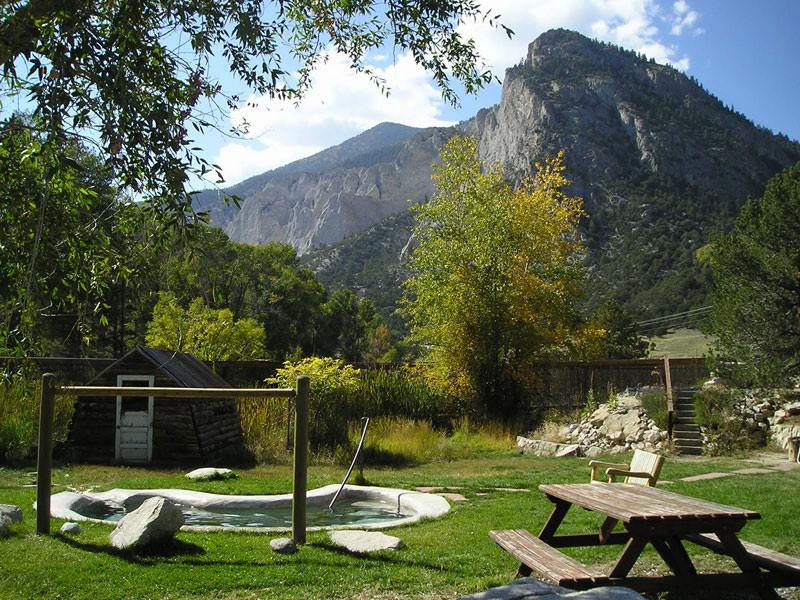 Avalanche Ranch Cabins & Hot Springs
Avalanche Ranch Cabins & Hot Springs in Redstone is set just south of Carbondale in Crystal River Valley. The property has three-tiered pools and is open to day users by reservation only. Overnight guests who stay in rustic-style cabins have 24-hour access to the pools except for a timeframe on Wednesday from 9 am to 5 pm for cleaning.
Box Canyon Lodge & Hot Springs
Box Canyon Lodge & Hot Springs, based in Ouray, is a quaint property with four redwood hot pools with water temperatures from 103-108℉. Guests to the hotel are the only ones who have access to the mineral waters. Thanks to the constant flow in the pools, the water is completely replaced every 24 hours, and chemicals aren't needed to maintain cleanliness. Accommodations include everything from standard rooms to suites and apartments.
Cottonwood Hot Springs Inn & Spa
Cottonwood Hot Springs Inn & Spa just outside Buena Vista is a more casual property with motel-style lodging, cabins, and hostel-type dorms. Tent campsites are also available during the warmer months. The property has several soaking pools that are all fed by gravity and range from 94-110℉.
Dunton Hot Springs
Dunton Hot Springs in Dolores is a very unique property, being a restored ghost town where only 200 people used to live. Now it is an all-inclusive resort with 13 rentable cabins, and you can even book the entire village. The property has several hot springs pools that all of the cabins share access too, but the Wellness Cabin is the only one that has its own private hot springs bath.
Durango Hot Springs Resort & Spa
The Durango Hot Springs Resort & Spa, just north of Durango, is located at the foot of Hermosa Cliffs on 10 acres of land in the San Juan Mountains. The property has sweeping forest views and 22 mineral soaking pools, 19 of which are adults-only and three open to families with children. The temperatures of the water vary between 101-110℉, and cell phones are only allowed in the lobby and parking lot. Guests can bring their own food and non-alcoholic beverages.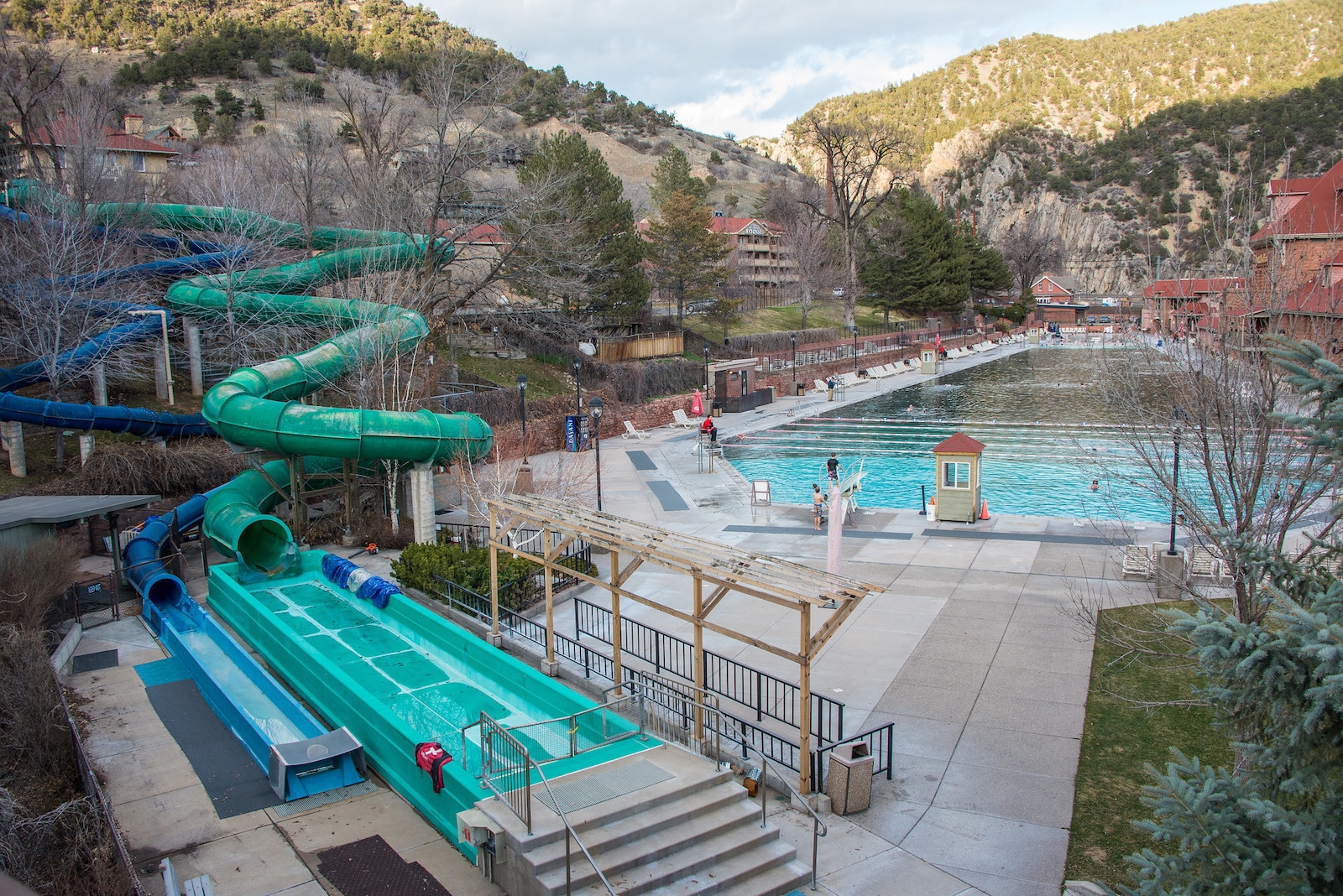 Glenwood Hot Springs Resort
Glenwood Hot Springs Resort in the town of Glenwood Springs has been an attraction since it first opened in 1888. Nicknamed the "Spa of the Rockies," the large swimming pool is kept between 90-93℉, and there's a hotter tub with a temperature of 104F. There are 107 on-site accommodations here, each with a complimentary breakfast and unlimited access to the water.
Healing Waters Resort & Spa
Healing Waters Resort & Spa in Pagosa Springs has affordable room rates and RV camping spots in the downtown area. Hotel guests have access to the three swimming areas of the property that include hot baths, a heated pool, and another outdoor springs-fed tub. The RV park is open May through October, and the other lodging ranges from mini-suites to villas.
Hot Sulphur Springs Resort & Spa
Hot Sulphur Springs Resort & Spa, based in Sulphur Springs, has 21 hot mineral pools fed from a stream coming right out of the ground. The pools have been developed, come in all shapes and sizes, and have water ranging from 95-112℉. Aside from the communal pools, there are also private baths that adults can rent. Accommodations include a cabin, basic rooms, and an apartment.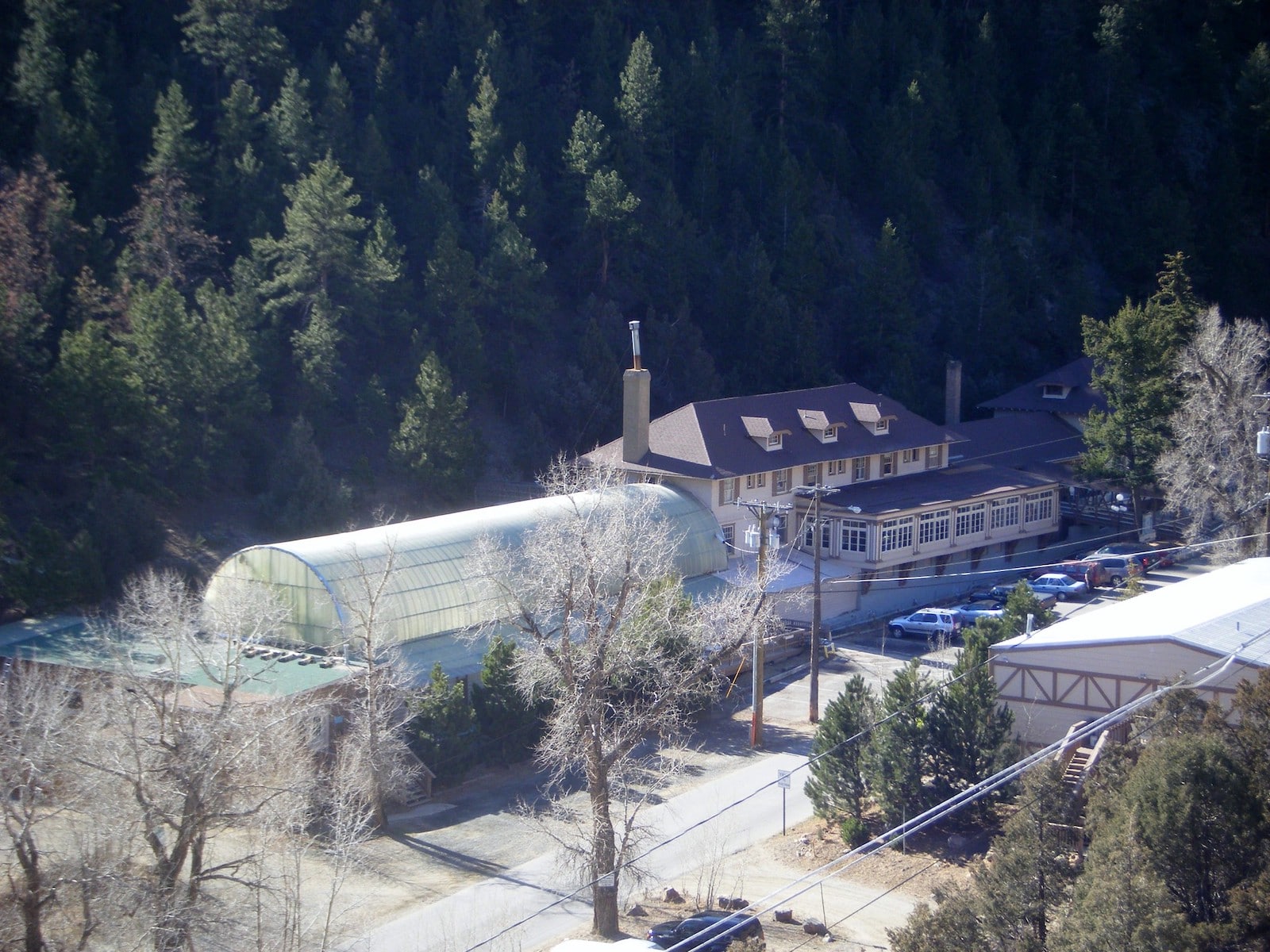 Indian Hot Springs
Indian Hot Springs in Idaho Springs has a few different accommodations, including the Historic Resort, Inn, Lodge, and Cabin. While most of these sleeping arrangements are rustic, one of the buildings has more modern amenities. Famous people throughout history who have stayed here are the Roosevelt family, Jesse James, and Walt Whitman. The main features of this property include a large hot spring pool, a geothermal cave with mineral baths, private outdoor tubs, and indoor private baths.
Joyful Journey Hot Springs
Joyful Journey Hot Springs is set in Moffat, which is roughly 30 miles south of Salida. The property has three springs pools with thermal waters ranging from 98-108℉, but the water temperature is 140℉ as it comes out of the ground below. Overnight guests can lodge in one of the hotel rooms or sleep in a yurt or teepee. Tent campsites are also available to rent.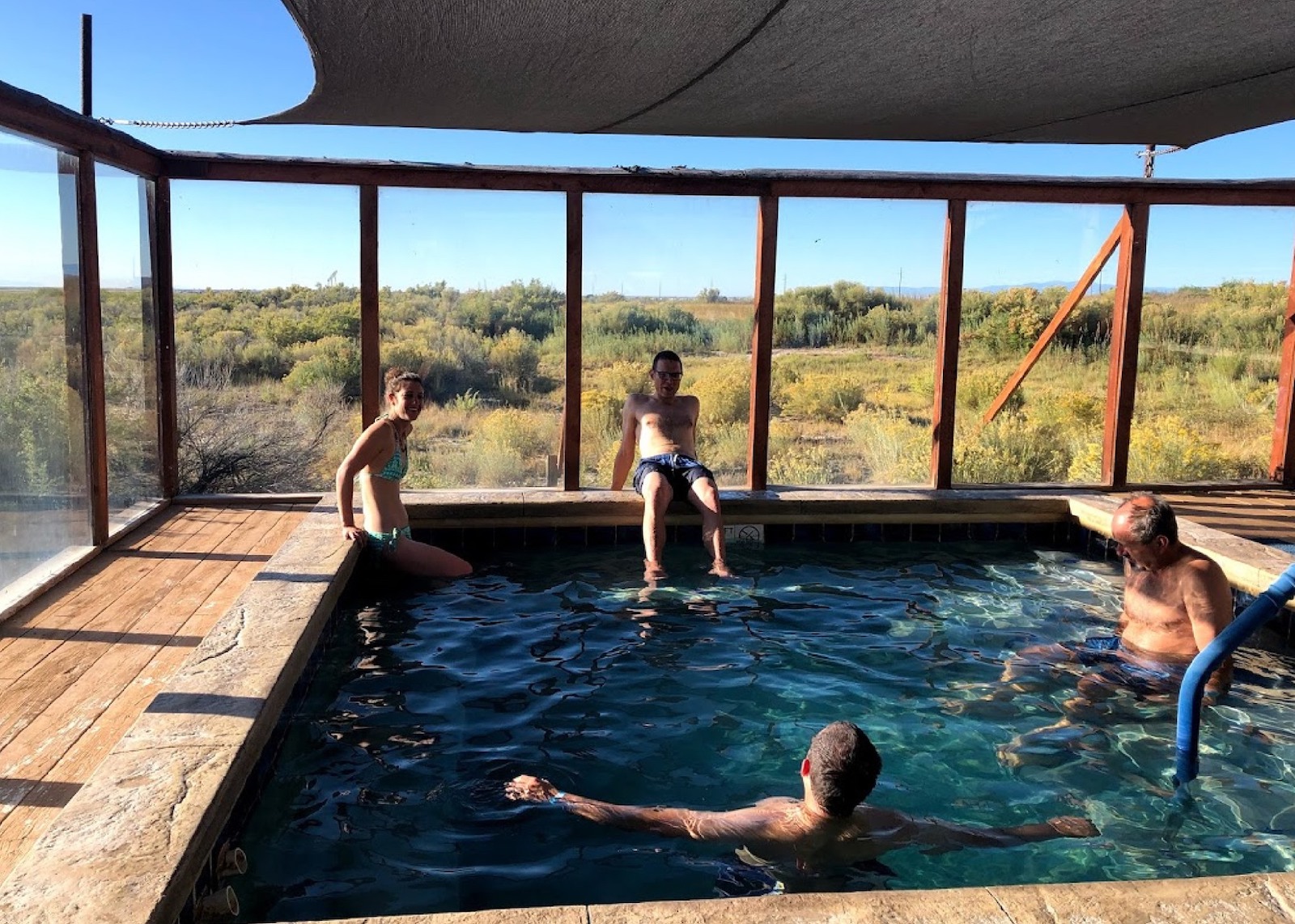 Merrifield Homestead Cabins & Hot Springs
Merrifield Homestead Cabins & Hot Springs are located in Buena Vista and have two large cabins to rent, which are great for families or groups. Each accommodation has its own private hot bath and amazing views of Cottonwood Creek.
Mount Princeton Hot Springs
Mount Princeton Hot Springs in Nathrop offers stunning Colorado landscapes and three large hot springs pools that are open year-round. Two pools are kept warmer at around 105℉, and the swimming pool is slightly more relaxed at 90℉. Overnight guests can stay at the resort, which also has an on-site restaurant, spa, and country store.
Orvis Hot Springs
Orvis Hot Springs in Ridgway has many outdoor soaking pools with sweeping views of the San Juans. There are four outdoor pools with temperatures from 100-106℉, an indoor pool house kept at 101℉, and two private hot tubs that are given access on a first-come, first-served basis. Six themed bedrooms and tent camping sites are available for those who want to stay for a night.
Sand Dunes Pool
Sand Dunes Pool, located in Hooper, just north of Alamosa, is a family-owned venue and year-round venue. The pool is spring-fed from an area that was drilled in the 1930s and has a source temperature of 118℉, but the swimming area floats at around 98-100℉. There are three cabins and a trailer for rent. Additionally, they have a campground equipped with both tent and TV campsites.
Strawberry Park Hot Springs
Strawberry Park Hot Springs can be found in Steamboat Springs and is one of the nicest thermal pool areas in the region. These stone pools are open from 10 am to 10 pm, easy to use, and organized next to each other, but they vary in size and shape. The water is hot and mineral-rich, with the coolest pool being a cozy 102℉. Some spa services are available, and lodging includes cabins and tent camping sites.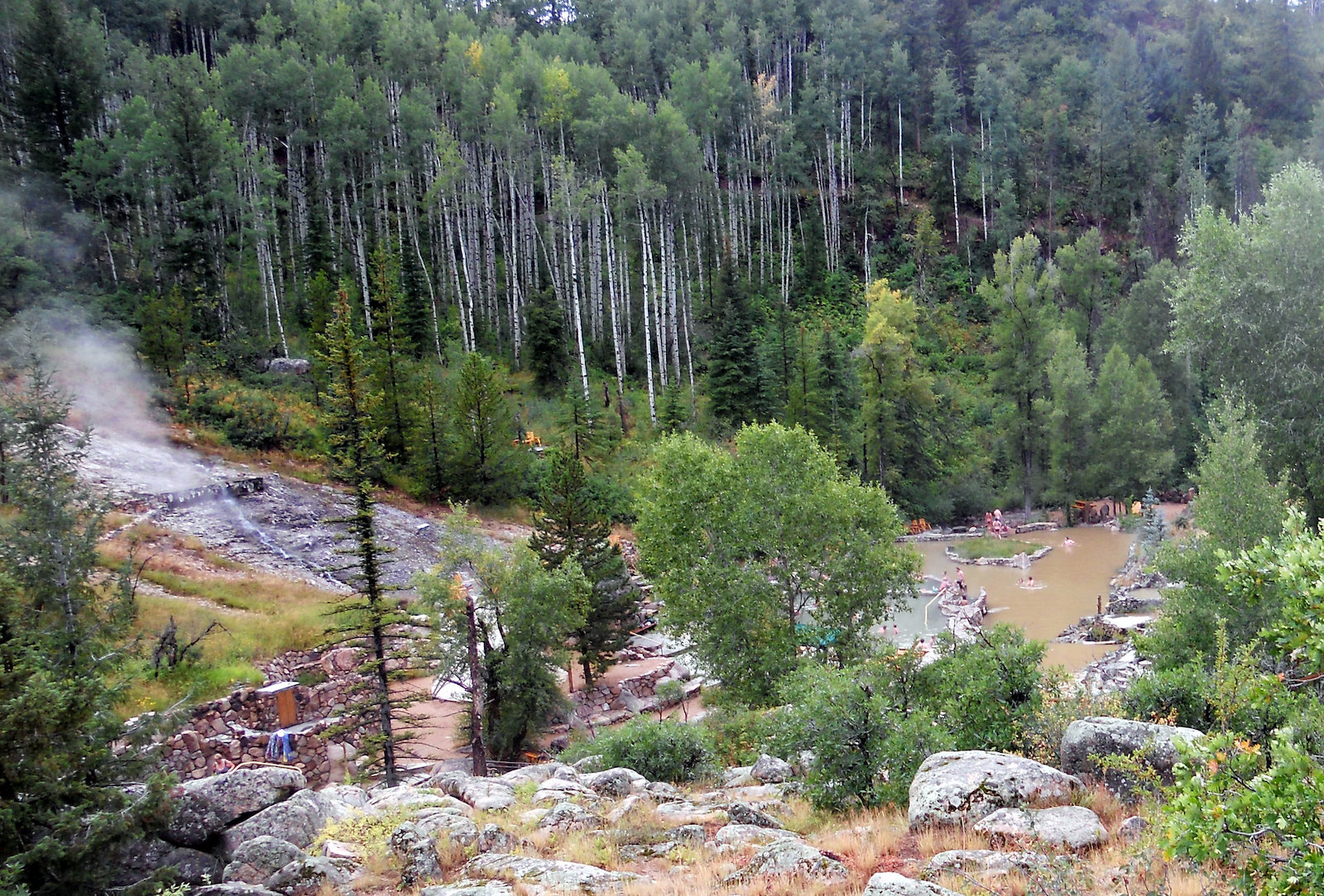 The Springs Resort
The Springs Resort in downtown Pagosa is well-developed and has an on-site spa, salon, and a 79-room hotel. The property has 23 soaking pools that are beautifully designed and kept between 83-114℉, five for adults only. Guests who stay on-site have 24-hour access to the water.
Treehouse Hot Springs
Treehouse Hot Springs in Nathrop is for overnight guests only and is set just a few miles south of Buena Vista. This private rental is ideal for groups or families and has five bedrooms, five bathrooms, a deep soaking tub, and stunning views of Mount Princeton.
Twin Peaks Lodge & Hot Springs
Twin Peaks Lodge & Hot Springs by Ouray in the San Juan Mountains showcases three hot springs pools. The source water is a sizzling 156℉ but cools down before going into the main pool areas. In addition to soaking, the property has a 24/7 fitness center, 24/7 laundry services, and soft-serve ice cream machines. Guests that prefer camping outside can rent tents, ATVs, and Jeeps from the hotel.
Valley View Hot Springs
Valley View Hot Springs in San Luis Valley is a swimsuit-optional resort with seven pools and soaking areas. Three of the pools are close to the parking lot and have temperatures from 80℉ (swimming pool) to 104-104℉ (hot tubs). There are four other natural ponds situated in a more primitive spot of the resort and stay around 90℉. There are a few rustic cabins and several primal camping sites with parking spots for lodging.
Waunita Hot Springs Ranch
Waunita Hot Springs Ranch by Gunnison is set in the Rockies and about 10 miles from the famous Continental Divide. This guest ranch is a bed & breakfast with a hot springs pool and tub open year-round, with temperatures from 90-100℉. Waunita Ranch has been used as a wedding venue, an escape for families, and a spot for people looking to reconnect to a more rural form of entertainment. The ranch has other activities like horseback riding, mountain bike trails, and snowmobiling in the winter.
Wiesbaden Hot Springs Spa & Lodgings
Wiesbaden Hot Springs Spa & Lodgings, located in Ouray, is a beautiful hideaway with three houses, an apartment, and six suites to rent. Their six hot mineral pools are all-natural and not circulated or chemically treated. A unique feature of this property is its vapor cave underneath the lodge area.
When you're looking for a place to completely relax and give your body the care it deserves, these destinations fit the bill. Hot Springs water is known for its health value, so why not pamper yourself for a night or two.
Related Lodging
Latest in Lodging
Related Activities