Experience Old West charm at one of Colorado's many historic hotels. These unique, one-of-a-kind properties are sure to delight. They range in price from wallet-friendly to upscale, luxury. Some are basic with the amenities, and others, such as the Broadmoor, are five-star.
Oldest Hotels in CO
From the time of the great gold rush on, Colorado has had countless hotels built to accommodate its adventurous travelers. And some of these historic properties are still around today. The oldest (still operating) hotels range from the late 1800s to the mid-1900s.
Map of Oldest Hotels in CO
Featured Historic Hotels
Staying at Historic Hotels in Colorado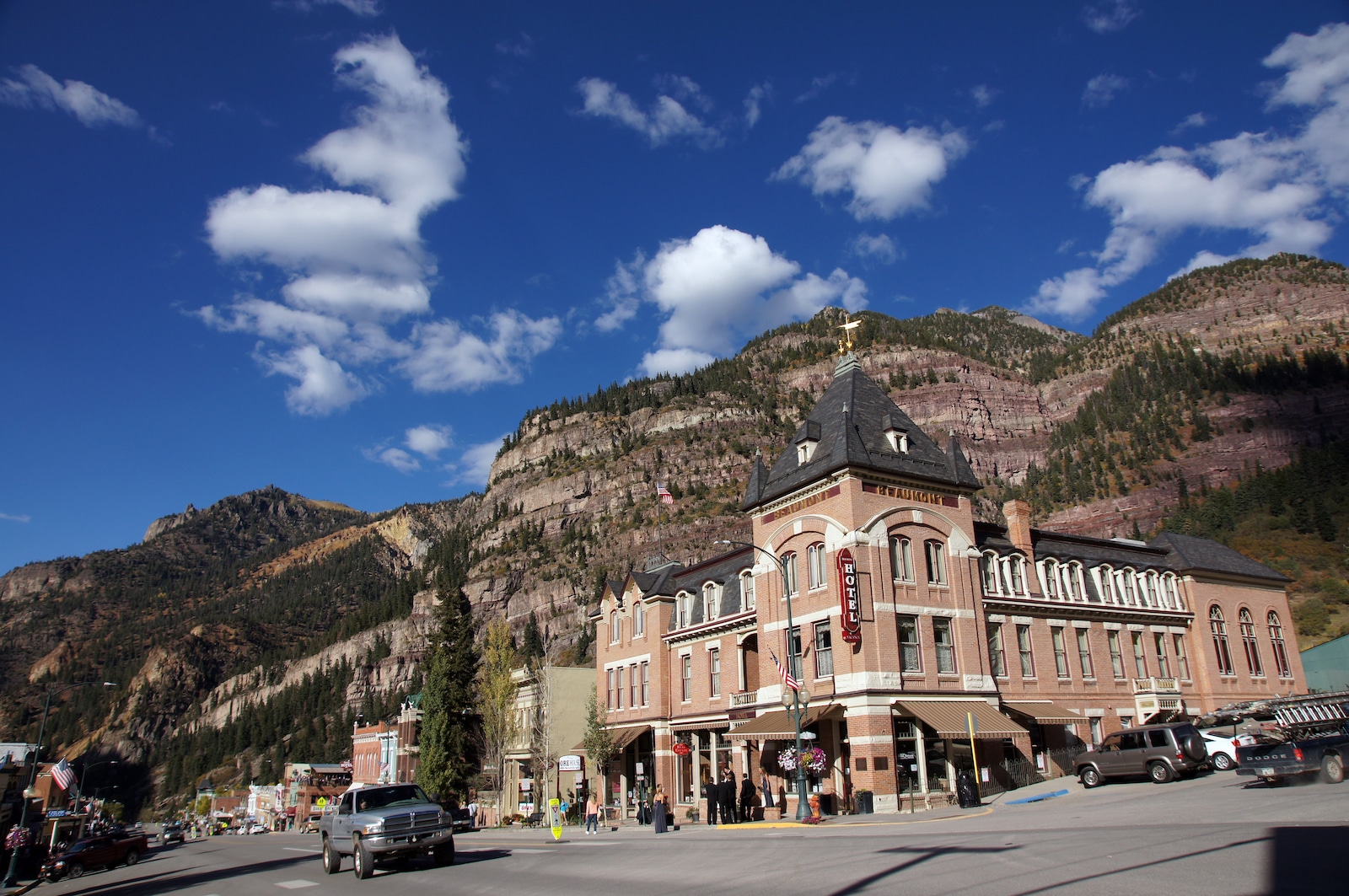 The oldest hotels in Colorado are a treat for history buffs and anyone that enjoys unique lodging options. There is a wide selection of this type of lodging in the state that can suit anyone's budget or region. They are sure to provide a memorable, comfortable experience.
Wherever you're traveling in the Centennial State, consider staying at one of these properties and uncovering the mysteries and stories of their past. Some of the historic hotels are fairly basic while others are upscale, with 3, 4, and 5-star accommodations available.
3-Star Hotels – Three-star hotels won't break your budget and offer a decent variety of amenities and features.
4-Star Hotels – Four-star properties aim to provide upscale guest experiences with top amenities and elevated comfort levels.
5-Star Hotels – If you want all the luxury and to mingle with the "lifestyle of the rich and famous," Five-star properties are where those types of accommodations can be found.
Here's a look at just a fraction of some of the favorite oldest hotels in the state, divided by three geographic sections:
Front Range Urban Cooridor
Front Range and Western Slope
Southwest Colorado
Front Range Urban Corridor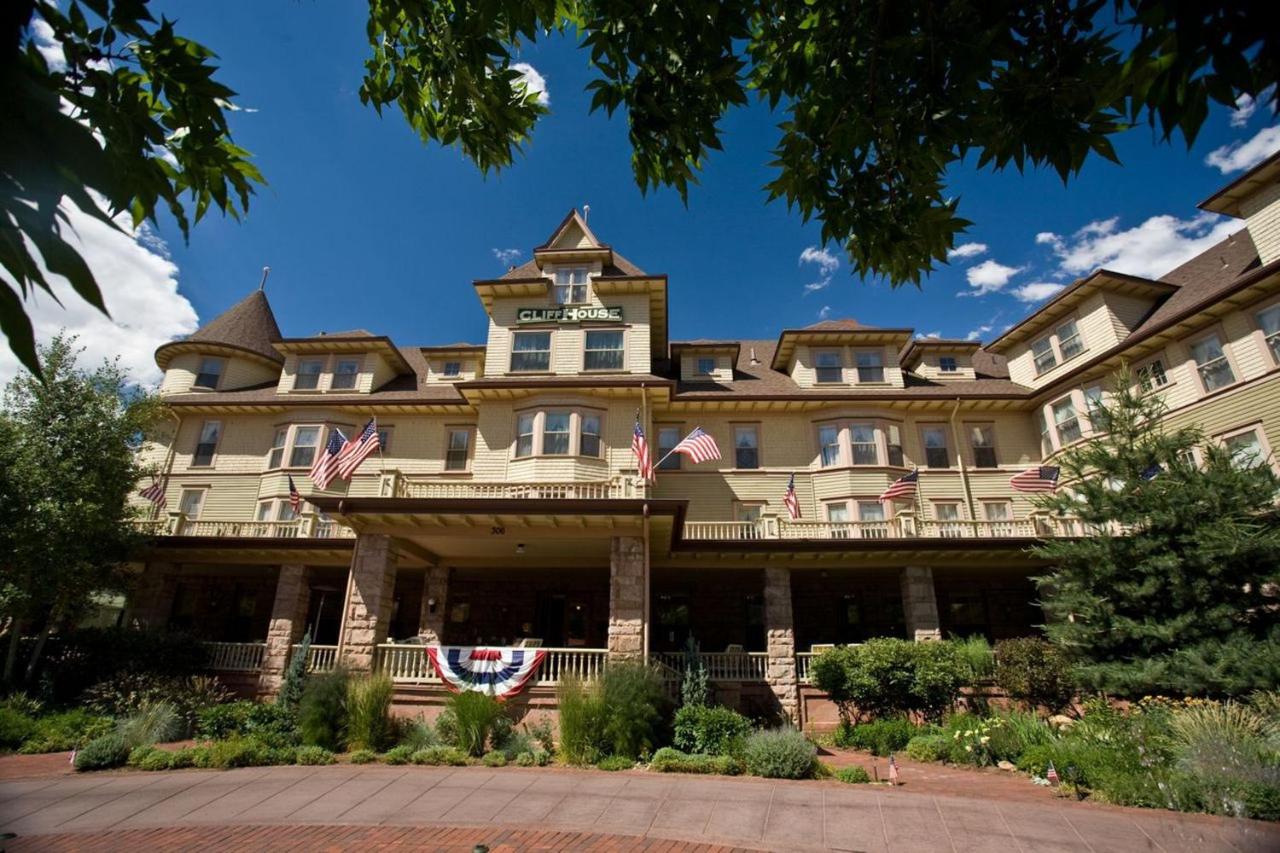 Stretching from Fort Collins past the heart of the Mile-High City, down through Colorado Springs, and onto Pueblo, the Front Range Urban Cooridor is the most populated area in the state. These historic properties in this region have excellent proximity to the cities' must-see spots.
The Armstrong Hotel, Fort Collins (3-star)
Centrally based in the heart of Fort Collins, The Armstrong Hotel has been welcoming guests since 1923 and has a colorful past. When it was first built, it was the tallest building in town. The Armstrong was also once barracks for the U.S. Army during WWII and the home for the first chapter of the American Automobile Association.
It's had multiple owners and been restored or changed many times, but now it is a charming, comfortable, sophisticated place to stay. There are 45 guest rooms and suites to accommodate any party size or family. Many modern in-room amenities include a flatscreen TV, mini-fridge, free WiFi, and a clock radio with a USB charging station.
One of the hotel's highlights is their underground speakeasy-style jazz lounge, Ace Gillett's. Other hotel amenities include free access to the Old Town Athletic Club and complimentary cruiser bikes to explore the streets and shops around town.
The Brown Palace Hotel and Spa, Autograph Collection, Denver (4-star)
Built in 1892, The Brown Palace Hotel is still the second-largest operating hotel in the Denver area and one of the first atrium-style hotels. In addition to offering four-star accommodations, this property also has that historic charm and is listed on the National Register of Historic Places.
Some of its most notable guests include several former U.S. presidents, The Beatles, and the "Unsinkable" Molly Brown, who stayed here one week after surviving the incident on The Titanic.
The 22-story building has 243 rooms and is now a part of The Marriott's Autograph Collection. All guests are pampered with plush terry robes, free WiFi in the lobby, and artisan water from the hotel's property well.
Not only can guests enjoy some spa time at this "living legacy" destination, but it's within proximity to many of the Mile High City's downtown attractions, shops, and restaurants.
The Oxford Hotel, Denver (4-star)
The Oxford Hotel in Denver first opened in 1891 and has welcomed famed guests like the Dalai Lama and former U.S. President Theodore Roosevelt. The property is known as the LoDo's (Lower Downtown) "most historic hotel" and has a reputation for its preserved Art Deco features.
One of the fascinating parts of the hotel's history surrounds its "Cruise Room," which functioned as a then-illegal speakeasy during prohibition. The day after the ban was lifted, The Cruise Room officially opened and has been operating ever since.
At The Oxford Hotel, each of the 80 rooms and suites is unique and combines a historic feel with modern amenities. All rooms come with luxury bedding, beauty products, and antique fixtures. Aside from The Cruise Room, the Urban Farmer provides an on-site dining experience, and their spa, fitness, and boutique offer unmatched luxury treatments and products.
The Cliff House at Pikes Peak, Manitou Springs (4-star)
This AAA Four-Diamond property in Manitou Springs was built in 1873, three years before Colorado became a state. The Cliff House at Pikes Peak offers some of the most spectacular scenery in the Colorado Springs area and showcases elegant Victorian-style decor at every corner.
This hotel not only boasts the same sophistication that it did in the late 1800s, but it's brought many modern conveniences to the guests who stay here. What was once a stop for gamblers and gold-rush miners is now a relaxing four-star retreat in proximity to many of the town's attractions and restaurants.
There are 54 unique rooms and suites at The Cliff House at Pikes Peak, each with its own special attributes and characteristics. Some rooms might get a two-person spa tub, while others will be fitted with gas fireplaces. The accents around the room harken back to the old days but are lush and comfortable. The Dining Room on the property provides an upscale experience and delicious, carefully selected menu items.
The Broadmoor, Colorado Springs (5-star)
The Broadmoor is a unique resort, holding a Forbes five-star and AAA five-diamond resort rating while also being a member of "Historic Hotels of America of the National Trust for Historic Preservation." This exquisite Colorado Springs property had its grand opening in 1918 but added numerous luxury amenities like a riding arena and a polo field over the years.
Three co-creators spent 3-million dollars back in the day to build, which today is valued at over $36 million. This resort also boasted one of the first full-service spas in the country, along with an on-site supervised kids' club.
There are 771 luxurious guest rooms, suites, cottages, an estate house, and brownstones at The Broadmoor. Each lodging includes premium bedding, coffee/tea makers, designer toiletries, and complimentary turndown service.
Some of the most impressive and seemingly endless property amenities include a 36-hole golf course, eight tennis courts, two swimming pools, a fitness center, a long list of spa treatments, and more. Several outdoor day trips and adventures can be arranged through the hotel too.
Front Range to the Western Slope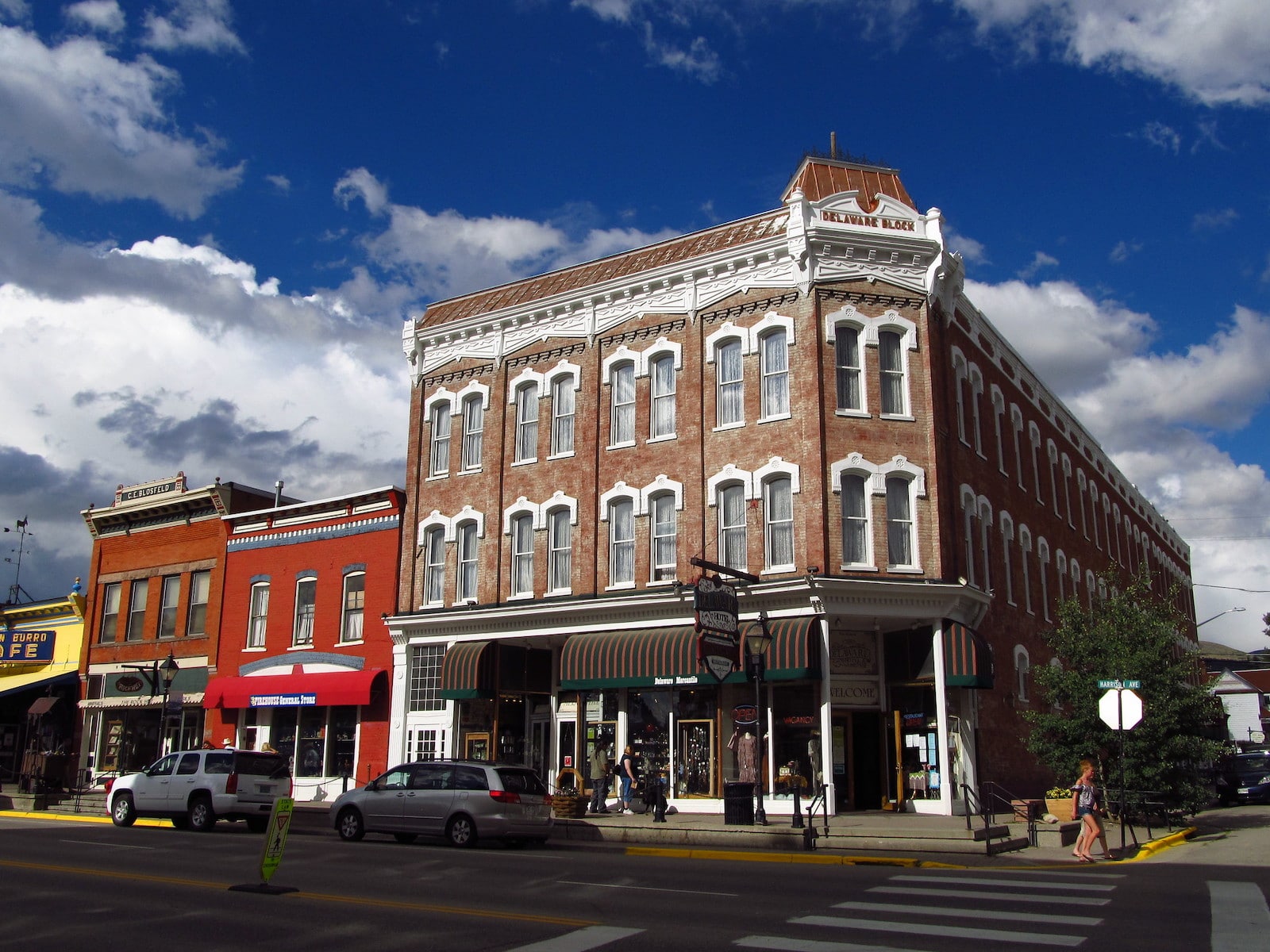 The following includes both the front range mountains and the western slope, home to towns such as Estes Park in the former, and Leadville and Aspen in the latter. The two are divided by the Great Continental Divide, which runs more or less, north to south through the state.
The Stanley Hotel, Estes Park (3-star)
The luxurious Stanley Hotel in Estes Park is one of northern Colorado's most famous, as it was the inspiration for Stephen King's "The Shining" after his stay there. It was first opened to the public on July 4, 1909, and is on the National Register of Historic Places.
Originally designed as a getaway from the American upper class, the Stanley features a beautiful white Colonial Revival style and presents sweeping views of the Rocky Mountains and Lake Estes. The property has 142 accommodations that include four room types, including hotel rooms, The Lodge, Overlook Condos, and Aspire Residences.
There are several places to eat and drink on-location, such as The Whiskey Bar, which has one of the state's most extensive whiskey selections. Other activities include exploring the Rocky Mountain National Park and enjoying live music and day trip tours. The Stanley Hotel is also considered one of Colorado's luxury hotels.
Delaware Hotel, Leadville (4-star)
First opened in 1886 in Leadville, the Delaware Hotel welcomes guests to its accommodations in the great Rocky Mountains. The Victorian and vintage decor seen throughout the common areas and 36 guest rooms will whisk you away to another time with its regal ambiance. Antique fixtures, quilts, and lace items are placed around the hotel are can be bought by guests who are struck by them.
The Delaware Hotel is also conveniently located near many of the town's attractions and restaurants, so visitors don't need to go far to explore the area. There is also an on-site store, the Delaware Mercantile, that sells unique gifts and souvenirs. As of 2022, the hotel will have an ice cream parlor and a new coffee shop.
Hotel Jerome, Aspen (5-star)
Since 1889, Hotel Jerome in Aspen has welcomed visitors for a luxury mountain experience. At the end of the 19th century, it impressed its guests by having one of the first working elevators in a Western hotel and full electric lighting.
Jerome Wheeler, the builder/investor, was also the co-owner of the nationwide department store Macy's and saw the potential for the hotel. This "crown jewel" was the only one to survive the silver crash. The hotel has 93 restored guest rooms and suites, all of which have the most stylish, vintage decor with contemporary amenities.
Property features include a spa with three treatment rooms, a yoga room, a garden, and a heated outdoor swimming pool. Enjoy eloquent drinks and dining at one of the hotel's four restaurants and bars, with a regal atmosphere that will take you back a century in time.
Southwest Colorado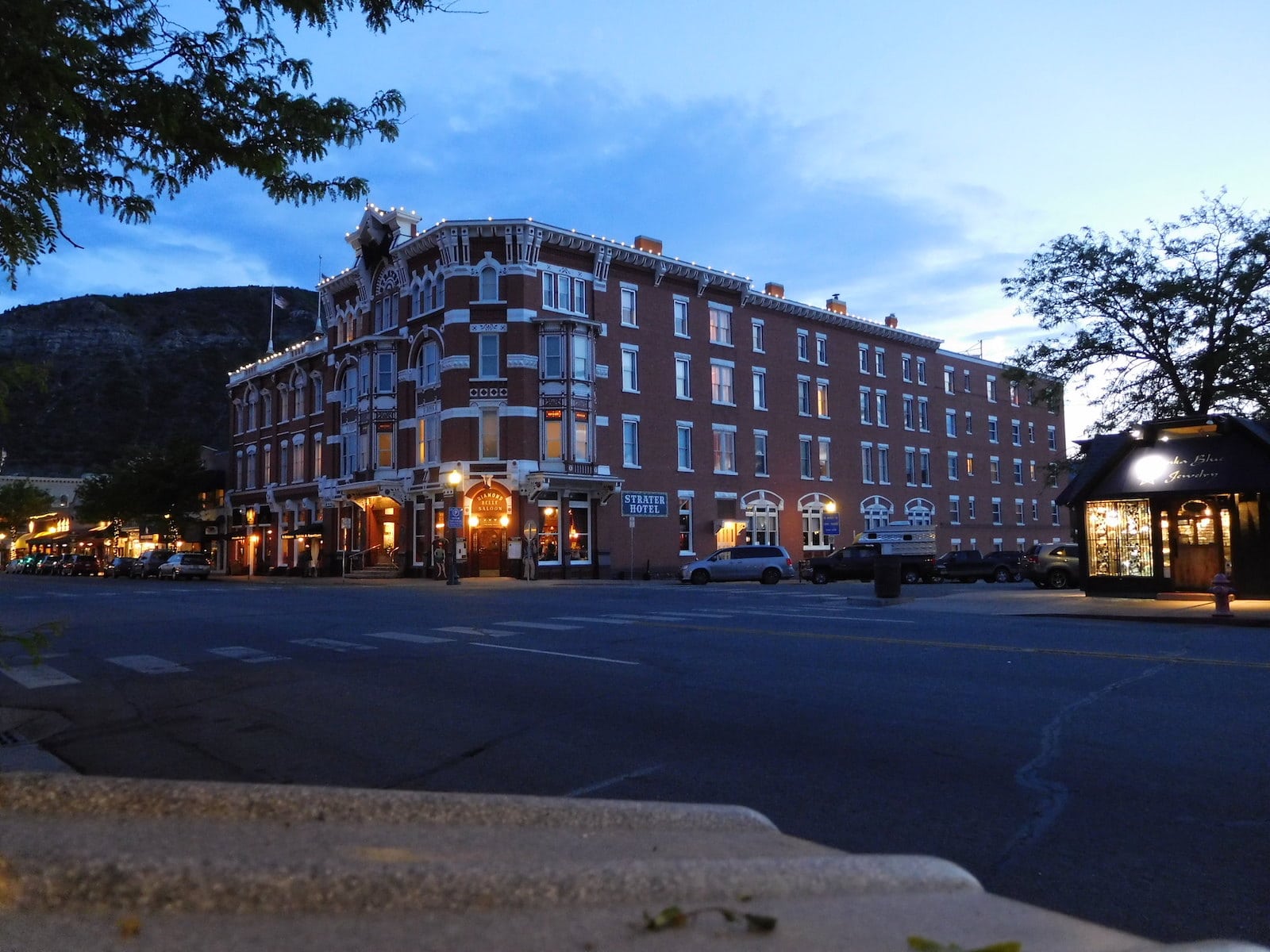 Many famous towns reside in Southwest Colorado, characterized by the towering San Juan Mountains. Sometimes called the "Hollywood of the Rockies," Durango is a small, charming destination that has been chosen many times for movie sets. Offering dazzling scenery and bursting with culture, this historic railroad town has something for everyone to enjoy.
With a town of only a few hundred in population, visitors flock to Silverton to enjoy the Old West's fresh air and historic sites. The city is also known for its mining days and the Durango & Silverton Narrow Gauge Railroad, which connects it with its southern neighbor via trips during every season.
Also known as "The Switzerland of America," Ouray is a hot springs town of just 1,000 people but is knee-deep in history, gorgeous scenery, and plenty of places to do outdoor activities. It's located an hour north of Silverton on the Million Dollar Highway.
Strater Hotel, Durango (3-star)
Durango's Strater Hotel is a three-star property located in the downtown area. Built in 1887, this building is decked out in a wonderful blend of Victorian antiques and contemporary amenities. Each room has a flatscreen TV, private-tiled vintage bathrooms, and air conditioning.
The hotel invites guests to dine at their award-winning Mahogany Grille and Diamond Belle Saloon or listen to live music performed each day. Special performances are done during the summertime at the Henry Strater Theater.
The General Palmer Hotel, Durango (3-star)
This hotel is known as "Durango's Premier Victorian Downtown Hotel" and is close to many of the town's restaurants, stores, art galleries, and theaters. Built in 1898, this property does an excellent job showcasing the city's rich history while providing contemporary comforts of modern living.
Next to the hotel is the train depot, so visitors watch the trains arrive and depart from some of the floor patios.
The General Palmer Hotel is the only historical four-diamond hotel in Southwest Colorado and has 39 luxury rooms. Some favorite amenities include cable TV channels, WiFi, air conditioning, and locally roasted coffee. There are spaces available to rent for special events like weddings, and group reservations are possible.
Grand Imperial Hotel, Silverton (3-star)
The Grand Imperial Hotel is one of Silverton's most recognized hotels and calls itself the "Social Center of the San Juans." In the late 19th century, it was considered an incredibly luxurious establishment in the city and thought of as the most prominent building south of Denver. The hotel has been through many restorations and is once again full of life and a top-rated place mountain destination.
Guest rooms feature a vintage vibe with modern amenities and vary in size. Each accommodation has a walk-in shower, ceiling fan, television, and high-quality bedding. The Grand Restaurant and Saloon is their on-site dining area that serves meals from morning until evening, with live entertainment around mid-day.
Hotel Ouray, Ouray (3-star)
Set in downtown Ouray, this hotel takes guests back in history with its Old World charm and architecture. The Hotel Ouray was originally a law office built in 1893 but has undergone some modern restorations to suit guests better today.
Boasting a Victorian-style atmosphere, the property offers standard guest rooms and suites with comfortable beds, private bathrooms, and stunning arched windows that overlook the town.
Beaumont Hotel & Spa, Ouray (4-star)
The Beaumont Hotel & Spa is a historic four-star property that initially opened in July 1887. It was known as one of the western part of the state's most lavish hotels and even welcomed special guests like former Presidents Hoover and Roosevelt. Due to issues with the city in 1967, the owner shut down the hotel, and it remained empty until opening its doors to the public again in 2003.
There are 12 regal-style rooms at the Beaumont, designed with carefully chosen furniture and artwork. Five of the accommodations are classified as suites and provide a few upgrades to the regular Queen Deluxe Room. The on-site spa offers custom treatments, and the property is open to wedding bookings and private events.
Spending the night at any of the historic hotels in Colorado will be fun and eccentric places to stay.
Related Lodging
Latest in Lodging
Related Activities