With the leaves changing colors and the temperatures getting cooler, October is filled with exciting events to celebrate the season. Brew fests are common, including the Wine in the Pines Keystone and numerous Oktoberfests to choose from.
For those looking for a scare, Halloween haunted houses and hayrides can be found all over. Make the most of these warmer days while they're around.
2022 Annual October Festivals in Colorado
Date: Sundays, May 22 – October 16, 2022
Address: Highland Square, 32nd Avenue, Denver
Great farmer's market with handcrafted goods and locally grown produce. Go hungry because there is plenty of homemade food for sale, fresh and ready to eat.
Date: Thur-Sun, September 29 – October 2, 2022
Address: Durango
About: Celebrate the rich history of the American cowboy, with live performances, poets, and musicians, now in its 34th year.
Date: Fri-Sun, September 30 – October 2, 2022
Address: Fillmore Plaza, Cheery Creek, Denver
About: 15th annual art event held over three weekends at three different venues showcasing various creations from Colorado artists.
Date: Sat-Sun, October 1-2, 2022
Address: Bond Park, Estes Park
About: Fall festival celebrating the annual elk "rut". Events include a Mountain Man Rendezvous, Native American music and dancing, a bugling contest, elk seminars, and exhibits, as well as food and craft vendors. There's also an elk-viewing bus.
Date: Thur-Sat, October 6-8, 2022
Address: Convention Center, Denver
About: Now in its 40th year, GABF is one of the largest beer festivals in the US, with four sessions to choose from, and over 3500 beers.
Date: Thur-Wed, October 6-12, 2022
Address: Denver
About: Every autumn, the Mile High Horror Film Festival descends on Coloradans eager to get their fair share of scares. Back for its 13th year, this annual event has attracted notable attendees like Jack Black and Linda Blair.
Date: Fri-Sun, October 7-9, 2022
Address: Breckenridge
About: For the 10th year enjoy live music, regional liquor, and food. Events include Poker Run, Historic Saloon Walking Tour, Breckenridge Distillery Tours, Honey Gitter's live show at the historic Gold Pan Saloon, and Hangover Brunch.
Date: Fri-Sun, October 7-9, 2022
Address: Cedaredge
About: Celebrate Cedaredge's rich farming history at this annual autumn celebration happening the first full weekend in October.  Some highlights include a chili cook-off, golf tournament, 5K run, classic car show, live concerts, and apple pie sales.
Date: Fri-Sun, October 7-9, 202
Address: Chatfield Farms, Littleton
About: The 10-acre pumpkin patch at Chatfield Farms, operated by the Denver Botanic Gardens, operates for only one weekend. Head on out to pick out your favorite pumpkin and then stroll the other wonderful plants on display.
Date: Sun, October 9, 2022
Address: Denver
About: A fundraising race that comes with brunch, scented medals, and free swag, this event is for those who love getting active and eating.
Date: Thur-Sun, October 13-23, 2022
Address: Aurora
About: Now in its 33rd season, the Phamaly Theatre Company presents Vex Vergere with its disability-affirmative performance ensemble in Aurora.
Date: Fri-Sun, October 14-16, 2022
Address: Nugget Theatre, Telluride
About: The 13th annual 3-day Telluride Horror Show is the state's spookiest and largest horror film festival boasting plenty of films to scare your pants off.
Date: Tues, October 25, 2022
Address: Colorado Springs
About: The Colorado Springs Sports Hall of Fame induction ceremony is a yearly celebration of the athletes, teams, coaches, and contributors who have left their mark on the community. Taking place at the Broadmoor World Arena, there will be a reception, silent auction, and dinner.
Date: Sat, October 29, 2022
Address: Manitou Springs
About: Starting with a parade through town, the annual coffin races are formed of teams of four pallbearers and one "Emma". The races have been covered nationally by the Travel Channel and are usually held on the last Saturday in October.
Date: Sat, October 29, 2022
Address: Lower Downtown, Denver
About: It's free to dress up as an undead zombie and tag along on this annual bar crawl, held at 7 pm on Saturday in LoDo. Drink tickets are purchased ahead of time.
Date: Sun, October 30, 2022
Address: EXDO Event Center, Denver
About: The 6th Annual Bloody Mary Festival is the largest event of its kind, boasting a range of unique and tantalizing Bloody Marys as well as plenty of food and beverages.
Date: Sat-Sun, September – November TBD 2022
Address: Denver
About: The 13th Floor Haunted House is Denver's legendary and most horrifying Halloween event. If a night of fright is on your agenda, this is the place for you.
Date: Sat, October 23, 2022
Address: Aurora
About: A Halloween trick-or-treating family fun event hosted at the Arapahoe County "Scaregrounds" full of costumes, games, and delicious treats.
Date: TBD October 2022
Address: Golden
About: Annual chili competition featuring bottomless craft beer and chili tastings.
Date: TBD October 2022
Address: Longmont
About: Celebrate the annual Day of the Dead Festival in Longmont. This longstanding Mexican tradition is on full display in downtown and other locations around the city.
Date: TBD 2023
Address: Denver
About: The ultimate pinball and gamer festival returns for its 17th year. Attend one or all three days and play all the games you can, no quarters needed.
Go To November Events​
Latest in October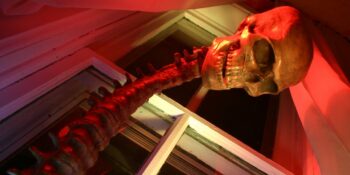 What better way to celebrate fall than getting spooked with your friends and family at some…
View more event articles
Related Activities
Search for upcoming performing arts, rodeos, and sports that aren't listed under events.