May brings warm weather and an end to the snow. Memorial Day weekend is the unofficial start of summer with festivities across the start. Fun events include the Downtown Denver Arts Festival and the Mountain Film In Telluride.
2023 Annual May Festivals in Colorado
Date: Wed-Sun, May 3-7, 2023
Address: Cañon City
About: Long-running music festival featuring a parade, rodeo, and carnival. High school, middle school, and junior high school bands from across the country compete in Concert Band, Jazz Band, Parade, and Orchestra categories.
Date: Saturday, May 6, 2023
Address: Cañon City
About: Founded in 1872, this is Colorado's longest continuously running rodeo, held as part of the aforementioned Cañon City Music & Blossom Festival.
Date: Saturday, May 6, 2023
Address: Estes Park
About: "Adopt" a little rubber duck and race it down the Fall River in support of over 60 Estes Valley charities. Bond Park comes alive with family games and live music. In addition to the duck race, vendors in downtown Estes Park will be having a sidewalk sale Saturday and Sunday.
Date: Sat-Sun, May 6-7, 2023
Address: Civic Center Park, Denver
About: 34th Cinco de Mayo celebration with music, dancing, food, and festivities.
Date: Fri-Sun, May 12-14, 2023
Where: Fruita
About: Four-day celebration of mountain biking featuring seminars, competitions, and a giant expo, now in its 26th year.
Date: Sat-Sun, May 13-14, 2023
Address: Aurora
About: Chalk Lines & Vines is an annual 21+ event that takes place in Aurora's Arapahoe County Fairgrounds where guests can sample over a dozen wineries, live entertainment, and chalk art.
Date: Friday, May 19, June 16, July 21, and August 18, 2023
Address: Monte Vista
About: Those who love art and music should head to downtown Monte Vista this summer for the 3rd Friday Art Walk. Taking place in different forms year-round, during the warmer months a portion of Adams St. will be blocked off for artists, musicians, and vendors.
Date: Sundays, May 21 – October 15, 2023
Address: Highland Square, 32nd Avenue, Denver
About: Great farmer's market with handcrafted goods and locally grown produce. Go hungry because there is plenty of homemade food for sale, fresh and ready to eat.
Date: Thur-Mon, May 25-29, 2023
Address: Telluride
About: Film festival held since 1979 in downtown Telluride, making it one of the longest-running in America.
Date: Fri-Mon, May 26-29, 2023
Address: Craig
About: Old West cultural festival that takes place over the Memorial Day Weekend at several locations: Fairgrounds, Downtown, and Cedar Mountain. Activities include a horse show, parade, carnival, live music, food, and games.
Date: Sat-Sun, May 27-28, 2023
Address: Denver
About: 24th annual arts fest showcasing fine art from Colorado and national artists.
Date: Sat-Mon, May 27-28, 2023
Address: Durango-Silverton
About: Historic bike race against the Durango and Silverton train, now in its 51st year.
Date: Thursdays, May – September 2023
Address: Denver
About: Civic Center EATS is a one-stop shop for some of the best food on wheels you can find in the Mile High City. Located in Denver's Civic Center Park, there will be about 10 to 15 food trucks selling a myriad of delicious meals.
Date: TBD May – August 2023
Address: Red Rocks Amphitheater, Morrison
About: Annual summer movie series held at Red Rocks Amphitheater showcasing a range of films. A great event for families, this event takes place on multiple days throughout the summer.
Date: TBD 2023
Address: Washington Hall Gallery, Central City
About: Taking place at Central City's Washington Hall Gallery and showcasing nearly 100 pastel paintings, the Mile High International Pastel Exhibition is for those who love art.
Date: TBD 2023
Address: Denver
About: Celebrating the Kentucky Derby and Cinco De Mayo, TheBigWonderful features over 100 local makers, live music on two stages, a VIP program, and a lot of Colorado craft food and beverage.
Date: TBD 2023
Address: Rifle
About: 26th year of western fun, complete with a carnival, car show, live music, and vendors.
Date: TBD 2023
Address: Amphitheater at Las Colonias Park, Grand Junction
About: Back for its 7th year, the annual Wüffstock Music Festival, hosted by the Roice-Hurts Human Society, is a celebration of food, drinks, live music, and of course, canines.
Go To June Events
Latest in May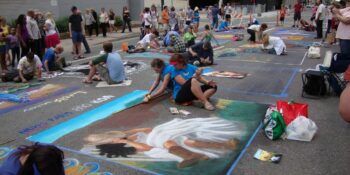 Come spring, Coloradans can't wait to take on the approaching warm weather days. And this is…
View more event articles
Related Activities
Search for upcoming performing arts, rodeos, and sports that aren't listed under events.