Snowshoeing is affordable, fun, and a great workout! Federal lands and state parks in Colorado are loaded with scenic trails, as are many ski resorts. As long as there is good snow coverage, you can snowshoe almost anywhere.
Where can you find snowshoeing trails in Colorado?
Some public parks that receive enough snowfall make great snowshoeing spots. Pick a park at higher elevation in the Rockies and you're almost assured maintained trails. Most towns show nearby hiking, with trails that can be used for snowshoeing as long as they are snow covered.
Snowshoeing at Nordic Centers and Parks
Most cross country ski areas permit snowshoeing on their multi-use trails. They often even have rentals available, so these are perfect places to start. You can find them near any major resort town.
Gondola Rides and Chairlifts in Colorado
During wintertime more than just skier and snowboarders are allowed to access select chair lifts and gondolas at Colorado's ski resorts. Most are open to pedestrians including snowshoers for a fee. Once atop the mountain, multiple cat tracks and trails are usually available for snowshoeing.
Featured Snowshoeing
Guide to Snowshoeing in Colorado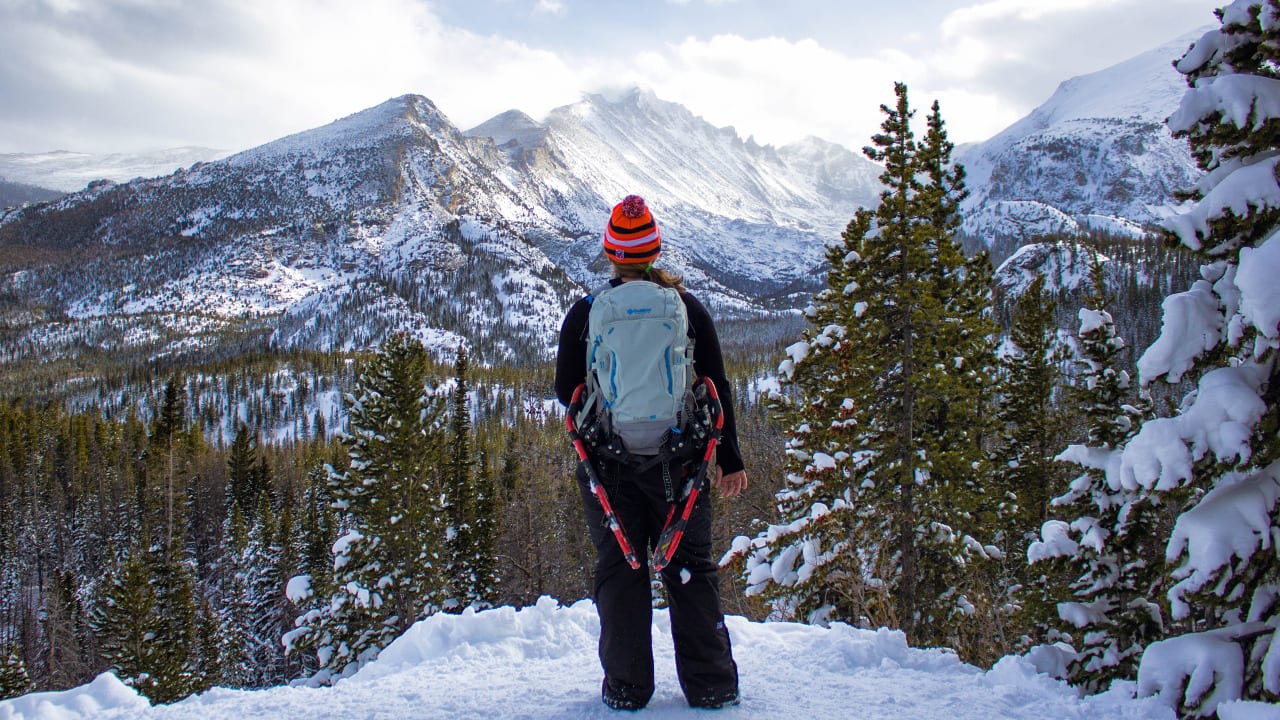 For thousands of year humans have strapped snowshoes to their feet to help move through vast alpine landscapes. It's gone from a wood-framed form of transportation to a full fledged winter sport. Now made of mostly aluminum, snowshoes are used for recreation, competition, and transportation.
You can extend the hiking season by strapping on a pair of snowshoes. Explore tranquil, winter wonderlands spread throughout the Rockies that you would've been able to reach with just hiking boots. It's a splendid activity because it's inexpensive, you can snowshoe nearly anywhere snow covered and it's great exercise.
Snowshoeing is for all ages and abilities. It's easy to get started. Just buy a pair or rent some snowshoes and find a fun trail. Snowshoes prices range from the low-end of $50 to the high-end of $300. Be careful buying a used pair. Inspect them thoroughly if you do. You don't want to be out in the backcountry with faulty snowshoes.
Nearly all the Nordic centers offer snowshoe trails in addition to cross country skiing. Most Colorado ski resorts are open to snowshoeing on designated trails during the ski day. You can usually rent snowshoes at the Nordic centers and ski resorts.
What to Wear Snowshoeing
Ski pants and jacket
Snow hat
Waterproof ski gloves
Sunglasses
Wool socks
Sunscreen
Waterproof hiking books
Latest in Snowshoeing
View more snowshoeing articles
Related Activities