Enjoy Colorado's Great Outdoors on cross country skis. It's easy to find Nordic centers and cross country ski trails all over the Rocky Mountains. Most offer ski rentals, usually both classic and skate, as well as snowshoes.
List of Cross Country Ski Areas and Nordic Centers
Mountains aren't required for cross country skiing! Just gentle rolling terrain is enough for a fun alternative to downhill skiing. Whether classic or skate skiing, you'll receive a great full-body workout, along with a wonderful reason to spend time in nature.
Map of Cross Country Ski Areas and Nordic Centers
Featured Cross Country Skiing
Guide to Cross Country Skiing in Colorado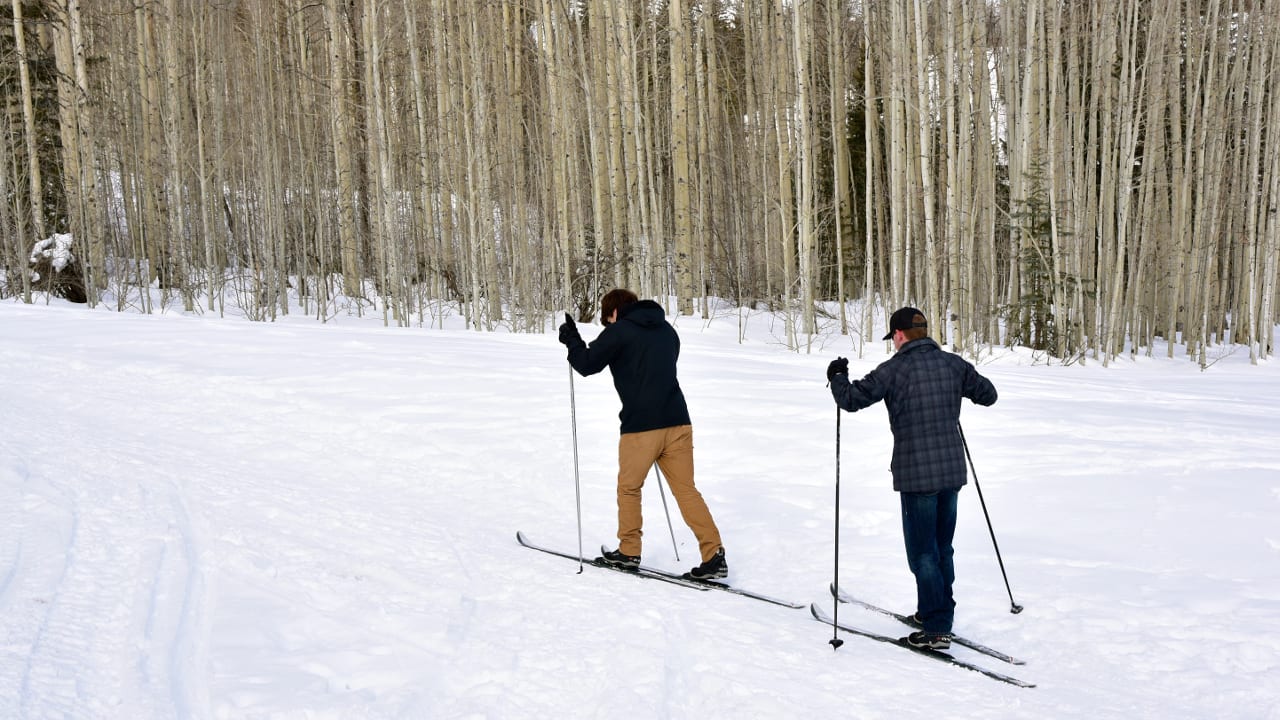 Nordic skiing is the oldest and most original form of skiing. It was used to travel snow-covered land in search of food, wood, and socializing. It's the same as cross country skiing, except that Nordic skiing also goes in the backcountry on ungroomed trails.
Cross country skiing is one of the best ways to enjoy the winter season. It's cheaper than downhill skiing, an awesome workout, and allows you to soak up nature at your own pace.
It began as a means of transportation and continues as such in parts of the world. Skiers are their own vehicle to move across the terrain, not requiring chair lifts or assistance. It's a popular sport for recreation throughout the snow covered globe.
Where to cross country ski
There are numerous trails located in places like national forests and state parks, as well as at cross country ski areas, which operate on their own acreage. If you want a more raw experience, definitely rent some skis, if needed, and head out to a wonderful cross country ski trail in the mountains. Many previously multi-use trials, open to skiers in the winter. Nordic Ski Colorado has some good resources.
Cross country ski areas, usually referred to as Nordic center, rent you skis and equipment and let you get started right out the door. Most will rent you snowshoes too, with separate or shared trails available. Nordic centers are located around all the most popular ski areas, from Winter Park to Telluride, and everything in between.
What to wear cross country skiing
Dress like you would for a day at the slopes. Wear ski pants and jacket, hat, gloves, sunscreen and layers. If you don't have equipment, you can usually rent it at the Nordic center or at a local ski shop.
Elevation and where you heading also play a factor. If just out for an afternoon trek at your Nordic center, dress for the weather, it's quite the workout. You can always head back to your car. If heading into the national forests, pack that jacket and essential supplies.
Types of cross country skiing: classic vs skate
There are pros and cons to each style and even some trails groomed for one or the other. Most people learn classic first. The motion of your legs and arms mimics the natural body movement of walking and running, with the limbs alternating.
Many say classic skiing is easier to learn, but harder to master. Skating tends to more intense and a superior aerobic workout. Skating requires less messing around with wax, so it's easier to get out the door and get going.
Skating a newer style that uses lateral movements, similar to ice skating. Your arms work together with your legs to achieve momentum and get going. It's better for groomed trails and not equipped well for the backcountry. Having trouble deciding on skate vs classic skiing? The best thing to do is try both and see what you like.
Latest in Cross Country Skiing
View more Cross Country Skiing articles
Related Activities
Come winter, alpine lakes freeze over and many offer ice skating. Most major resorts have an ice rink in town. Most snow tubing is located close to epic skiing and snowboarding.