Horseback riding is available from ranches and stables across the state. All levels of riders are welcome, from beginner to skilled equestrians. Trail rides vary in length, anywhere from an hour to overnight pack trips, some offered year-round.
Horseback Riding Tours and Lessons
Whether you've been on a horse before, or never in your life, knowledgeable guides are happy to help all. You can horseback ride during the snowy winter days for a truly unforgettable experience, or take a relaxing ride under the warmth of the alpine summer sun.
Address: 1484 Park County Rd Unit 7, Fairplay
About: Offers rides for beginners, intermediate, and expert equestrians as well as pony rides for children ten & under.
Address: 14582 County Rd 162, Nathrop
About: Trail rides leave daily, one hour up to half-day, three-quarter day, and all-day horseback riding tours. Hayrides and sleigh rides are offered during the winter season.
Address: 620 Village Rd, Breckenridge
About: One and a half hour trail ride along the Ten Mile Mountain Range are available daily, from 8:30 am – 3:30 pm. For those that like to feast, opt for a Breakfast or Dinner ride.
Address: Elk River Guest Ranch, 29840 Rd 64, Clark
About: One or two-hour tours are offered daily as well as dinner rides. Longer horseback rides by appointment including three and six hours w/lunch, private two-hour rides, and half pony rides. Private riding lessons are also available. Riders must be at least eight years old for trail rides.
Fantasy Ranch Horseback Adventures
Address: Crested Butte
About: Up to five-hour wilderness rides, horseback trips to Aspen, overnight pack trips. Winter horseback and sleigh rides are available.
Address: 45000 N. Hwy 285, Villa Grove
About: Variety of horseback and trail rides, from 1 hour to full day. Private rides by apt. Located on Poncha Pass, surrounded by the breathtaking Sangre de Cristo Mountains.
Maroon Bells Guide and Outfitters
Address: 3125 County Rd 13, Aspen
About: One to two hours, lunch, dinner, full-day, and overnight rides offered. Sleigh rides are offered during the winter season.
Address: 6076 County Rd 119, Westcliffe
About: Four thousand acre working cattle ranch bordering national forest. Half-day range rides include either breakfast, lunch, or dinner. Tend the cattle that graze the range. There is also a two and three-hour ride, as well as a longer full-day ride available. Ages twelve plus. Experience is not necessary.
Address: 39020 Country Rd 8, Meeker
About: Day and overnight fishing trips, hunts, log cabin rentals, horseback riding. The lodge is located in the middle of the Flat Tops Scenic Byway.
Address: 4821 Hwy 84, Pagosa Springs
About: Variety of rides for ages six plus. Rides are done through Lobo Outfitters based at the Park. Enjoy scenic horseback rides in a safe setting. Reservations requested.
Telluride Horseback Adventures
Address: 242 Hawn Ln, Telluride
About: Summer and winter trail rides, sleigh rides also in the winter.​ Summer horseback rides leave at 10 am and last two hours or leave at 1 pm and last an hour.
Address: 7700 Trappers Lake Rd, Meeker
About: Lodge is situated on the Flat Tops Scenic Byway, open later May through October. They offer day and overnight fishing and hunting trips, as well a horse and cabin rentals. There is also a restaurant with a bar.
Horseback Riding Trails in Colorado
These multi-use trails are open to hikers, bikers, and horseback riders. Each shares the path with the other, offering a friendly nature escape for all. Most trails located in federal lands are free for use.
Horseback Riding in State Parks in Colorado
Guide to Horseback Riding in Colorado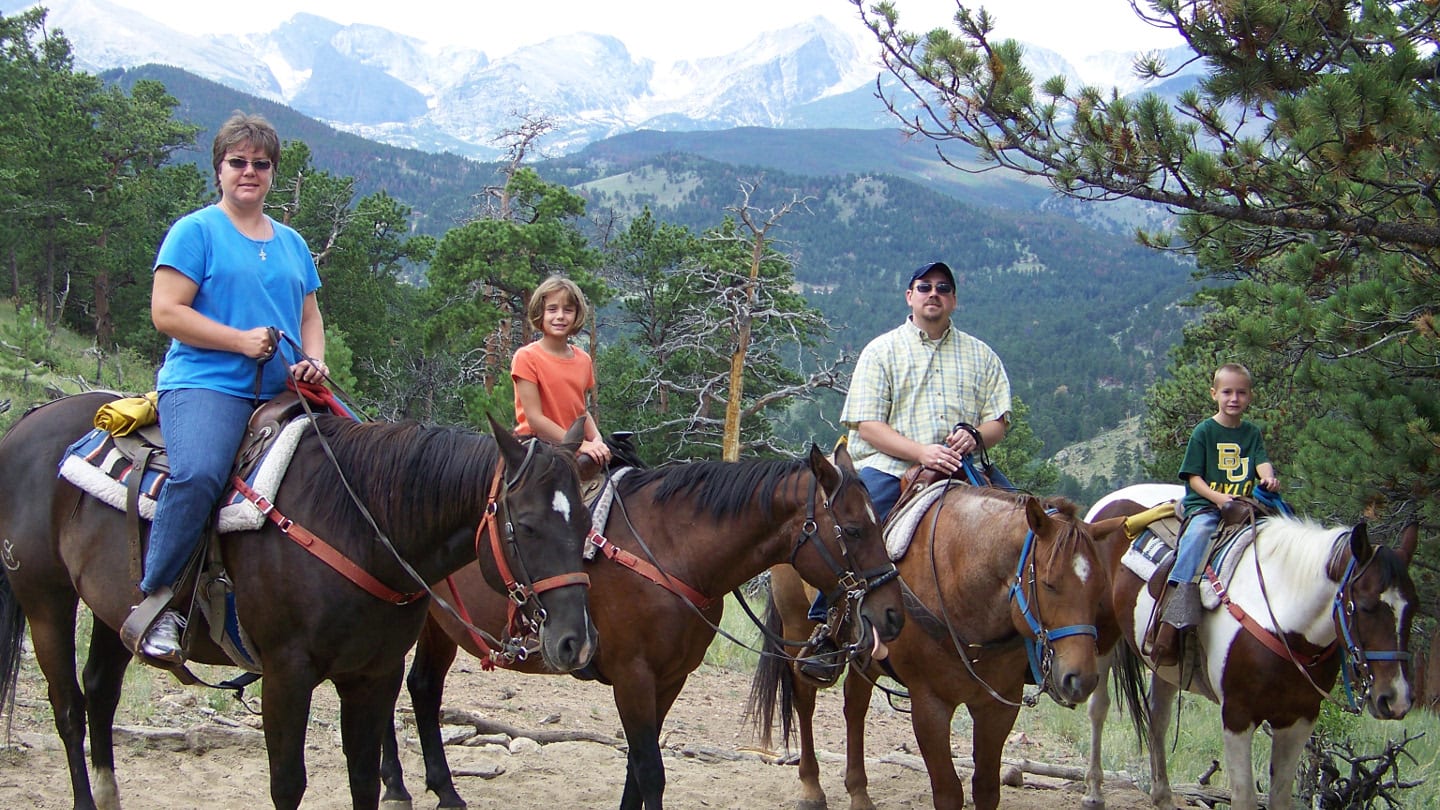 Colorado and horseback riding have a long rich history together. The Spanish were the first to bring horses to the region, and it forever changed the American West. From increased hunting abilities to faster transport, horses have been used to fuel America's growth.
The image of a cowboy riding off into a sunset is a stereotype of the Old West. And you can live that reality at locations all around the state, from the eastern plains to the highest mountain towns. Some ranches provide year-round tours, while others are limited to the warmer summer season.
Tours generally start out with an introduction to how to ride a horse. Once the basics are down, you'll be matched with a horse to your size and ability and venture out with your group and guide. Soak in the magnificent landscapes that seem even more authentic on horseback.
A number of state parks offer horseback riding trails, and some even have stables where you can rent a horse. Both Chatfield and Cherry Creek state parks in the Denver metro provide horse stables for those who do not own a horse. For those with a horse, Colorado is a playground full of multi-use trails open to horseback riding.
Latest in Horseback Riding
View more horseback riding articles
Related Activities
Rent an ATV and discover Colorado's hidden gems. Spend some time relaxing at a guest ranch, horseback riding, and fishing. Miles and miles of multi-use trails await in Colorado's national forests.