Zip lining and aerial parks are fun activities that are sure to get your adrenaline going. Tours are offered at many locations around Colorado, from ski resorts to the Royal Gorge. Some run year-round, while others are only during the summer season.
List of Zip Line Tours in CO
Ziplining is a safe, thrilling attraction for people of all ages. It's something you can do with your family and remember for the rest of your life. Tours vary in length, from short one-time zips to multi-canopy zip lines, and all-day inclusive adventures.
List of Aerial Courses and Parks in CO
In addition to full zip line tours, these aerial parks offer a variety of way-off-the-ground challenges. Obstacles range from rope crosses and big drop swings to leaps of faith and shaky bridges. Courses are marked with difficulty, so all abilities and fear levels can partake.
Map of Zip Lines and Aerial Parks in CO
Guide to Zip Lining and Aerial Parks in Colorado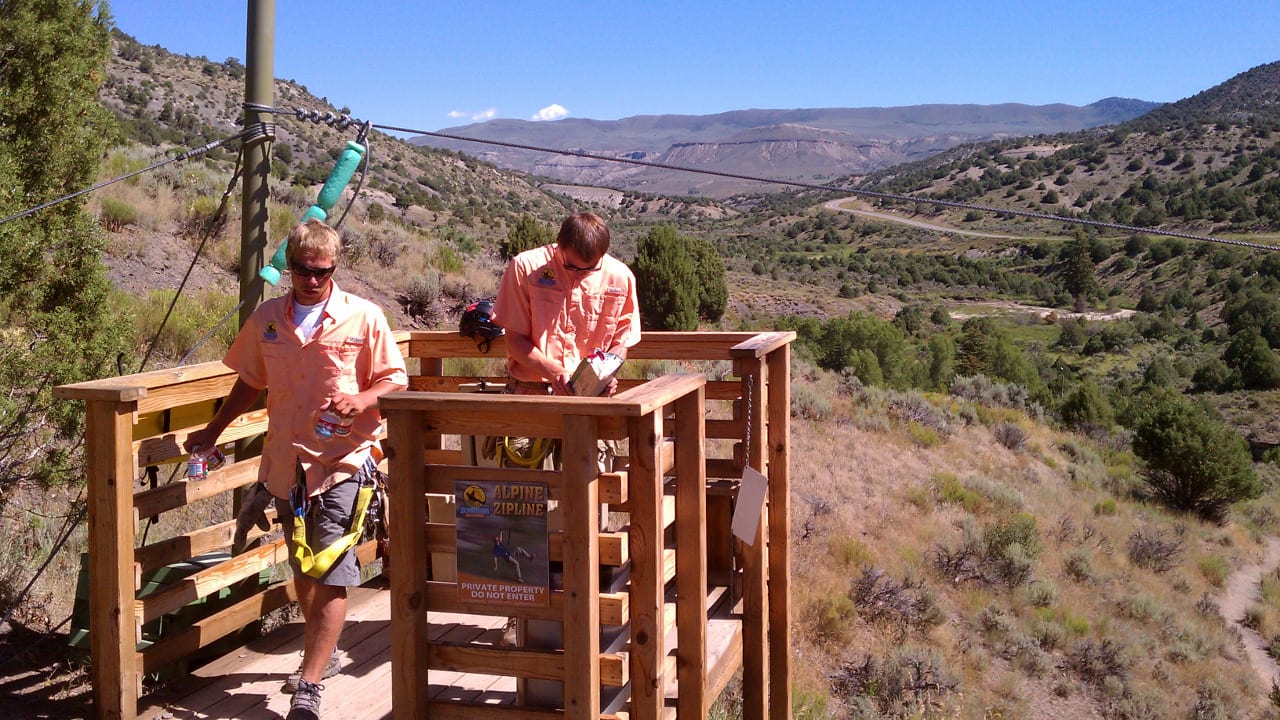 Ziplining makes for a fun, action-packed day in the Colorado countryside. Mostly all ages can enjoy this high-flying activity. Zip line tours can be found everywhere, from deep in the mountains to the urban Front Range.
A zip line is an aerial rope-slide, consisting of a pulley suspended on a metal cable, usually made of stainless steel. Some are built naturally on treetops or use cliffs to launch from an incline, gaining speeds of around 35-50 miles per hour. Others have man-made launch platforms that use an incline to zip to the next platform.
Aerial parks provide a wide array of off-the-ground challenges. From rope crosses to swinging bridges, aerial courses are designed for all ages and skill levels. In addition to the aerial course, each park has a zip line tour, to further the fun.
Both activities are breathtaking adventures that the whole family can try. It's available year-round at many venues and seasonal at a few of them. There are some size and age limits, so check ahead before you go.
Various zip lines and aerial parks have different requirements, usually a minimum and maximum weight limit. Some require guests to be at least 50 pounds and a maximum of 270 pounds. It's always best to check with the individual place.
Many of the Colorado zip line courses are open year-round, so you can enjoy them even when there's snow on the ground. Dress appropriately and always bring an extra layer. You can always leave it in the car.
Latest in Zip Lines
Related Activities
Keep the adrenaline going by riding a roller coaster, splattering some paint, or rafting the wicked Colorado whitewater.