Colorado has an efficient system of public and private transportation services, including commercial airports, passenger railroads, buses, rideshares, and bicycle rentals. It's entirely possible to play and work here without your own car.
Travel by Planes, Trains, Buses and Automobiles
You can travel throughout Colorado using either private or public transportation, or ideally a bit of both. There are some places the shuttles will not, however, a majority of folks are okay with just bolting up the ski resort straight from Denver International Airport.
Commercial Airports in Colorado
There are only 14 certified commercial airports in the state. Denver boasts Colorado's only international airport, making it the main entry point for millions every year. Other regional airports, such as Montrose, Durango, and Yampa Valley, transport travelers to the furthest reaches of the state.
Passenger Railroads in Colorado
In addition to a slew of historic railroads, which rarely transport you anywhere except where you started, Colorado has two main passenger lines: RTD and Amtrak. Both operate trains out of downtown Denver and Union Station. Amtrak started service in 1971.
Passenger Buses in Colorado
The bus connects to places where the trains won't go. Whether you're heading across the city or looking to catch a bus down to Pueblo, you can find a lot of options out of Denver Union Station. Consider a group shuttle service too.
Shuttles in Colorado
A variety of shuttle services are available from Denver International Airport to the most popular city and mountain town destinations. Both public and private rides are available. The former means you'll share it with like-minded strangers, the latter just you and anyone in your group.
Taxis and Ride Sharing in Colorado
Taxis cover the Denver Metro area and ride-hailing giants, Uber and Lyft can be found in the rest of the state. Most bigger mountain towns will have ride-sharing drivers available throughout the year. In small towns are harder to come by public auto transport, so for the best exploration possibilities, consider renting a car yourself.
Guide to Public Transportation in Colorado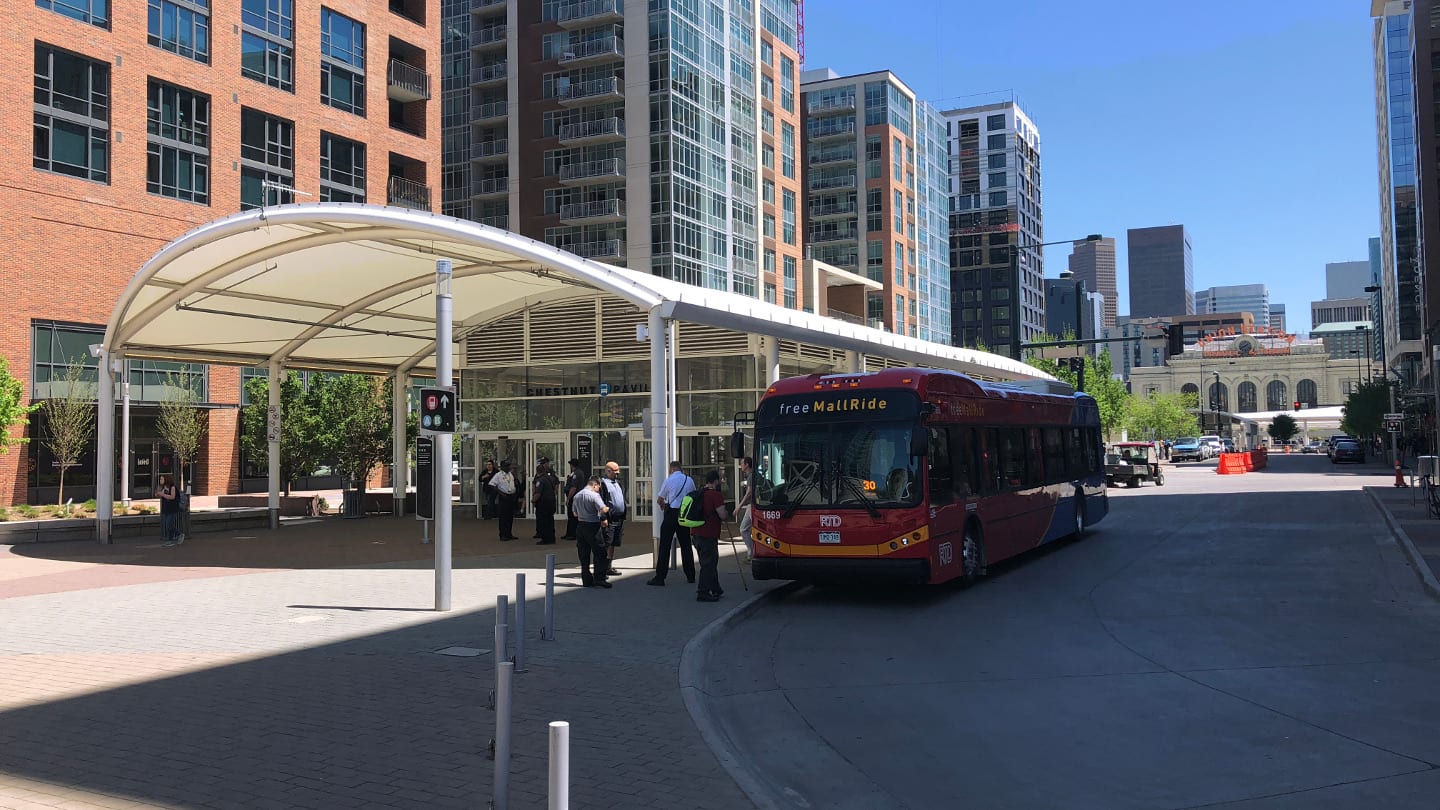 Colorado attracts people from all over the world to live here, whether as full-time residents or part-time vacationers. And there's great transportation to match that demand, ensuring everyone gets to where they need to go.
Most tourists arrive in Colorado via Denver International Airport. From here a plethora of options exists to take on the state.
Most people from out-of-state arriving via an airplane rent a car. This usually offers the most freedom, and expense. Another option is taking a train downtown from Denver Airport, a shuttle right to the mountains, or taking a connecting flight to a regional airport in Colorado.
It's simple to go your whole vacation here without ever needing to rent a car, or perhaps even step food in. Fly into D.I.A., take the train to Denver Union Station, and from next to there board the Bustang west to the resort paradise of your choosing. Reverse the order to return to your home.
There are also a variety of other buses that depart at the Denver Bus Concourse beside Union Station. Or hop on a train leading around the Denver Metropolitan Area, or the Amtrak California Zephyr line, which goes by Winter Park, Glenwood Springs, and Grand Junction.
Commercial airports: There are fourteen federally certified commercial airports in the state. Many regional airports are responsible for delivering winter tourists looking for their perfect vacation and ski lines. Denver International Airport stands above the others in terms of size, use, and function.
Passenger trains: – The Mile High City is well connected via their RTD Light Rail system. It delivers passengers across the metro area, to Longmont, Littleton, and Golden, as well as the airport. Amtrak also runs a couple of year-round lines through sections of the state. Or opt for a local adventure aboard a historic rail line.
There are loads of transportation resources for the Colorado tourist. Ride a vintage narrow-gauge train high in the Rockies. Rent a Jeep Wrangler and take it off-road to the vast backcountry. There are designated scenic byways that anyone with an automobile can enjoy.
Latest in Transportation
View Transportation blog
Related Activities
Jeeps share many of the same 4×4 roads as ATVs. Both usually pass numerous historic mines and ghost towns.