With world class venues like the Ball Arena, Coors Field and Mile High Stadium, Denver is a mecca for pro sports. There are eight professional teams, combined with several D1 college programs and various other sports across the state.
Professional Sports Teams in Colorado
The Mile High City competes in exciting pro sporting events year round. Sports fans can enjoy professional baseball, basketball, football, hockey, lacrosse, rugby, and soccer.
NCAA College Sports in Colorado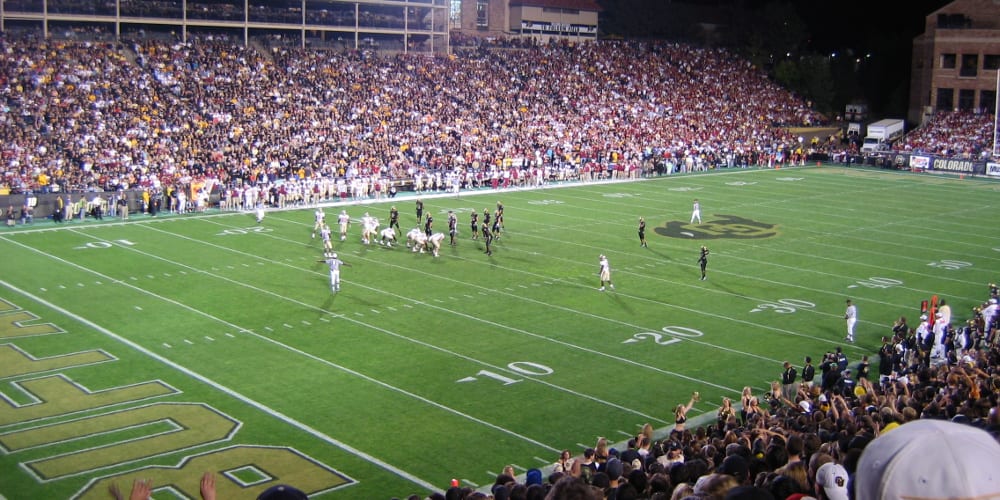 Colorado's two big state schools, CU and CSU compete in a number of intercollegiate athletics. The top match between the two schools is the Rocky Mountain Showdown, an annual football game held at the beginning of the season.
Address: Fort Collins
About: The Rams compete in the Mountain West Conference against teams like Air Force, San Diego State and UNLV.
Address: Boulder
About: The Buffs compete in the Pac-12 against the Utah, Cal, UCLA, USC, and others.
Address: Denver
About: The Pioneers play in the WAC, against schools like New Mexico State, Louisiana Tech, Idaho and Utah State. Their hockey team has won 7 NCAA Men's Hockey Championships, the second most, behind U of Michigan, at 9.
Roller Derby in Colorado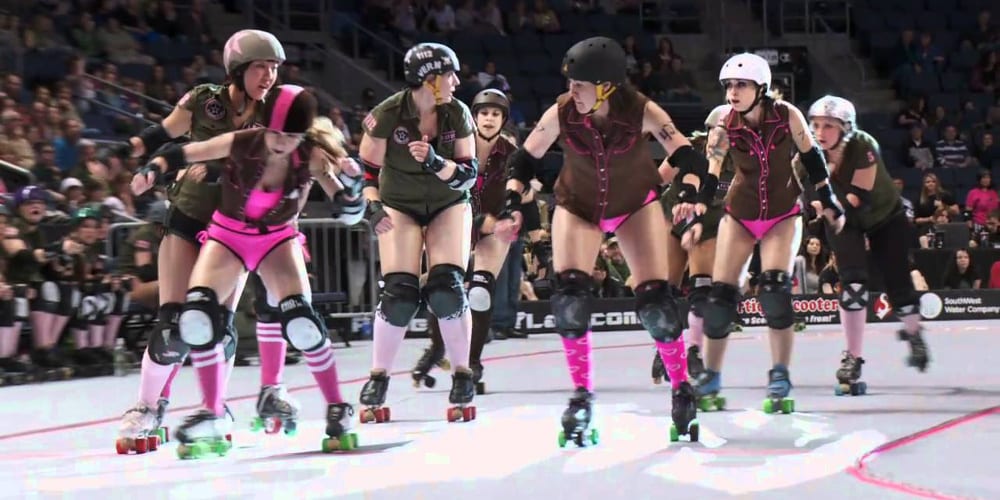 Colorado has several women's roller derby teams and leagues. Games are played around the state, and vary in size and frequency depending on the league.
Rugby in Colorado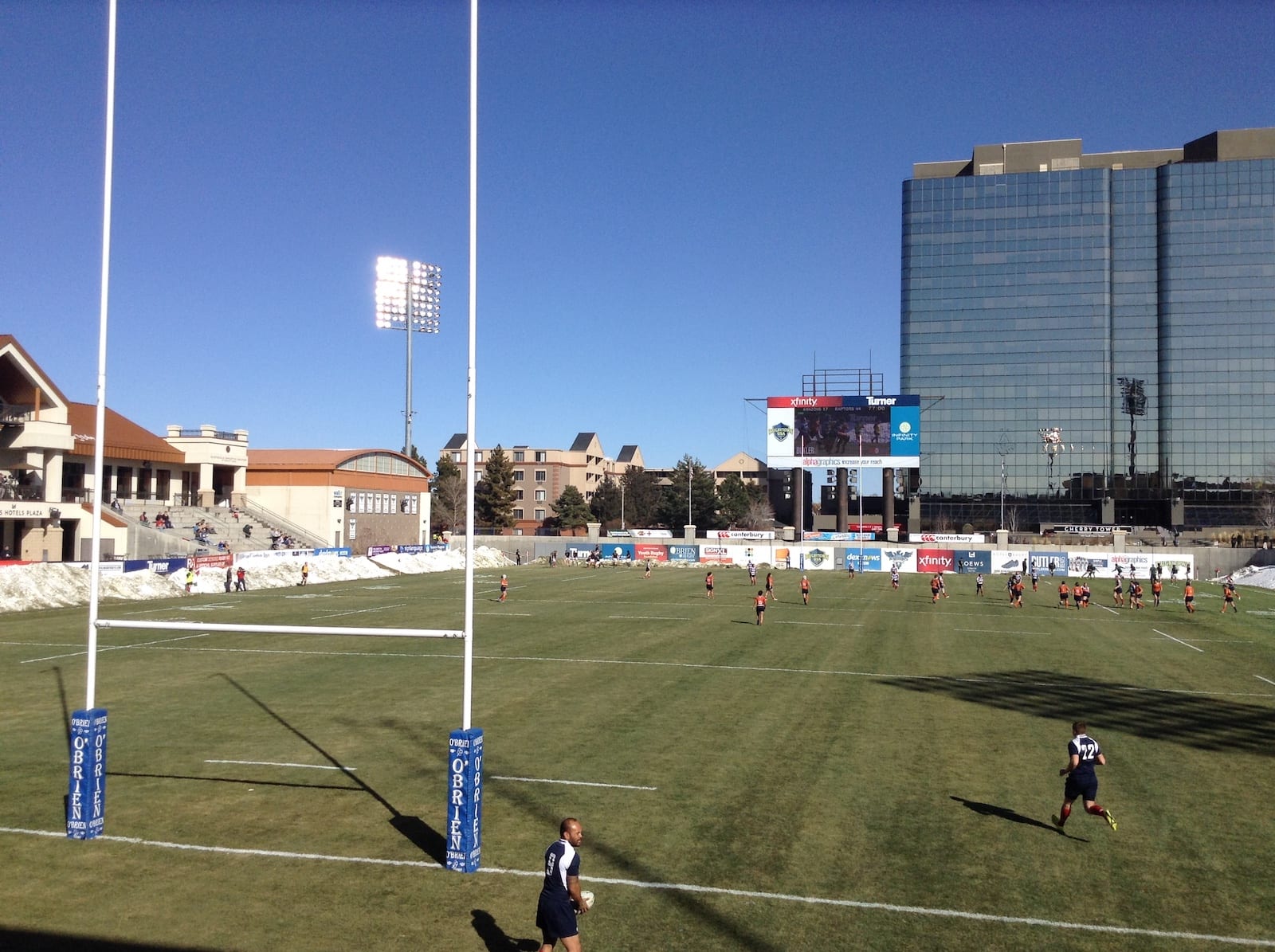 There are rugby union teams spread around Colorado, with a large concentration in Denver area. You can find a full list and more information on Men's senior rugby clubs at Rocky Mountain Rugby.
Sports Stadiums in Colorado
Polo Club in Colorado
If you're comfortable and experienced enough on horseback and up for learning the sport of polo, consider contacting the Denver Polo Club. They are based to the southwest of the Denver Metro in Sedalia. Drop-in polo and league play is available, as well as horses and gear.
Guide to Sports Teams in Colorado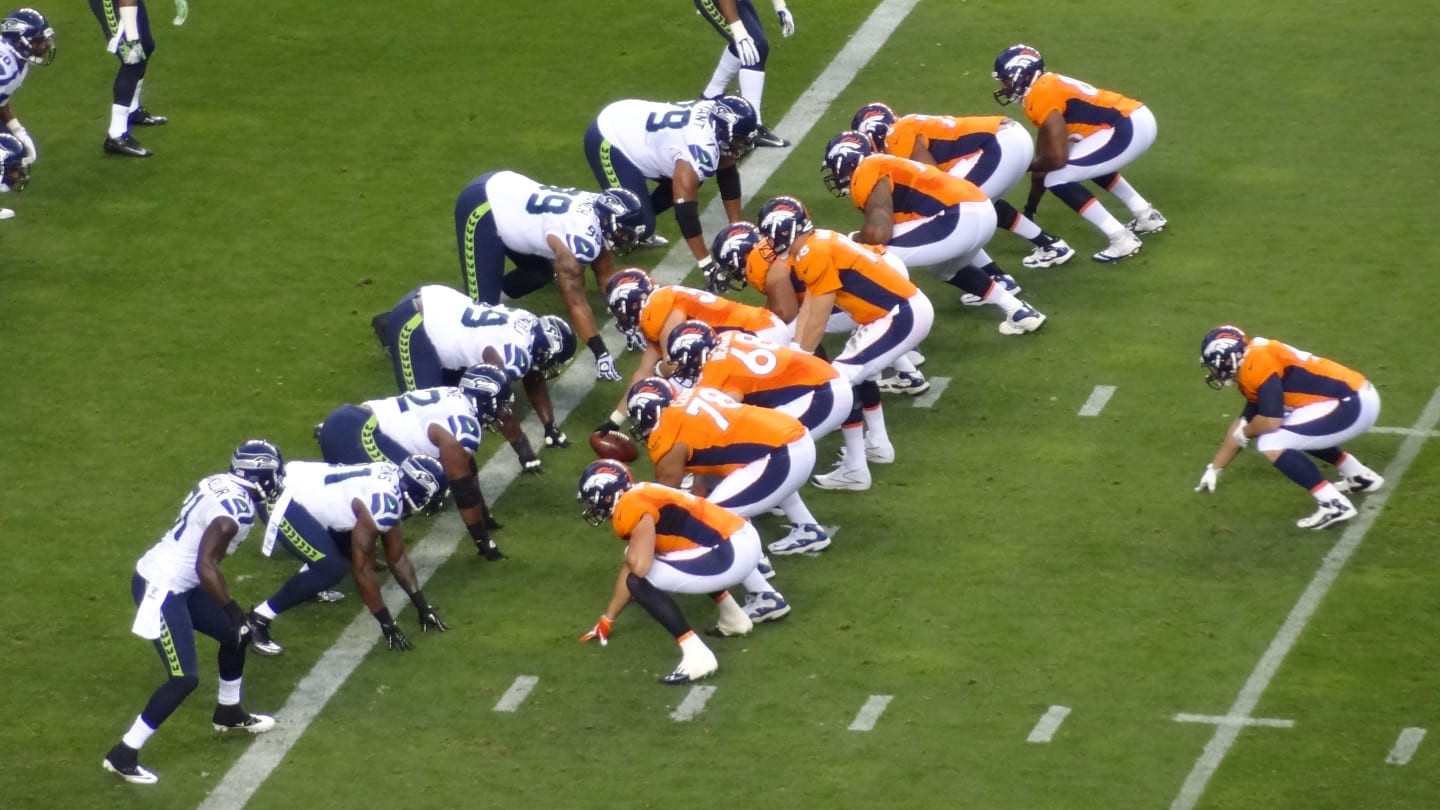 Colorado is home to a lot of active people, whom love to watch and participate in sports. All types of sporting events can be found here on every level, whether professional, college, amateur or recreational.
Pro Sports
Denver features teams in all the major pro sports, including baseball, basketball, football, hockey, lacrosse, rugby and soccer. Even the biggest sports fan will be happy in a state like Colorado.
Next summer evening, attend a Colorado Rapids soccer game out at Dick's Sporting Goods Park for a fun night in the cool Commerce City breeze. Although the Nuggets and Avalanche are known for rocking the Ball Arena, be sure to attend a Colorado Mammoth lacrosse game for a surprisingly thrilling time at Ball Arena.
College Sports
In addition to pro sports, Denver boasts D1 college programs at University of Colorado Boulder (CU), Colorado State University (CSU) and University of Denver (DU). The annual Rocky Mountain Showdown squares the CU Buffs and CSU Rams for its yearly bragging rights and Centennial Trophy. CU leads the football series.
Roller Derby
This lesser-known sport is one for the ladies, although men enjoy watching too. Ladies race around an indoor track, racking up points in this rough roller skating competition. Teams and games can be found across the state.
Support your local team and be entertained by attending a game this season. Sports are easy to find in Colorado.
Which professional teams in Denver are the biggest?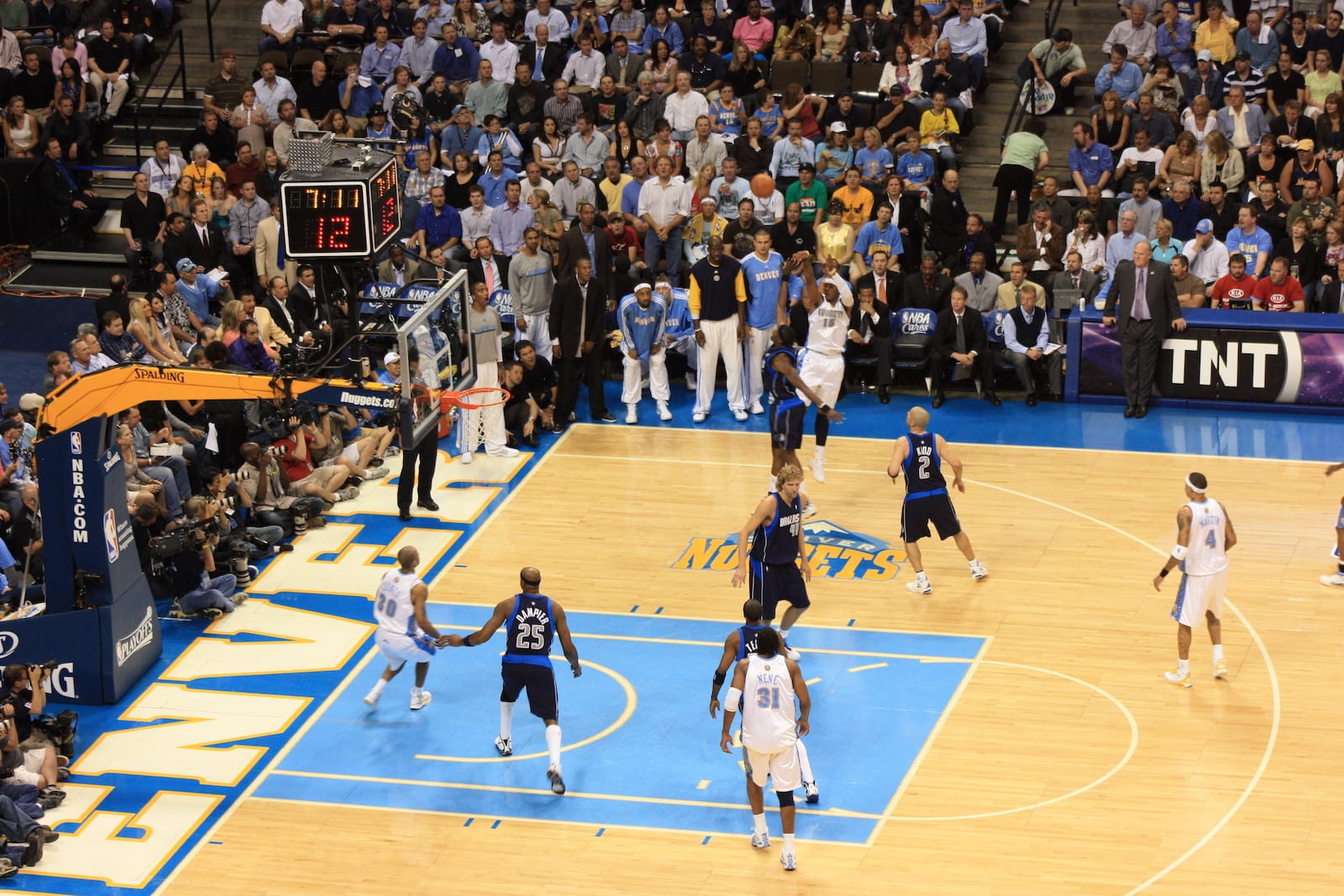 Despite being relatively small in terms of population, Denver, Colorado, takes its sport incredibly seriously. It has four major professional sports teams – the Denver Broncos its NFL team, the Denver Nuggets its NBA team, the Colorado Rockies for MLB and the Colorado Rapids for MLS.
These teams rule Denver and sports fans are spoiled for choice in terms of games and sports to follow. If you're planning a trip to Colorado, and you're a sports fan these are the best teams to see.
NFL: Denver Broncos
The Denver Broncos are Colorado's pro football team and currently play home games at the expansive Broncos Stadium at Mile High. Being a Broncos fan is more than just a pastime to Mile High locals, it's a way of life, and as such the games completely take over the entire city. You'll see everyone wearing the trademark orange, blue and white colors and the atmosphere is truly electric. The Denver Broncos won the Super Bowl in 1998, 1999 and 2015.
In recent years the team has faced some turmoil, winning the Super Bowl in Peyton Manning's last year in the league before retirement, but not reaching those heights again since his departure in 2015. A retooled squad with a great defense has their eyes set on the biggest game in sports this season. The current roster is packed with incredible talent and the games are always great fun to watch even if you're new to the Sunday scene – the NFL season runs from September to January.
NBA: Denver Nuggets
If you're a fan of basketball and are looking to check out some of the league's best talent the Denver Nuggets are the team to watch. The NBA season runs from October to June. Watch the Nugs rule the court at the Ball Arena in downtown Denver and with a roster that's made up of sensational new talent and skilled veterans.
They are led by the best passing center in their history, Nikola Jokic, who regularly terrifies opposing defenses with his sweet passes and sneaky play, despite being 7 foot tall. They're one of the most exciting teams fans could hope to watch.
MLS: Colorado Rapids
Soccer fans are always thrilled to support the city's professional soccer team, the Colorado Rapids. Playing out at Dick's Sporting Goods Park in Commerce City, this team is a force to be reckoned with. They have players from all over the world, included equipped with legendary US Goal Keeper Tim Howard. He holds the record for saves in a single game in the 2014 world cup with 16 against Belgium.
The Major League Soccer season runs from March to October. The Rapids have an almost cult following with a loyal supports section and opportunities to take buses to the game from the local soccer bars. Home games are a really memorable experience that any soccer fan is guaranteed to enjoy.
NHL: Colorado Avalanche
If ice hockey is more your thing, the Colorado Avalanche or 'Avs' as they're known to the fans offer up some fantastic talent and brilliant entertainment. They share the Ball Arena with the Nuggets and Mammoth. The season runs from September to April.
Although this isn't a storied team, as the Avs only started playing in Denver back in 1995 after moving from Quebec, home games are always packed with vocal, passionate Avs fans. Many games are sellouts. One visit to a Colorado NHL game will ensure you understand just how devoted these fans are.
MLB: Colorado Rockies
The Colorado Rockies are Denver's beloved Major League Baseball team. Much like the Avalanche they're a relatively new team, entering Major League Baseball as an expansion team in 1993. They play their home games at the iconic Coors Field venue in downtown Denver.
This venue has a nostalgic feel to it, combined with state-of-the-art technology. It's a really enjoyable experience for sports fans who want to soak up the atmosphere at the Rockies' home base. The Rockies fans are die hard, having an intense love despite a lack of post season success.
NLL: Colorado Mammoth
Lacrosse isn't as well known as some of the other sports listed here, but thanks to the Colorado Mammoth, it's swiftly gaining popularity in the Mile High City. The Mammoth are part of the National Lacrosse League and play their home games at the Ball Arena, attracting crowds that could easily rival those of the Nuggets and the Avs. The games are action packed and hard hitting.
The Ball Arena really knows how to put on a good show. The NLL season runs from December to April, with the Mammoth usually securing a playoff spot.
Latest in Sports Teams
View more Sports Teams articles
Related Activities
Experience a truly western form of entertainment. Rodeos have a variety of events from bull riding to tie-down roping. Local speedways host a variety of events, from stock car racing to monster truck shows.