Paintball is a fun activity that is sure to get your adrenaline going. Equipment rentals are available at most locations, as well as the paint to spray your friends. Most fields are open year round.
Indoor and Outdoor Paintball Fields
Although the idea of shooting paintballs at each other might sound violent, it's actually a fun, exhilarating activity for family and friends to enjoy together. The Denver Metro features a variety of fields, where you can rent equipment, and join in large, existing group games.
Guide to Paintball Fields and Rentals in Colorado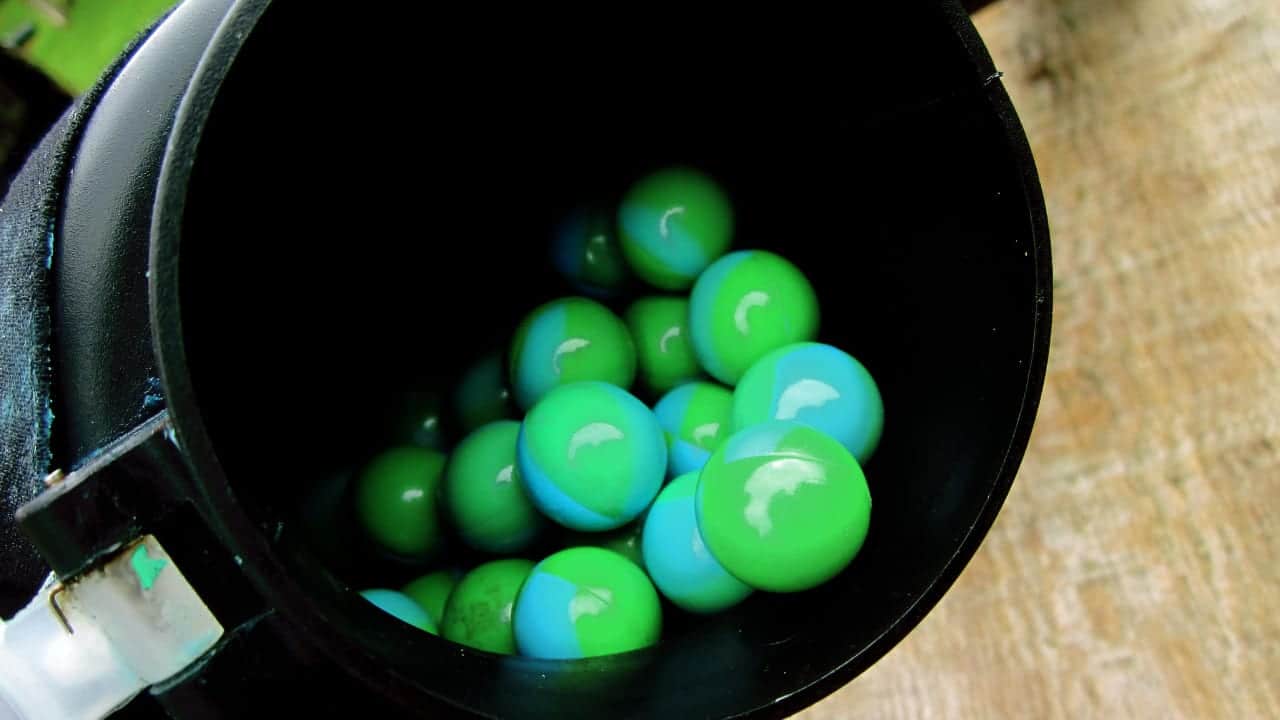 Paintball is an action-packed activity that both young and old can enjoy. Why not shoot some gelatin balls filled with paint?!
Wear long sleeves and pants that you won't mind getting dirty and a light pair of gloves. Paintball is a physical activity, so drink lots of water and bring a lunch. Bring a change of clothes for after you're done playing.
Where To Play Paintball?
The Denver area has four great paintball fields, so your best bet for paintball in Colorado is in the Mile High City. There's another field in Durango. You can rent everything you need there.
Each field is one-of-a-kind and full of obstacles. Some like Blitz in Dacono have really unique features. It has a 2-story castle and helicopter. Next time you play paintball in Denver, be sure to try out a new field.
Who Can Play Paintball?
Paintball is generally recommended for kids 10+, due to the stinging nature of being hit with a paintball. Each field will have its own rules and regulations. It doesn't hurt too bad, you can always wear an extra layer.
Games like capture the flag keep paintball exciting and allow your team to win, without having to eliminate all the other players. Generally in paintball, one hit that splatters and you're out.
You can always rent equipment at the field, including a gun, face mask, and paint. Storage containers are available to so you can keep the action going, without having to leave the field to reload.
Indoor vs Outdoor Paintball
Both are excellent. Outdoor fields are larger, which makes for longer games with more variety. It's great for relaxing and enjoying nature while making lasting memories.
Indoor games are quicker-paced, but a ton of fun as well. They allow you to play in any weather, year-round. Speedball is the quickest variety of indoor play, and it's all about splattering each member of the opposing squad.
Latest in Paintball
Denver's eastern neighbor, and the larger city by land area (third largest in the state by population), Aurora, is a big place with plenty…
[Dynamic Paintball's Novice team the Colorado Faction. Photo: Dynamic Paintball] Denver, Colorado is the perfect city for the person who loves paintball. The city…
Related Activities
Get your adrenaline going by riding a coaster, river tubing, or zip-lining.