Take CO 119 from Boulder towards Nederland with Rocky Mountain Way blasting out your driver-side window, and there will be no doubt in your mind – you have entered the American West. Out East, they dream of unchaining from the monotony of living.
Here, they skip the dream and sing in awe of life. From the early Welton Street jazz scene to the legendary Red Rocks Amphitheater, musicians from all times and places have flocked to Colorado for inspiration.
Songs about Colorado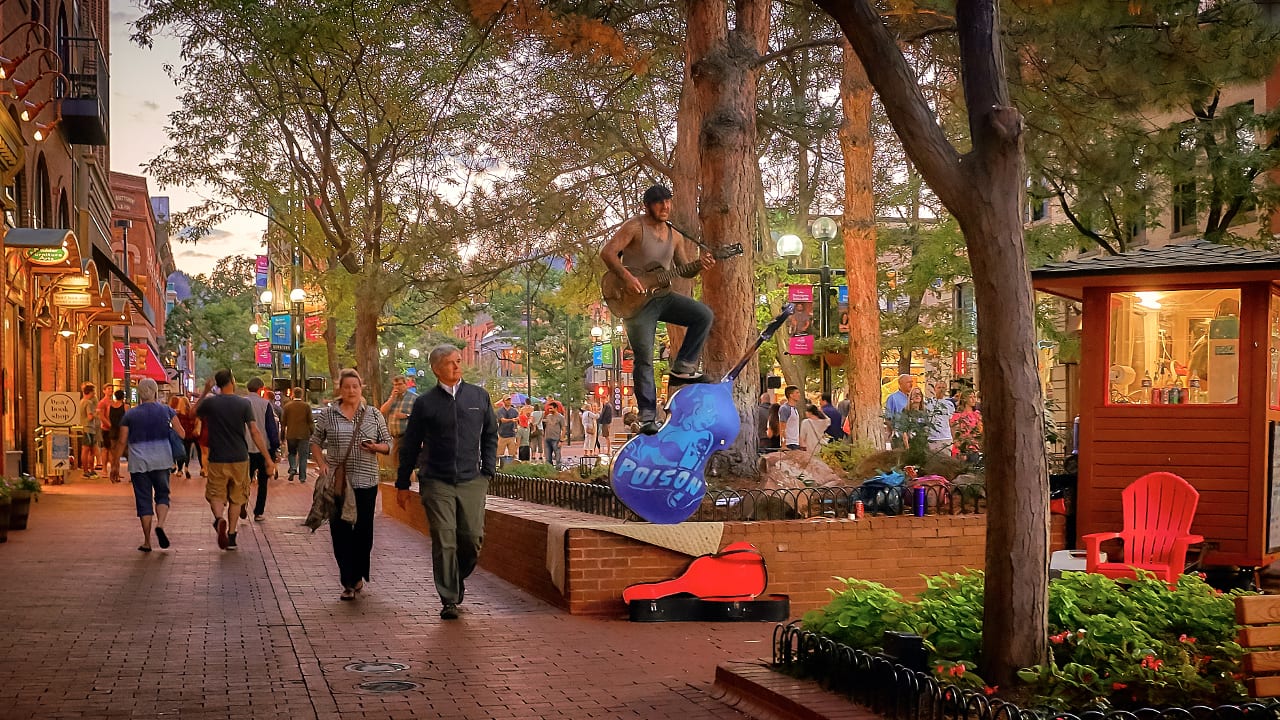 How many famous songs from Colorado can you name? Here are 9 songs that came from their travels.
1. Joe Walsh – Rocky Mountain Way
Caribou Ranch Recording Studio holds a status in rock history that few other studio spaces even come close to touching. Nederland's hidden gem saw studio time from such greats as Elton John, Steely Dan, and Stevie Nicks, but one who truly dug the snow and that was Joe Walsh.
If the title of his release that year, "The Smoker You Drink, The Player You Get," doesn't do enough to imply the artist's party-hard attitude, then perhaps the first lyrics of Rocky Mountain Way will. "Spent the last year / Rocky Mountain Way / Couldn't get much higher."
Party on, Nederland.
2. John Denver – Rocky Mountain High
Forget the last name (it's Deutschendorf, anyway). It was this New Mexico-native's 1972 hit that wrote him in the thesaurus beneath 'Colorado.' From then on, dads around the world had a theme song to nights without the kids. And Colorado kids had a theme song for nights away from home.
It's not the double entendre, though, that resonates. Instead, it's the profound love and respect for nature that Deutschendorf so effortlessly exhibits with "I know he'd be a poorer man if he never saw an eagle fly." So it should be known to every visitor to the Rockies.
Visit the John Denver Sanctuary in Aspen, a free open space park paying tribute to the late artist.
3. Jimmy Buffett – A Mile High In Denver
Best known for his beach-bum persona, Jimmy Buffett was once an associate of Hunter S. Thompson in late-70s Aspen. With The Eagles' Glenn Frey in tow, the team took what was then a sleepy ski town by storm. That was a couple of million dollars and one "Margaritaville" after his 1969 debut release, "Down To Earth," which featured a forgotten love song to Colorado in A Mile High In Denver.
Had this sleeper classic not been eclipsed by a franchise of theme-park bars, then it could have been the state song.
4. Townes Van Zandt – My Proud Mountains
A tragic hero in the world of outlaw country, Townes Van Zandt lost much of his long-term memory at a young age thanks to insulin shock therapy. What he lost in reflection, though, he gained in the ability to break even the coldest of hearts with his lonesome half-yodel of a voice.
In My Proud Mountains, Van Zandt spins a semi-autobiographical tale of a young man who leaves his home in Colorado at 17 to pursue a life of "fast ladies" and "hard livin' men." In just three verses, though, he returns, conceding that not only is his home where he belongs but it's where he intends to be until death.
5. The Flying Burrito Brothers – Colorado
In the life of a band on a crash course, there's always one record that symbolizes its internal strife and simultaneously fails to effectively express it. For The Doors, that record was "Other Voices." For The Flying Burrito Brothers, it was their eponymous third record, which featured no appearance by the legendary Gram Parsons. Instead, listeners were crooned by the sobering voice of Rick Roberts.
His ballad, Colorado, follows the same trajectory as Van Zandt ahead of him, speaking to an older, but wiser man's decision to leave his life on the road behind and return home to Colorado.
If only Gram had gotten the memo.
6. Woody Guthrie – Ludlow Massacre
Perhaps no other 20th-century singer empathized so deeply with the workers of the country as did Woody Guthrie. Written nearly 30 years after the events it laces into song, Woody's Ludlow Massacre describes the April 20, 1914 violence against union coal miners by the Colorado Fuel & Iron Company (oh, and the National Guard). Thirteen women and children were burned alive that day.
Next 4/20, take the opportunity to educate your friends as to what they're really celebrating. It's sure to completely harsh their mellow.
7. String Cheese Incident – Colorado Bluebird Sky
The only group on this list that you'll likely see playing a street festival on The Hill in Boulder, String Cheese Incident has been a sweetheart to the Colorado jam band scene since the 90s. Their ode to Colorado is yet another about the timeless comings and goings of a young man. There's something about the last verse, though, that makes it all too contemporary:
Can you hear the mando rollin'
See the moonshine through the clouds
Living way beyond our means
And playin' our music loud
8. Johnny Paycheck – Colorado Cool-Aid
If you ever find yourself in a beer joint in Houston and a knife-wielding Mexican cuts off your ear, then congratulations, you have officially lived out the events of Colorado Cool-Aid. And if you think that things couldn't be any worse – you know, considering you're bleeding out of the side of your head – you're now obliged to drink a round of "Colorado Cool-Aid," which, it turns out, is Coors.
What a nightmare.
9. Chevy Chase – Colorado
From the mountains as white as snow to the power lines breaking and all the toilets freezing "in December in the Colorado Rockies," Chevy Chase's vision of Colorado paints Rocky Mountain High as sentimental malarkey. Anyone who has spent a winter in the mountains will know that there is some truth in what he says. Still, we'd take white, mountain snow over New York City slush any day.
Thanks for the reminder, Chevy.
Those are some of the classic songs from over the years inspired by Colorado. And there are countless others we missed and even more that will be produced in the future.