Few states boast the colorful Wild West past that Colorado does. You can experience a trip back a hundred years or more at some of the state's oldest hotels.
Several of these historic Colorado hotels have been in existence and operating as far back as the late nineteenth century. They do their best to preserve the Old West charm and grandeur that they had in their early days. You can find the oldest hotels spread throughout the Front Range and the Rocky Mountains.
Oldest Hotels in Colorado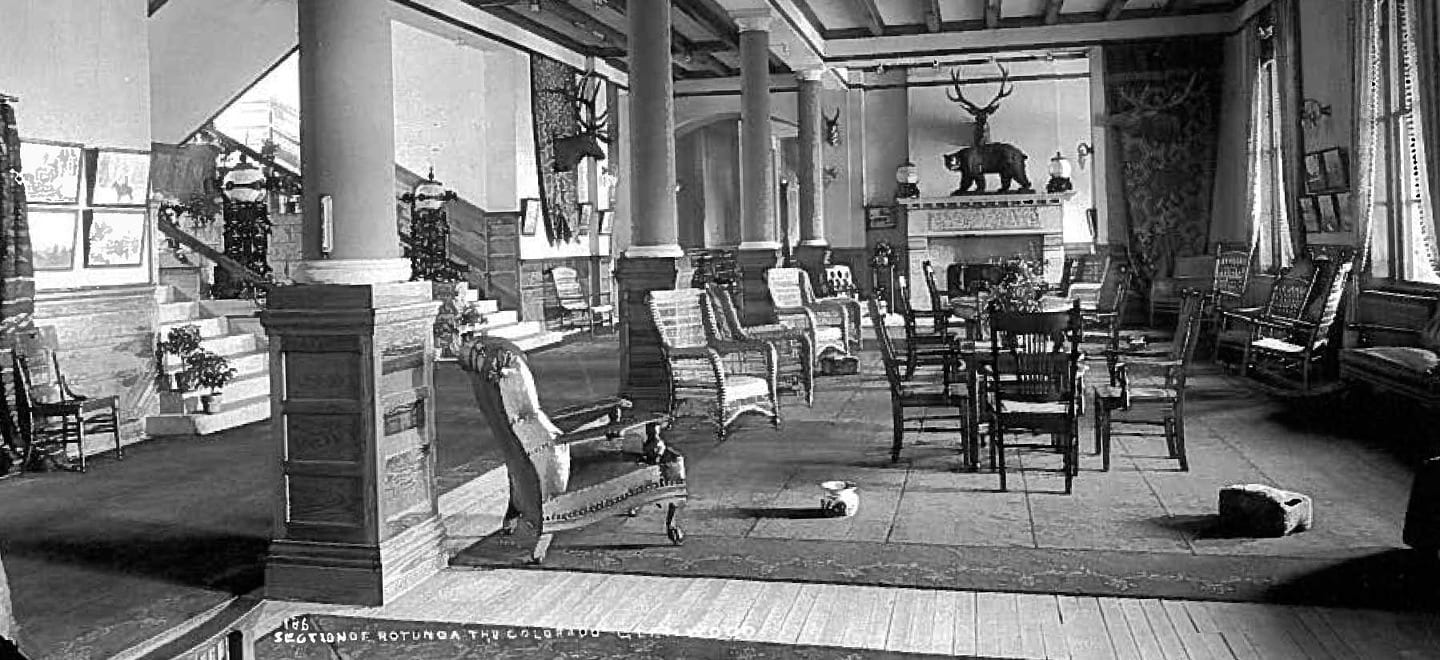 Sometimes travelers want even their lodging to offer a cool adventure and long-lasting memories. Historic hotels are a sure way to keep your overnight stay exciting and unique. They range in cost from affordable, budget friendly, to upscale, 3 to 5 star accommodations.
This section contains referral links. If you click through and take action, we may receive a commission, at no additional cost to you.
1874 | Manitou's Cliff House at Pikes Peak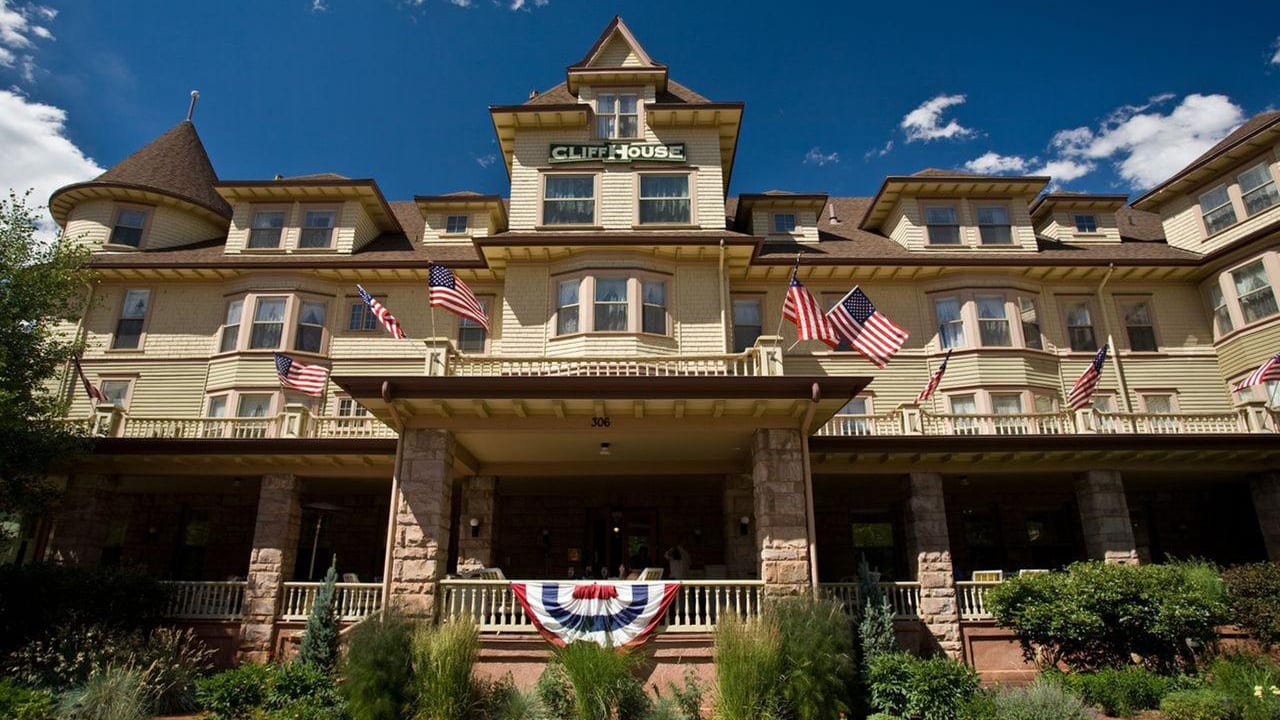 Older than the state of Colorado itself, the Cliff House has welcomed famous dignitaries and made it through the test of time. The hotel has been around for nearly 150 years and still possesses its charm from the bygone era. It's also complete with modern amenities and services.
This AAA Four Diamond establishment has 54 elegant guest rooms and luxury suites. Guests can also choose from three exquisite restaurants and enjoy a AAA Four Diamond Fine Dining experience. Plus nearby Manitou Springs is full of tasty options.
The Cliff House at Pikes Peak makes for a great wedding destination with its romantic Victorian designs from the late 1800s.
1874 | Del Norte's Windsor Hotel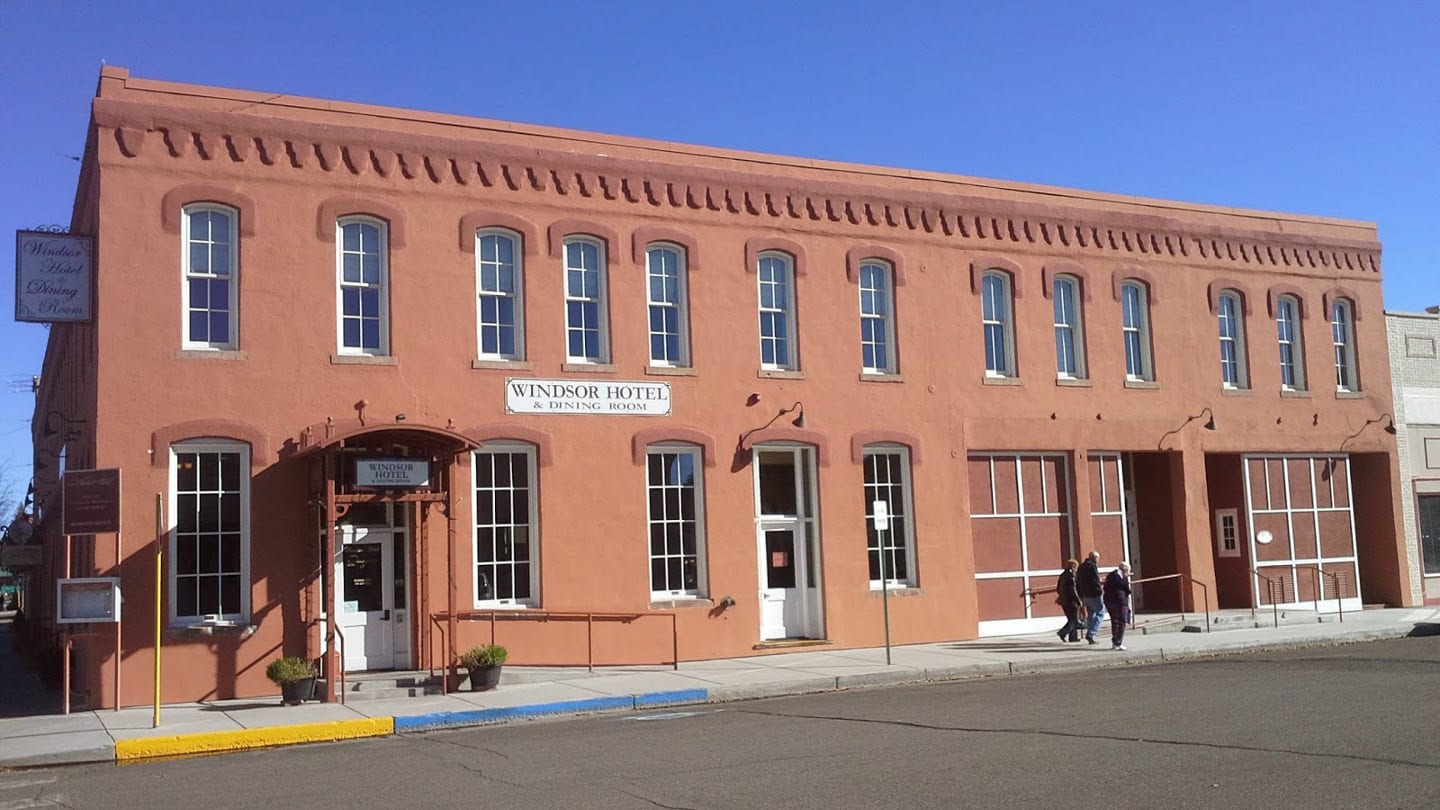 The Windsor Hotel was founded in 1874, making it one of Colorado's most historic hotels. It's prominently located in downtown Del Norte, encompassing half of the city block. It quickly became the social center of the region and has remained a gathering spot for nearly 150 years.
The hotel boasts 20 fully restored guest rooms and spacious suites. The Dining Room features a fine dining experience with locally grown ingredients and a western charm. Bistro BARbara is the on-site bar named after Barbara Culp who saved the hotel from destruction in 1993. The town and hotel had prospered until the 1970s when the hotel greatly needed repairs and was on the verge of demolition.
1886 | Leadville's Delaware Hotel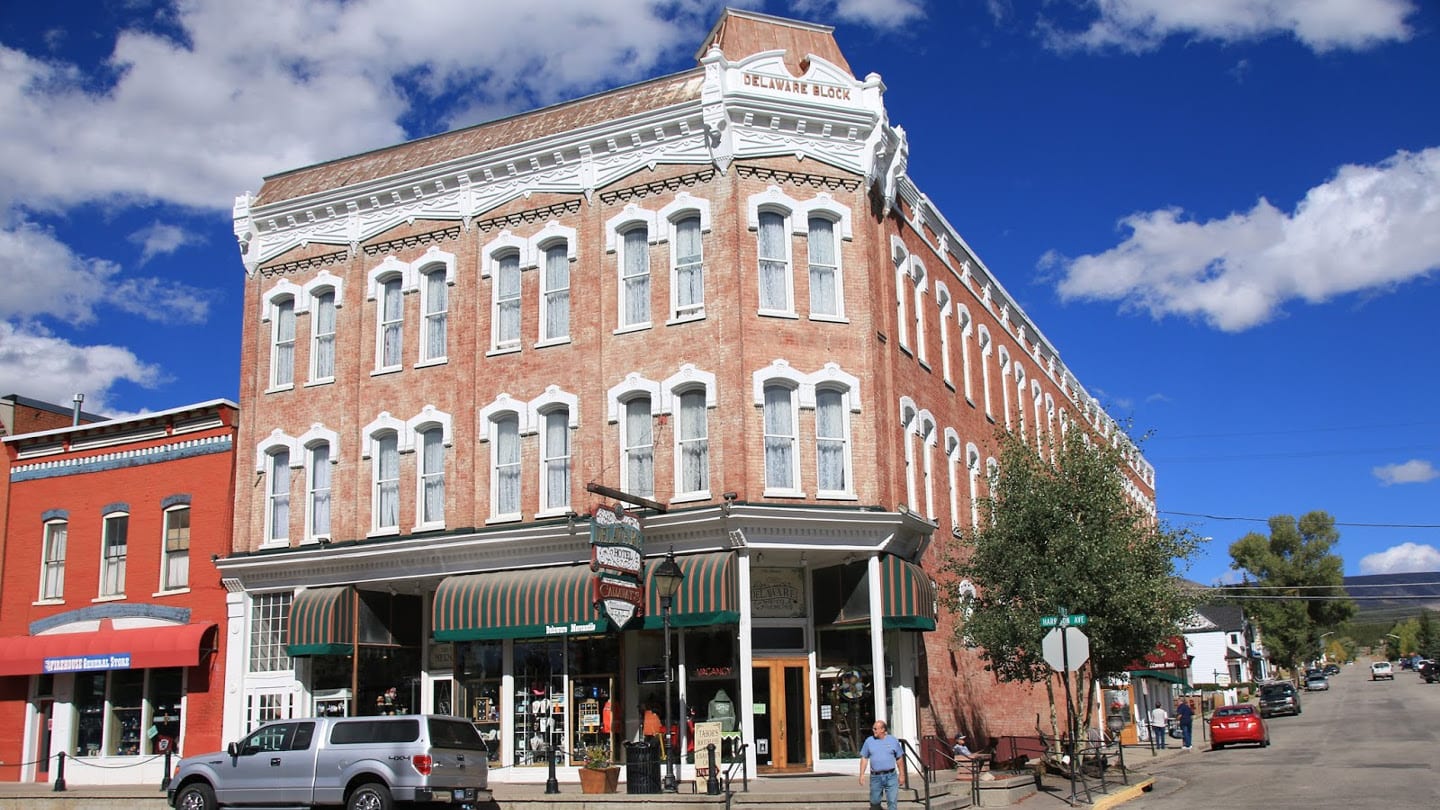 Staying at the historic Delaware Hotel is like lodging in a museum. The hotel still retains its vintage touch since the beginning of its operation in 1886. Guests can indulge themselves in the antiques, classic decor, and friendly hospitality in this unique Leadville hotel.
There's a gift shop on-site that sells relics, clothing, jewelry, and other collectibles. Some of the antiques are displayed in their 40 guest rooms, giving each room a one-of-a-kind design. Guests can even purchase some of the items. Its downtown Leadville location gives guests at The Delaware Hotel easy access to Leadville's rich past and present attractions.
1887 | Durango's Strater Hotel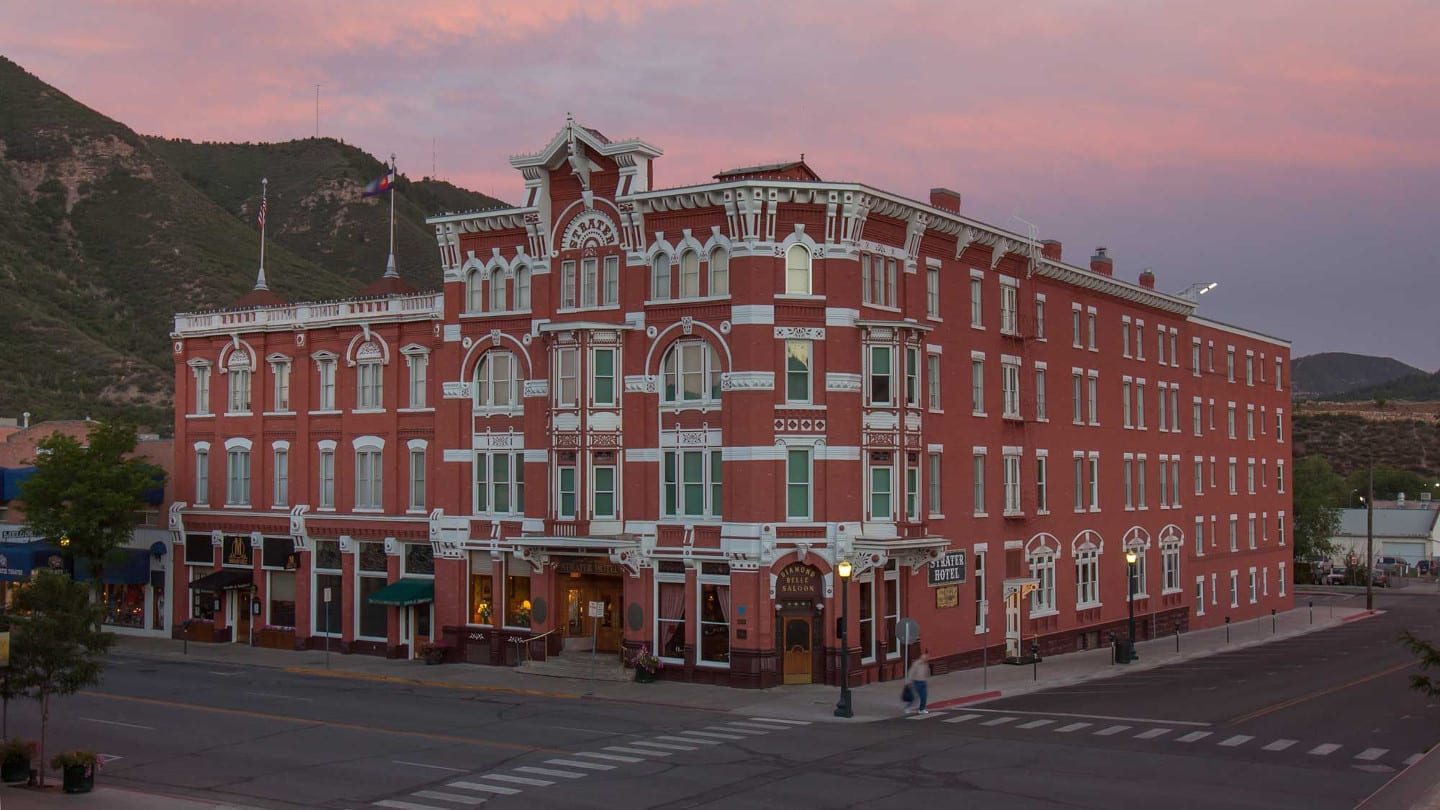 Built in 1887, the Strater Hotel continues to be a family-owned establishment, which has become a prominent landmark in Durango. The hotel boasts the largest collection of American Victorian walnut antiques, creating a stunning Old World charm. They also have period wallpaper and exquisitely handcrafted woodworks.
Their 93 luxurious guestrooms have an old western design and feature many of their Victorian antiques. When it comes to dining, the Strater has a solid selection of restaurants, including award-winning fine dining and a true Old West watering hotel, the Diamond Belle Saloon. Guests can also attend a show at the Henry Strater Theatre.
1887 | Ouray's Beaumont Hotel & Spa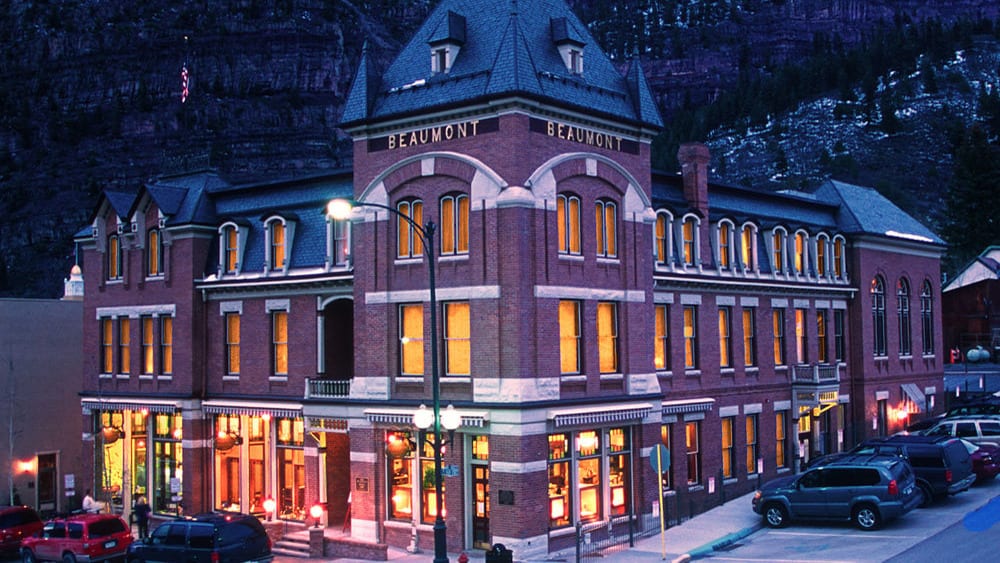 The Beaumont Hotel and Spa is a boutique establishment, which has 12 stunning rooms and suites. Each one has its own personality, varying in size, shape, and design. The hotel was built in 1886 and is situated in the hot springs town of Ouray, also known as the "Switzerland of America" because of the cliffs that surround it.
The hotel is still referred to as the "Flagship of the San Juans". They've welcomed very famous personalities such as Oprah Winfrey, and US presidents such as Theodore Roosevelt and Herbert Hoover. Even King Leopold of Belgium stayed in one of Beaumont's rooms. In 2013 Reader's Digest named it to their Top 10 Hotels in the West.
1889 | Aspen's Hotel Jerome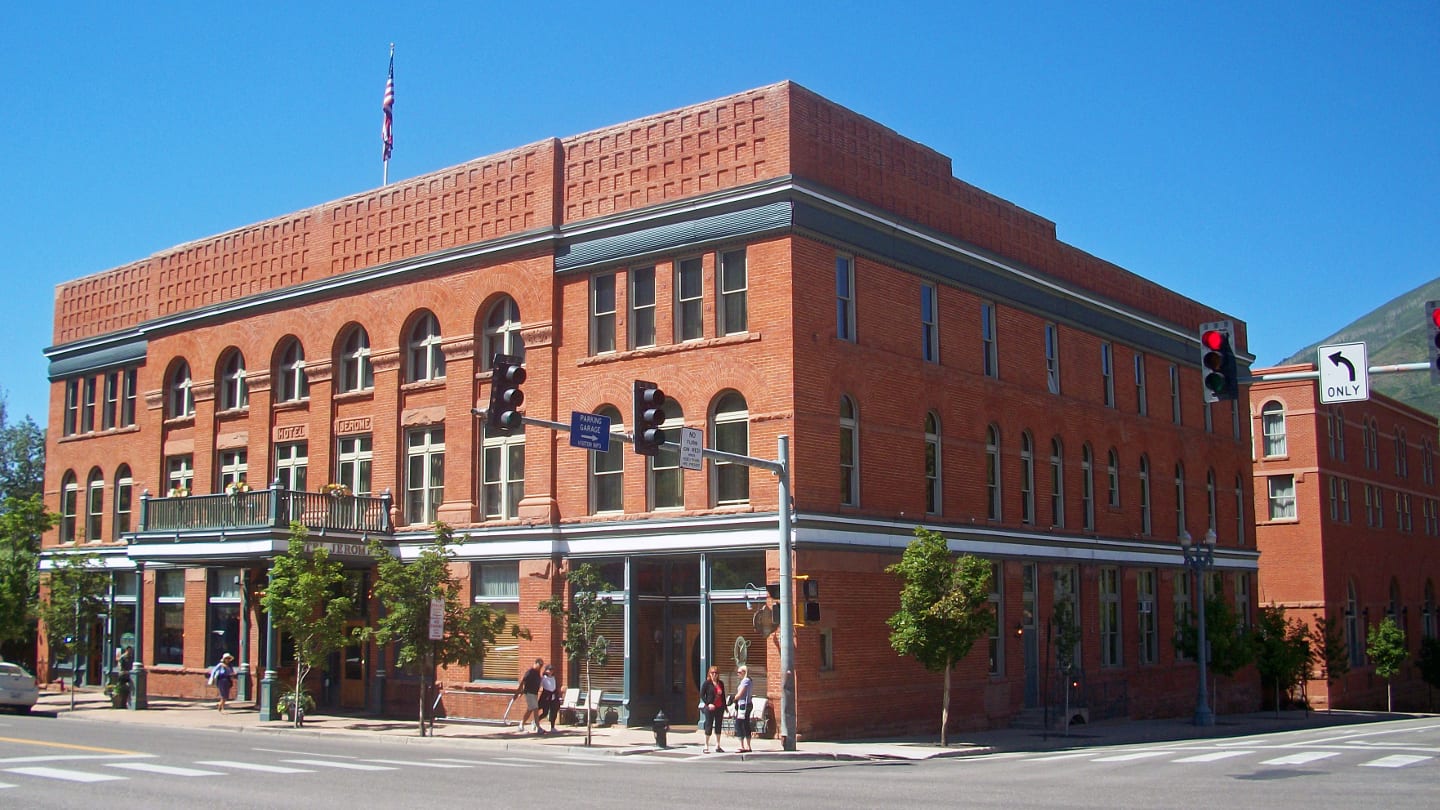 Located in the heart of the famous ski town, Hotel Jerome offers a luxurious dive back into Aspen's rich past. Its elegant design is on display everywhere, from its exterior to every detail inside the hotel. Since its founding in 1889, it has been an integral part of Aspen's prominent history.
Much of the hotel has been meticulously designed to provide guests with an experience true to how it was like back in the early times. Their renovated rooms look nearly as accurate as of the original. Guests have fast access to the great outdoors, including world-class skiing, whitewater rafting, and hiking.
Also worth noting, guests enjoy complimentary use of a luxury Mercedes-Benz. And they spend their 5th night free at the hotel. With its stunning social spaces, spectacular accommodations, upscale dining, amazing paintings, and historic artifacts, Hotel Jerome is a prime place to stay in Pitkin County.
1891 | Telluride's New Sheridan Hotel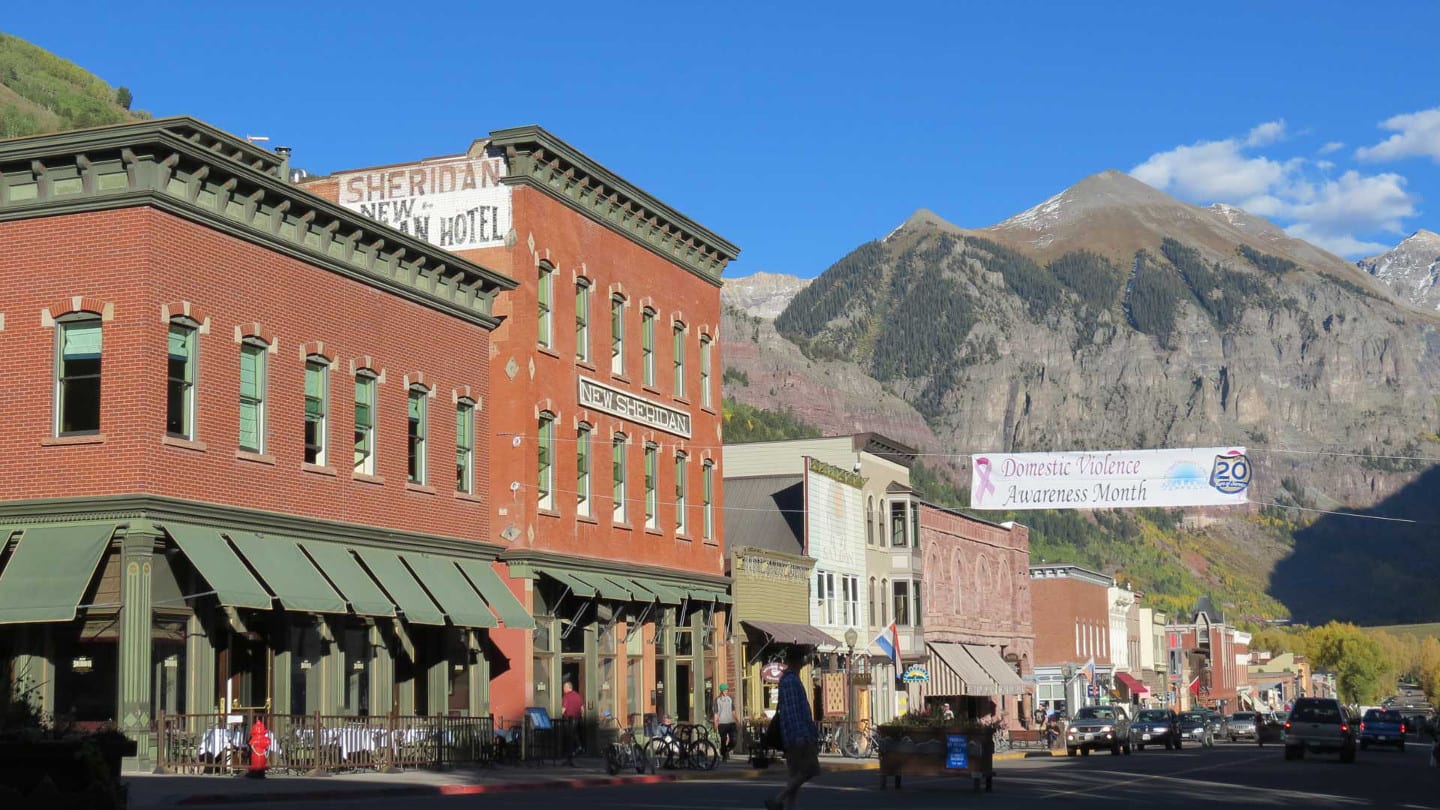 The New Sheridan Hotel is ideally located in the town of Telluride. It's only two blocks from the San Miguel River Trail, gondola, and next to the town's shops and restaurants. The hotel is nearly as old as Telluride itself, being established in 1891 when the town was only four years old.
They have 26 beautiful rooms with classic Victorian designs and are furnished with modern amenities. Guests can choose to dine at a selection of on-site restaurants and bars. The hotel even has one of Telluride's top restaurants, the Chop House.
The New Sheridan hotel boasts a lot of pluses: the location is convenient, the building is historic, the rooms are elegant and comfortable, the food is amazing and the service is excellent.
1891 | LODO's Oxford Hotel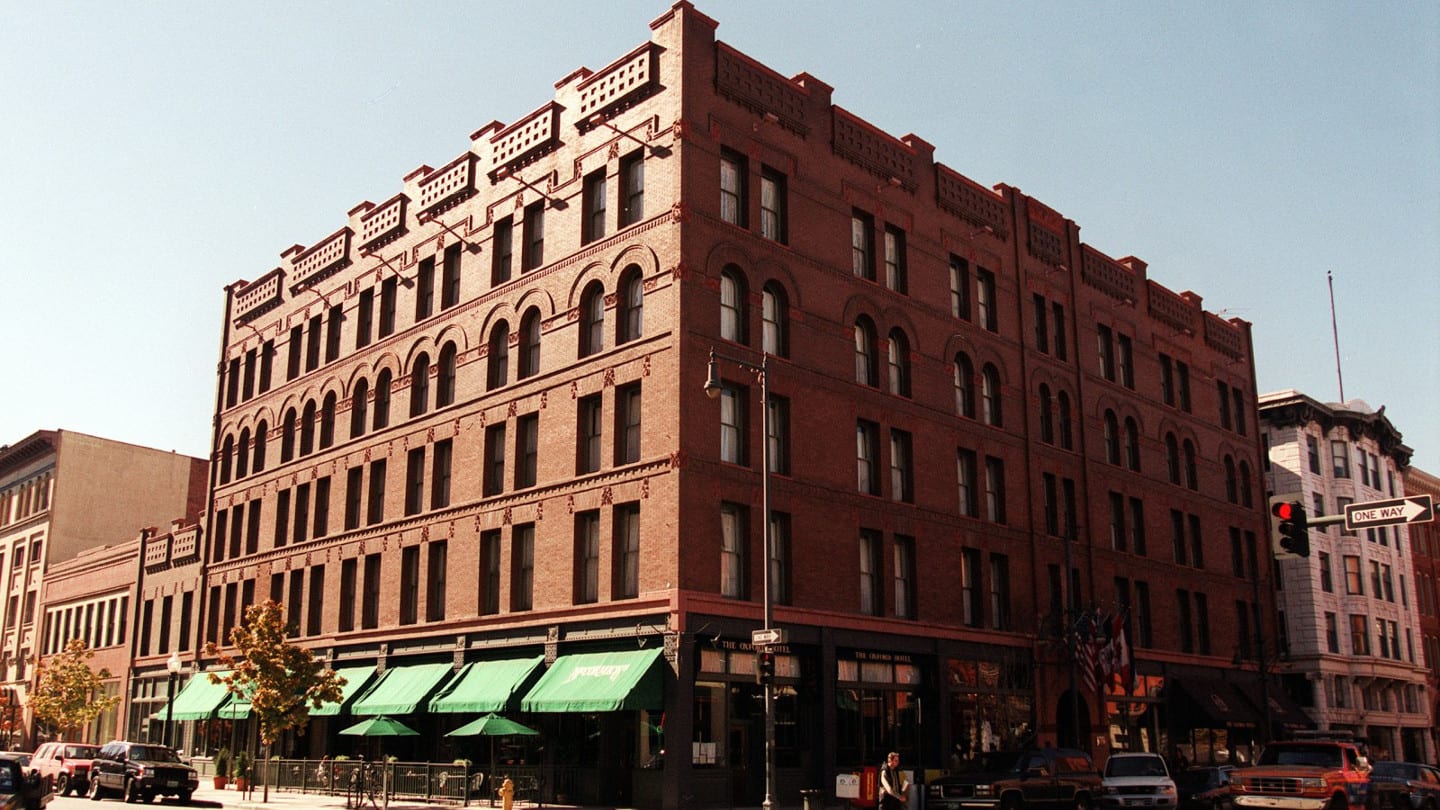 The Oxford Hotel was one of the very first hotels established in Denver's oldest and ever-so popular neighborhood, Lower Downtown (LoDo). Open in 1891, it has remained to be the only wood-burning fireplace in downtown Denver. Their rooms depict a rich history while still providing modern amenities.
The hotel is great for everyone, from the casual traveler to the businessmen, and even as a wedding destination. Business amenities include office spaces guests can use. They even have custom farm-to-table menus for private affairs.
The dining is an adventure as the hotel is only a few steps away from downtown's award-winning restaurants. It also boasts the Urban Farmer and The Cruise Room, which is the first bar that opened after prohibition. To top it off, they have courtesy transportation within a two-mile radius of the hotel.
1891 | Ouray's Historic Western Hotel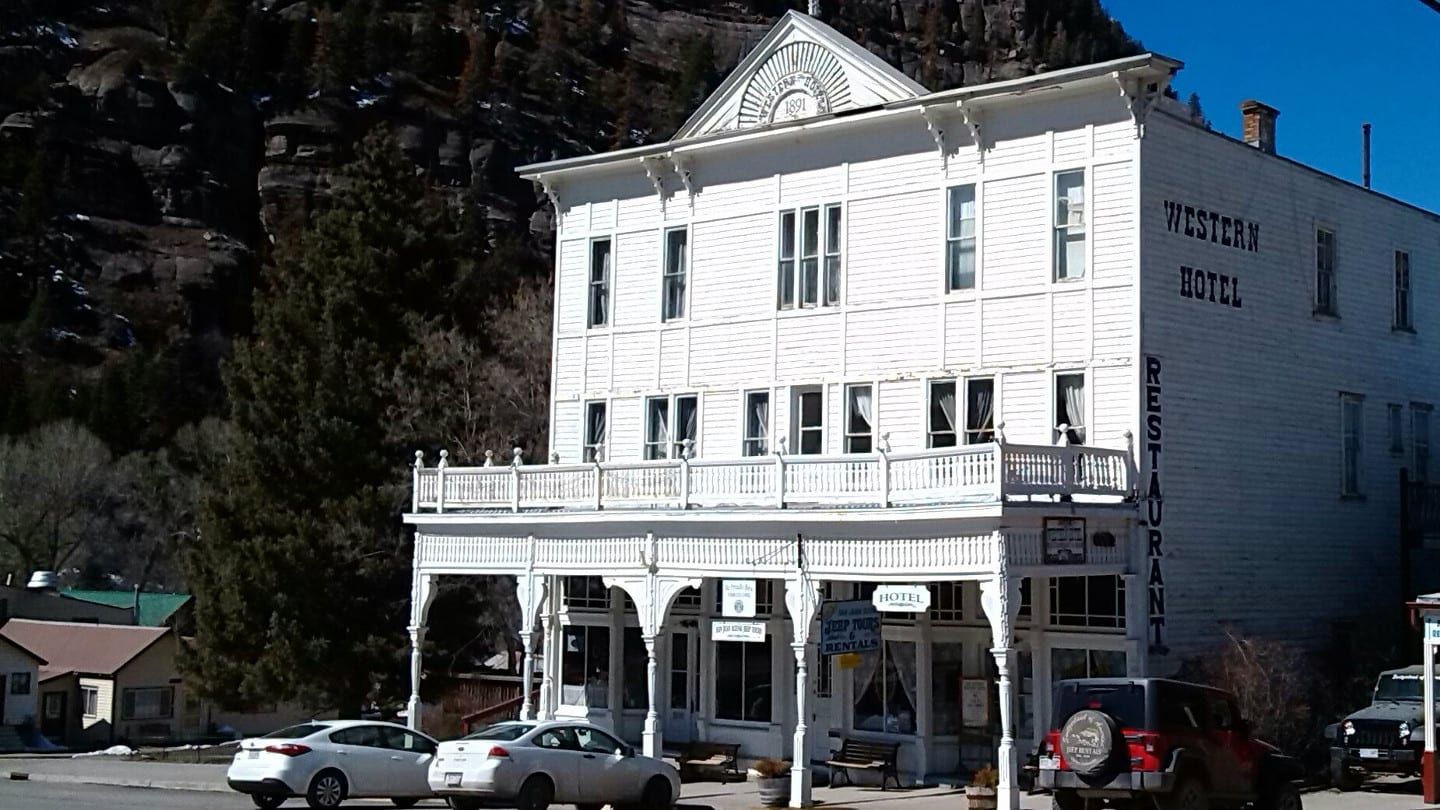 If you're looking for an authentic heritage experience in Ouray, Historic Western Hotel's got it in Victorian spades. It's a European-style boarding house, with twelve original rooms and two suites. The on-site Restaurant & Saloon with an open air deck serves western fare prepared by outstanding chef Rosemarie Pieper, who is also a chocolatier and owner/operator of the hotel, along with her husband Gregg Peiper.
The Honeymoon Suite is a walk back in time, with its antique decor, marble sinks, and stunning blue wallpaper, all of which are original furnishings. It has two double beds and a private bath. The other suite features a traditional clawfoot bathtub and one queen bed. Both suites overlook the second-floor veranda in this historic little Switzerland.
The historic boarding rooms are a classic style with shared baths between rooms. Telephone in the lobby, Wifi is available. The whole hotel and saloon can be rented for private events.
1892 | Denver's Brown Palace Hotel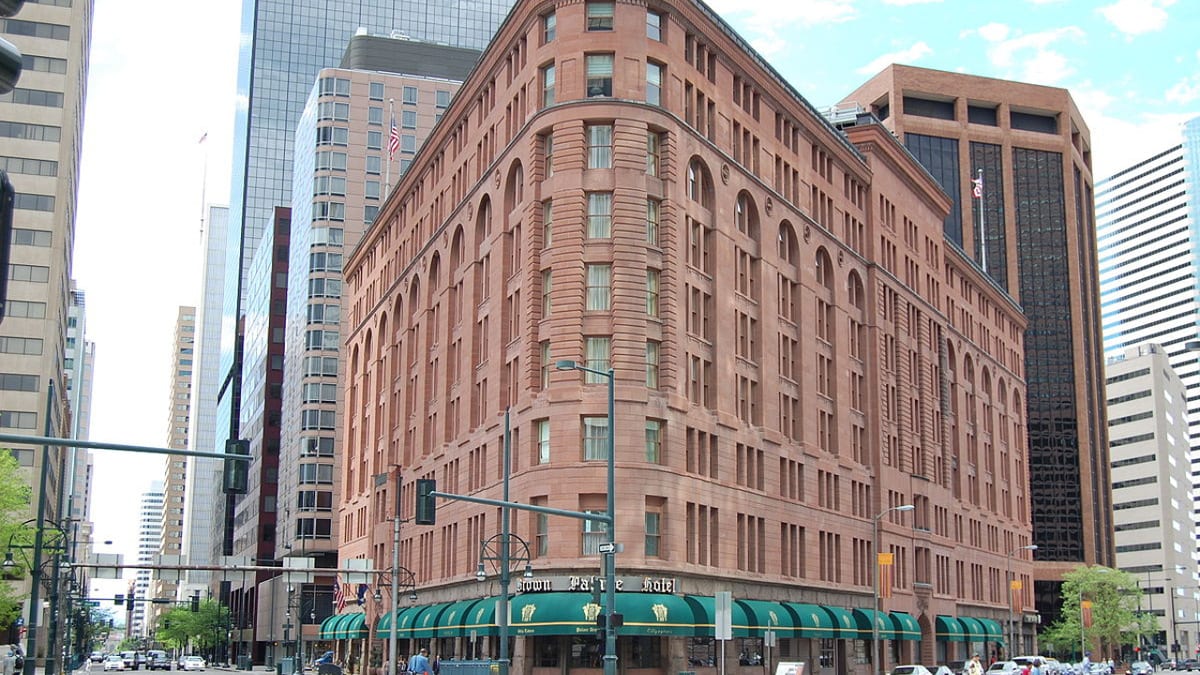 Welcoming guests since 1892, the Brown Palace is one of Denver's grandest hotels. It's classified as a Forbes 4-Star hotel and also a Forbes 4-Star spa. More than just a landmark, it has become a must-go-to-hotel experience attracting even Hollywood celebrities and iconic figures.
Nearly all of the US presidents, since Teddy Roosevelt first visited in 1905, stayed at the Brown Palace except for two: Calvin Coolidge and Barack Obama. The Brown Palace has even welcomed the Beatles!
There are 241 unique guest rooms and suites, 6 restaurants and bars, a spa, and nearly 20,000 square feet of meeting space. The establishment is pet-friendly and you can even take a guided tour of the hotel. It's great for anyone who wants a real slice of Denver history, along with a luxurious overnight stay in the heart of downtown.
1892 | Durango's Rochester Hotel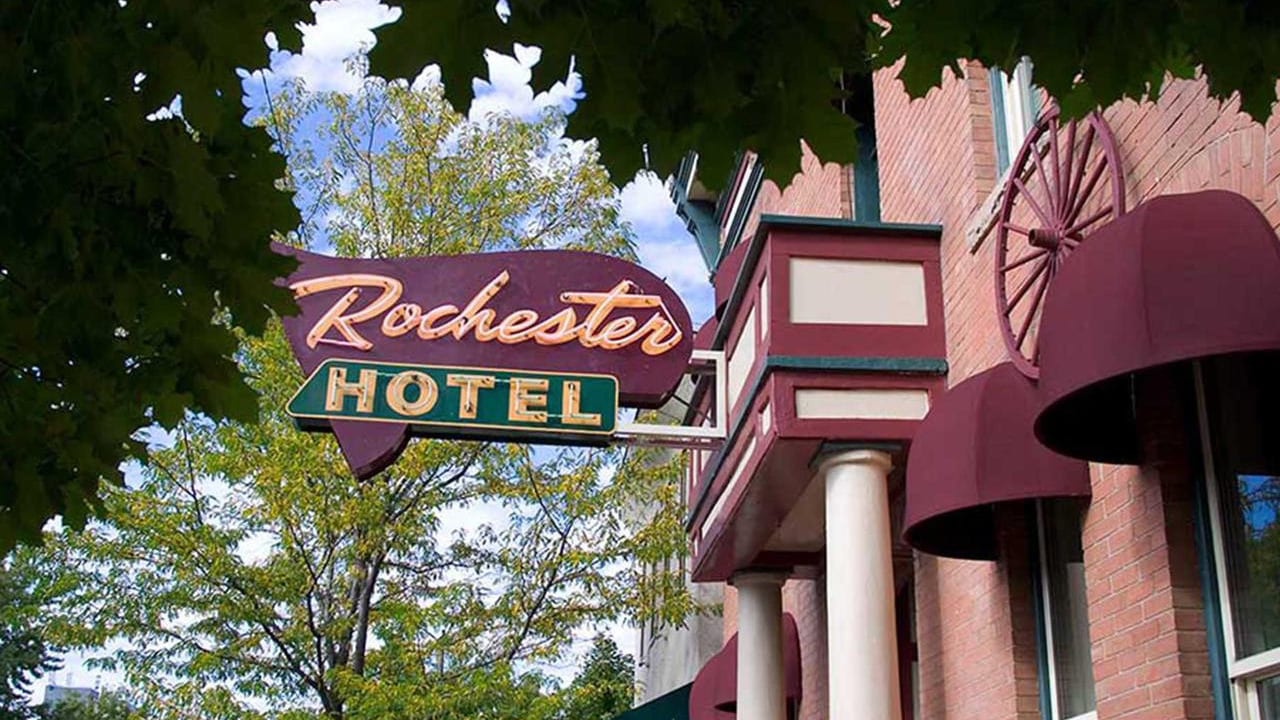 The Rochester Hotel is popular for its special room designs, each inspired by a movie filmed near Durango. Built in 1892, the Rochester Hotel is the second oldest hotel in town, 5 years younger than the Strater. Another fun feature is that guests have access to complimentary cruiser bikes to roll around the beautiful town.
They have 15 luxurious rooms showcasing Durango's colorful past with original antiques, woodwork, and old movie posters bringing back past to the present. They also have a co-working space so even if you're in town for business, the Rochester can help maximize your creativity and productivity. It provides guests with great, memorable accommodation for anyone staying in charming Durango.
1893 | Silverton's Grand Imperial Hotel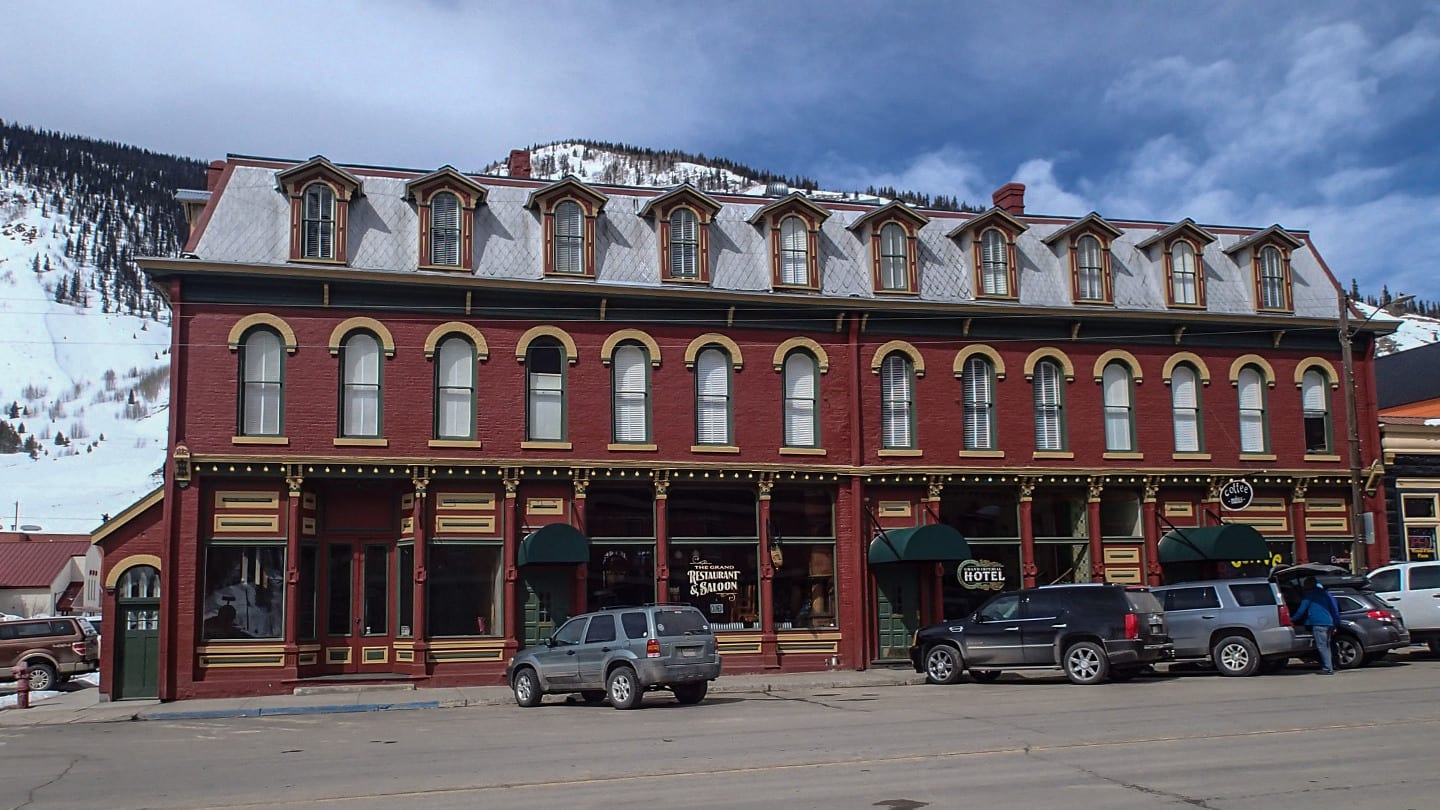 The Grand Imperial Hotel provides an authentic Victorian experience, boasting its original granite structure since its completion in 1893. The establishment was the social center of the San Juans during the olden times, housing the town's post office, bank, bureau of mines, doctors office, and general store on its first floor.
Its entire second floor used to be the base operations for the town of Silverton and San Juan County for 25 years. Now, it gives the guests an immersion in the bygone era with its 32 classic guest rooms. With so many things to do in Silverton, the Grand Imperial Hotel is an ideal home away from home. It gives guests modern comfort and a feel of the past, as well as easy access to San Juan Mountain adventures.
Dining at the hotel includes the Grand Restaurant and Saloon, which boasts live entertainment daily at lunch. What's more, guests get to step inside what was once the largest single-standing structure south of Denver and the "Crown Jewel of Silverton", the Grand Imperial Hotel.
1893 | Glenwood's Hotel Colorado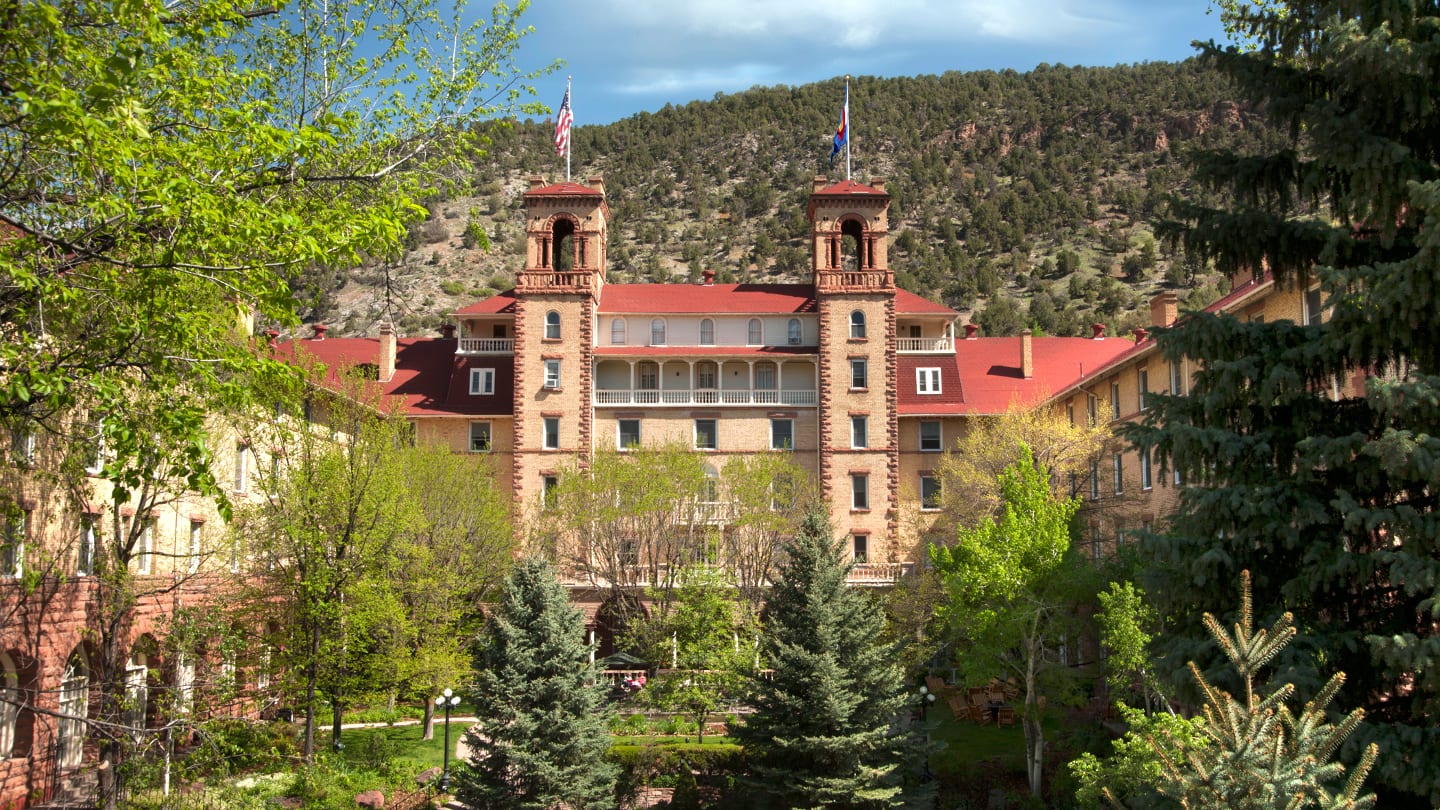 The legendary Hotel Colorado started its operations in 1893 and has long been hailed as the "Grand Dame of the Rockies". It has a vibrant past welcoming elite of society, movie stars, notorious gangsters and even a few US presidents. Among the most notable visits came from 'the unsinkable Molly Brown and President Theodore Roosevelt.
The walls of the hotel are a history lesson lined with vintage photographs and descriptions. There are over 17 unique guest rooms with the flavor of 19th-century Italy. Their signature suites include the Roosevelt Suite and Molly Brown Suite, rooms in which the famous guests stayed. There are four delectable dining choices on-site.
Located at Hotel Colorado, Canyon Bikes offers rentals and shuttle service to anyone wishing to bike the 16-mile, paved Glenwood Canyon Recreation Trail. Blue Sky Adventures is also on-site providing legendary whitewater rafting adventures.
The hotel has a lot of packages to choose from to experience the best of Glenwood Springs. Area activities include three hot springs resorts: Glenwood, Iron Mountain, and Yampah Vapor Caves, downtown skiing at Sunlight or Aspen, and endless ways to relax.
1893 | Ouray's Hotel Ouray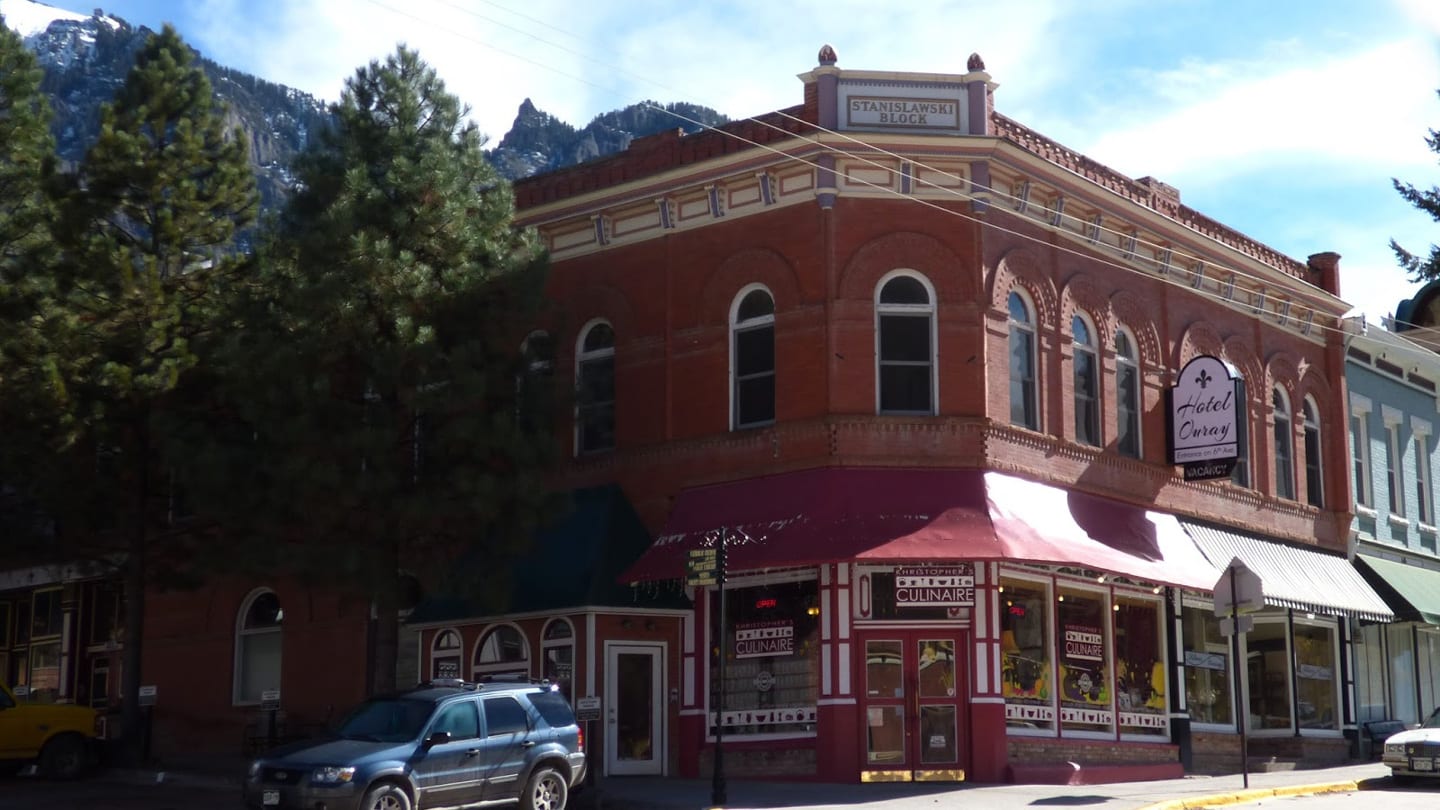 Built in 1893, the Hotel Ouray is a family-run lodge formerly known as the Ouray Hotel. While modern amenities such as air conditioning and wireless internet are provided, the hotel doesn't have an elevator to preserve the integrity of the 124-year-old building. The staff can assist guests should they find any difficulty with the 22-step stairway to the second floor.
Hotel Ouray has 14 attractive rooms, which are all immaculate and reminiscent of the hotel's past, with select rooms having superb views. Guests also have the option to rent the entire hotel for events such as weddings, family reunions, etc. They accommodate children 10 years and above, and no pets.
1896 | Meeker's Meeker Hotel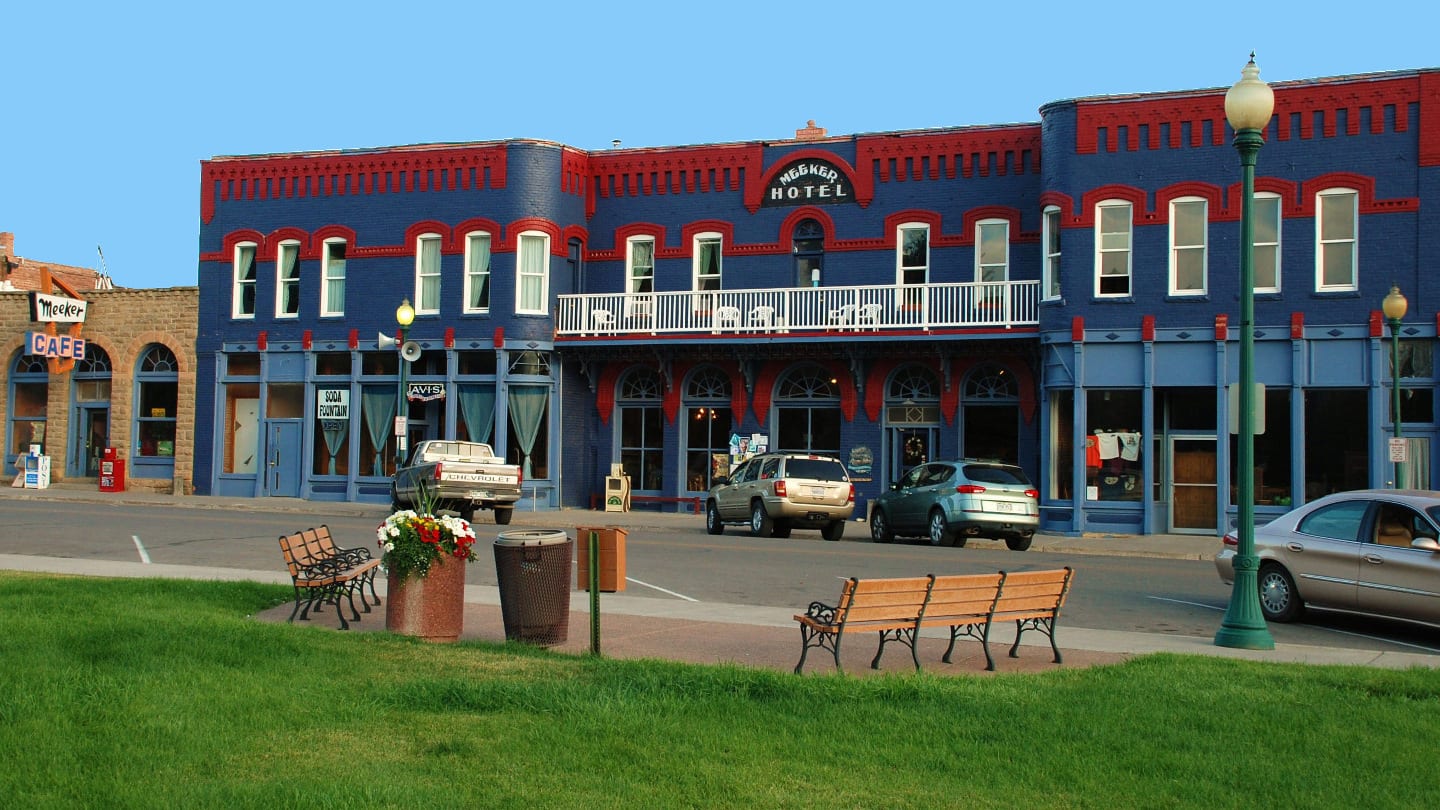 The Meeker Hotel is unique amongst historic Colorado hotels with its massive collection of mule deer and elk trophies, which have long graced its lobby for over a hundred years. It's conveniently located in historic Meeker, just three blocks from the White River, Meeker Museum, and nearby shops.
The interior design is stunning and its fourteen unique rooms are a perfect blend of modern amenities and classic design. The establishment has a cafe where guests can enjoy fantastic food. Walls are adorned with biographies and mounted with trophies. Everything about the hotel helps make it a wonderful place to stay.
1896 | Silverton's Teller House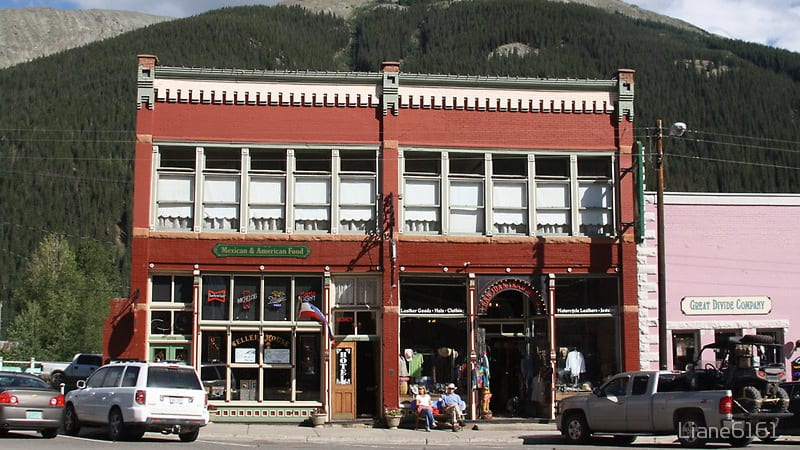 Originally built in 1896 by local brewery owner Charles Fischer, the Teller House was fully restored to its original flair in 1997. It was named after Henry Moore Teller, a politician from Colorado.
There are several Victorian rooms on-site, all with high ceilings and era furnishings. Some offer shared baths, others have private baths. It's a charming, boutique hotel with clean, classic rooms with a contemporary touch.
1897 | South Park Hotel / Como Eating House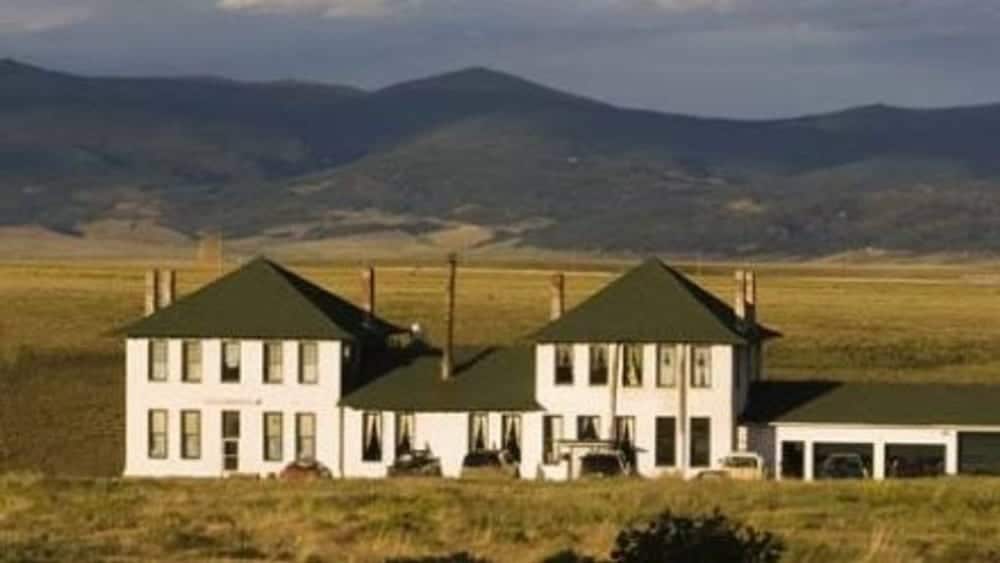 Hidden away in the Park County basin, about fifteen minutes east of Fairplay, lies the South Park Hotel, aka Como Eating House. It used to be a rooming house and hotel for railroad passengers. The railroad came right in front of the establishment and the Depot is next door, which is now a museum.
The Denver Leadville and Gunnison Railroad built the hotel in 1897, one of only two buildings they built in Como. It ran a train through Como until April 1937. The Depot next door has been restored to the museum. Rooms at the South Park Hotel are rented through Airbnb.
1898 | Durango's General Palmer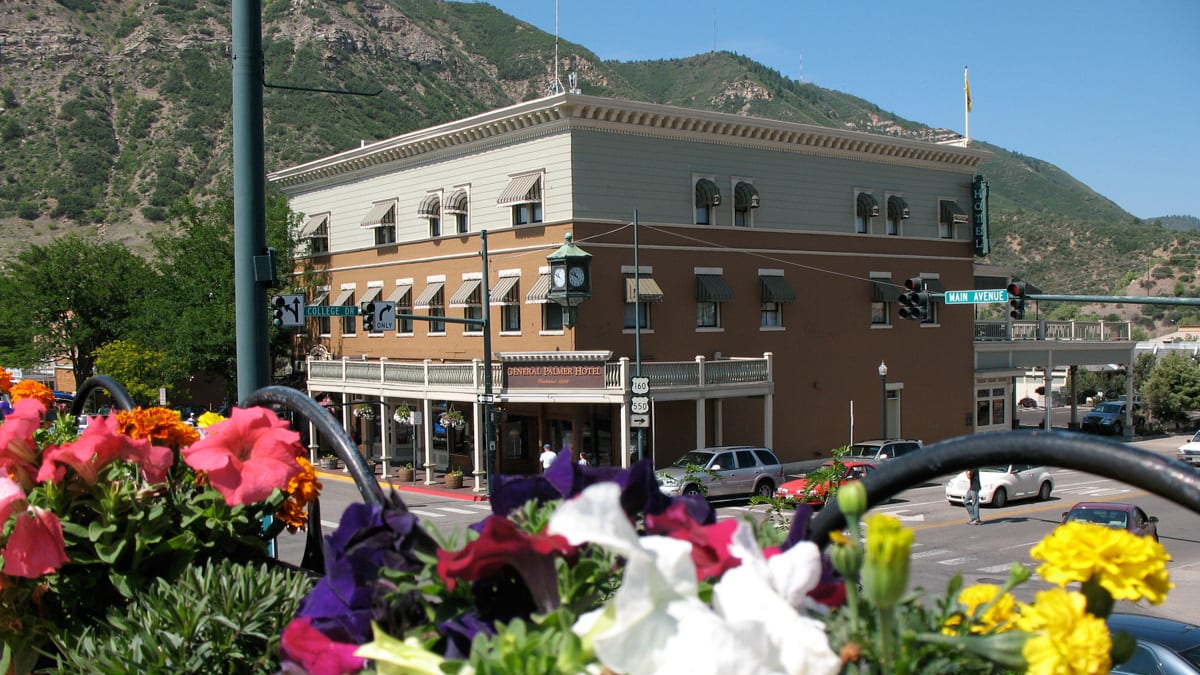 Since 1976, The General Palmer has been a AAA Four Diamond hotel, the only historical one in Southwest Colorado. It's named after its founder, General William Jackson Palmer. Although built in 1898, the establishment still has its Victorian ambiance, with decor spread throughout 39 luxurious rooms and the interior.
Rooms range from elegant queen rooms to Family Palaces and Presidential King Suites. Being situated in the heart of downtown Durango, guests have easy access to countless attractions, including the famous narrow gauge railroad and the Animas River, all within walking distance. It's the premiere Victorian lodge in the southwest.
1899 | Victor's Victor Hotel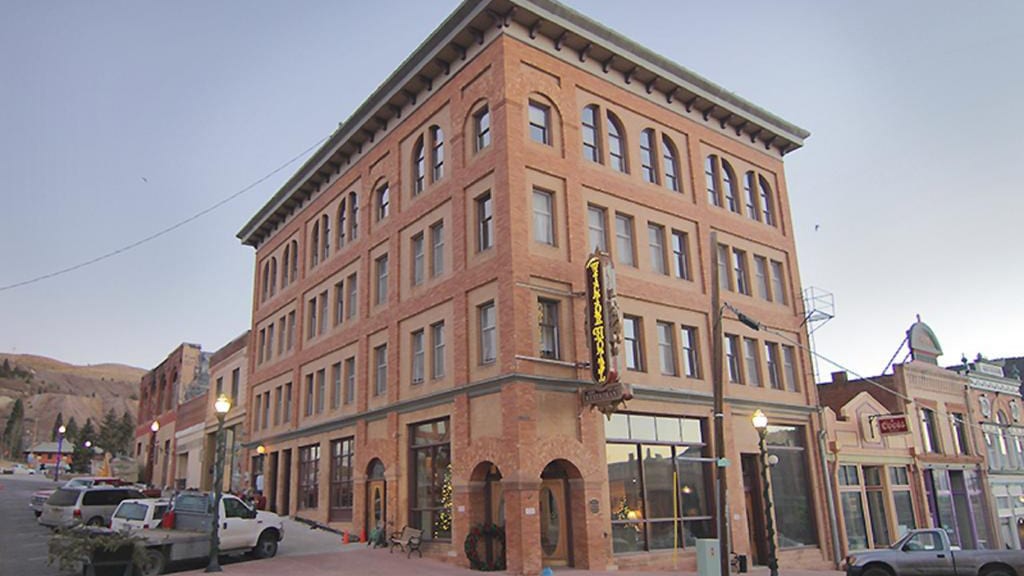 Since the Victor Hotel opened its doors in 1899 it has provided guests with wonderful accommodation and hospitality. There are 20 elegant rooms, each with a touch of the olden time, as well as modern amenities for comfort.
They are listed on the National Register of Historic Places and even have a resident ghost named "Eddie". He usually hangs out by the hallways, the elevator, and Room 301.
Vintage paintings hang on walls offering a glimpse of Victor's past. Individuals, couples, groups, and families will love the hotel. The establishment can host small to large events with their meeting and conference rooms.
1907 | Walsenburg's La Plaza Inn (temporarily closed)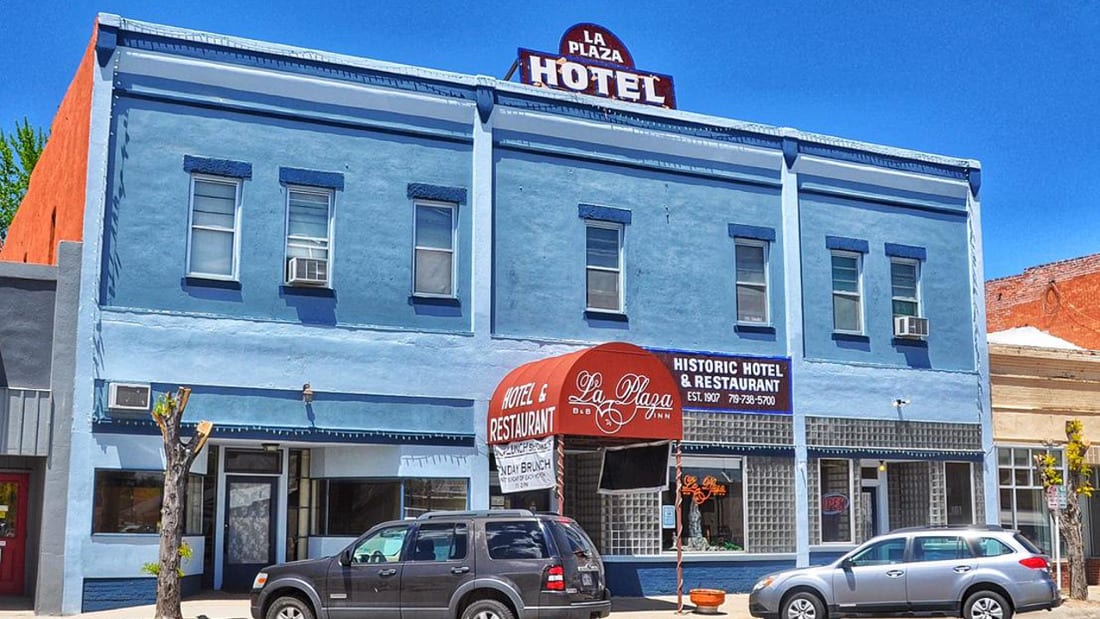 Built in 1907, the La Plaza Inn provides guests with the matching accommodation for historic Walsenburg. There are 11 individual rooms each equipped with private baths and high-speed internet. Expect a charming feel of the bygone era and friendly quality service. Dining is available at the on-site service bar and restaurant.
There's so much to do in often-overlooked Southern Colorado. Area attractions include the Museum of Friends, Walsenburg Wild Waters, Lathrop State Park (the oldest one in Colorado), golfing, and the Highway of Legends. Being located in the heart of downtown Walsenburg, the La Plaza Inn is within walking distance from area stores, shops, and attractions.
1909 | Estes Park's Stanley Hotel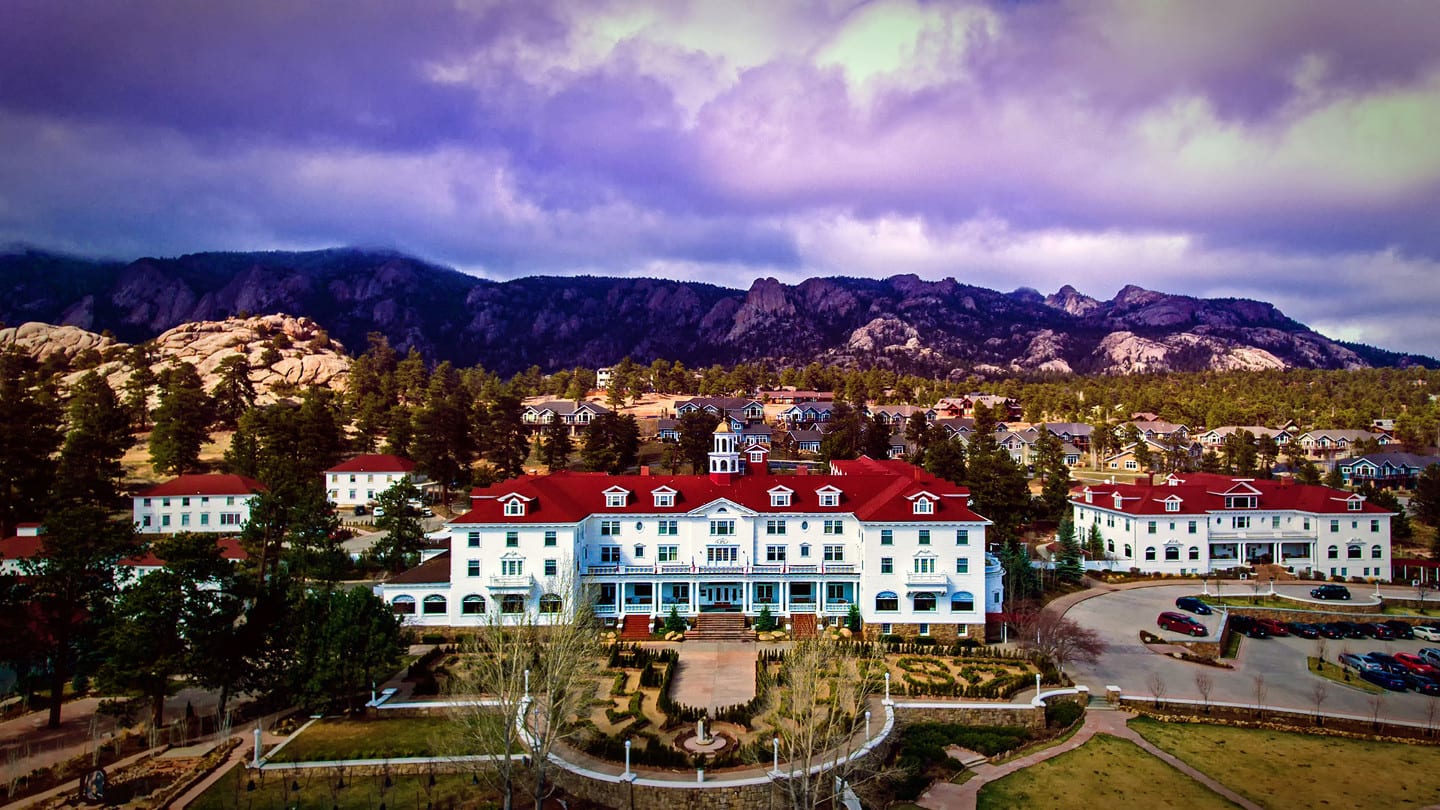 You're granted a wonderful overlooking view of Rocky Mountain National Park while staying at the famous Stanley Hotel. Opened in 1909, it has welcomed famous figures like Stephen King, who of which mostly attributed to the hotel's recent fame since The Shining in 1980.
Each room has a classic design. One of their unique highlights is that their rooms make no use of air conditioning. Instead, they are naturally cooled by the Estes Park mountain breeze. Another interesting tidbit is that the hotel has spirited rooms with high paranormal activity.
It's definitely a bucket list hotel for ghost hunters. Apart from the original hotel rooms, guests can stay in the Lodge, Aspire, and Residences, separate accommodations on the property.
1909 | Boulder's Hotel Boulderado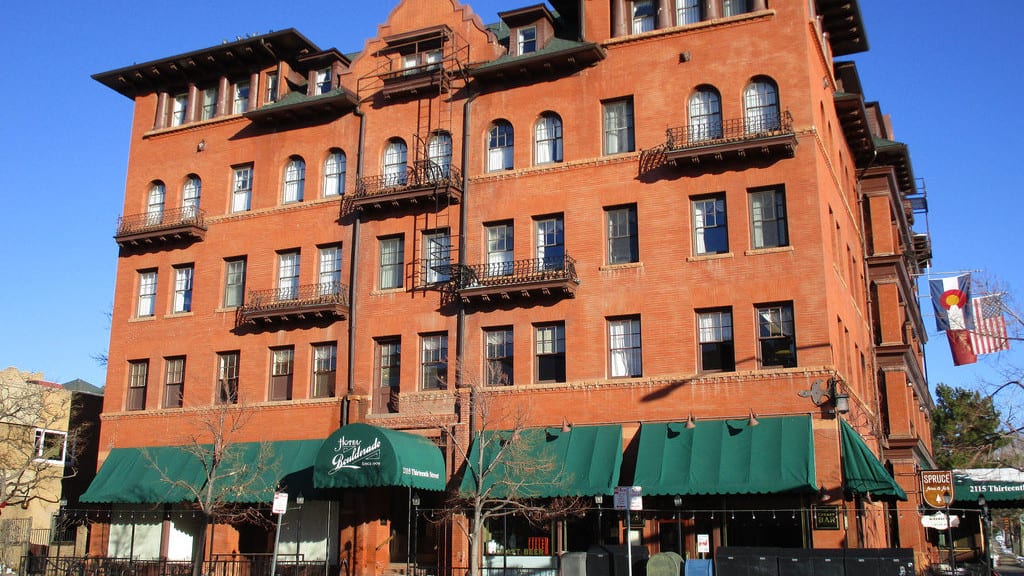 Hotel Boulderado blends classic Victorian times with modern mountain comfort. Choose from 160 hotel rooms, decorated in either one of two distinct styles, classic Victorian or modern mountain. Established in 1909, the hotel is rich in history. It has gone from being a late Victorian luxury to a fall in the depression to modernization to deterioration, all the way to its restoration.
The hotel provides upscale lodging in the middle of the Boulder bubble. They are capable of hosting weddings, meetings, and other events with their 10,00 square feet of dynamic space. Eating is a wonderful experience on-site. Choose to dine at Spruce Farm & Fish, the Corner Bar, or License No. 1, a 1920s-style speakeasy, where vintage liquors are served.
Minutes away from the establishment lies the Pearl Street Mall, Boulder History Museum, Chautauqua Park, Boulder Dushanbe Teahouse, Boulder Creek Path, and Boulder Theater. Regardless of wherever you want to go in Boulder County, you can do so with ease from Hotel Boulderado. And enjoy it all with luxurious comfort and regal service.
1915 | Glenwood's The Hotel Denver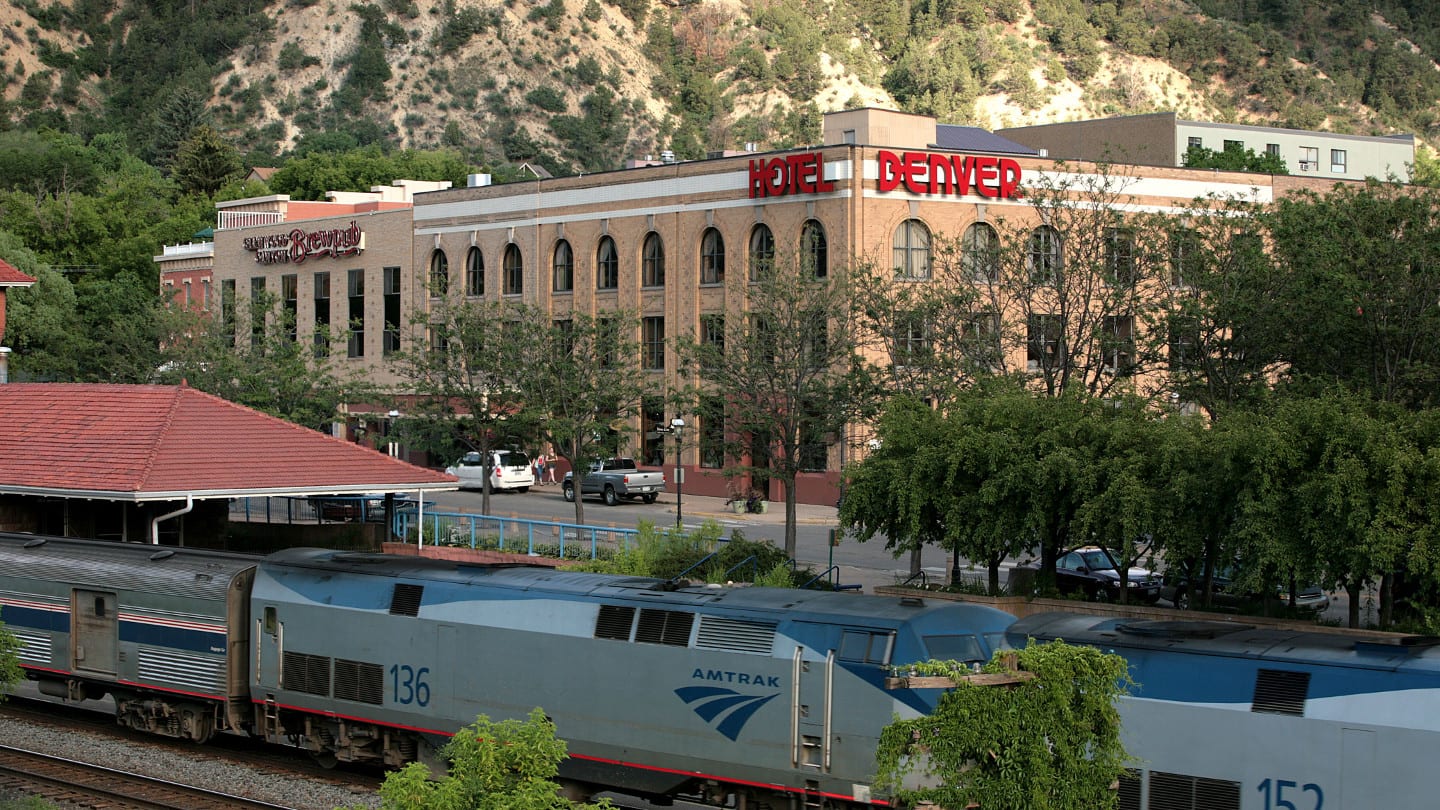 The Hotel Denver separates itself from the rest by offering accommodations reminiscent of the 1920s. Since 1915 when it first opened its doors, it has been an important part of Glenwood Spring's colorful storyline.
There are so many things to do around Glenwood Springs and the Hotel Denver makes it easy to plan them all. They are happy to assist in creating the perfect package well-suited for each guest. With a splendid selection of unique hotel rooms and easy walking distance to all the amazing restaurants, shops, and attractions, it's an awesome choice for your next hot springs vacation.
Absorb the history of Colorado with the hotel's antiques, decor, and majestic appearance. It's also pet-friendly, so you can bring along your buddy to this one. Hotel Denver boasts an old-world touch matched with modern amenities, along with western hospitality.
1918 | Colorado Springs' Broadmoor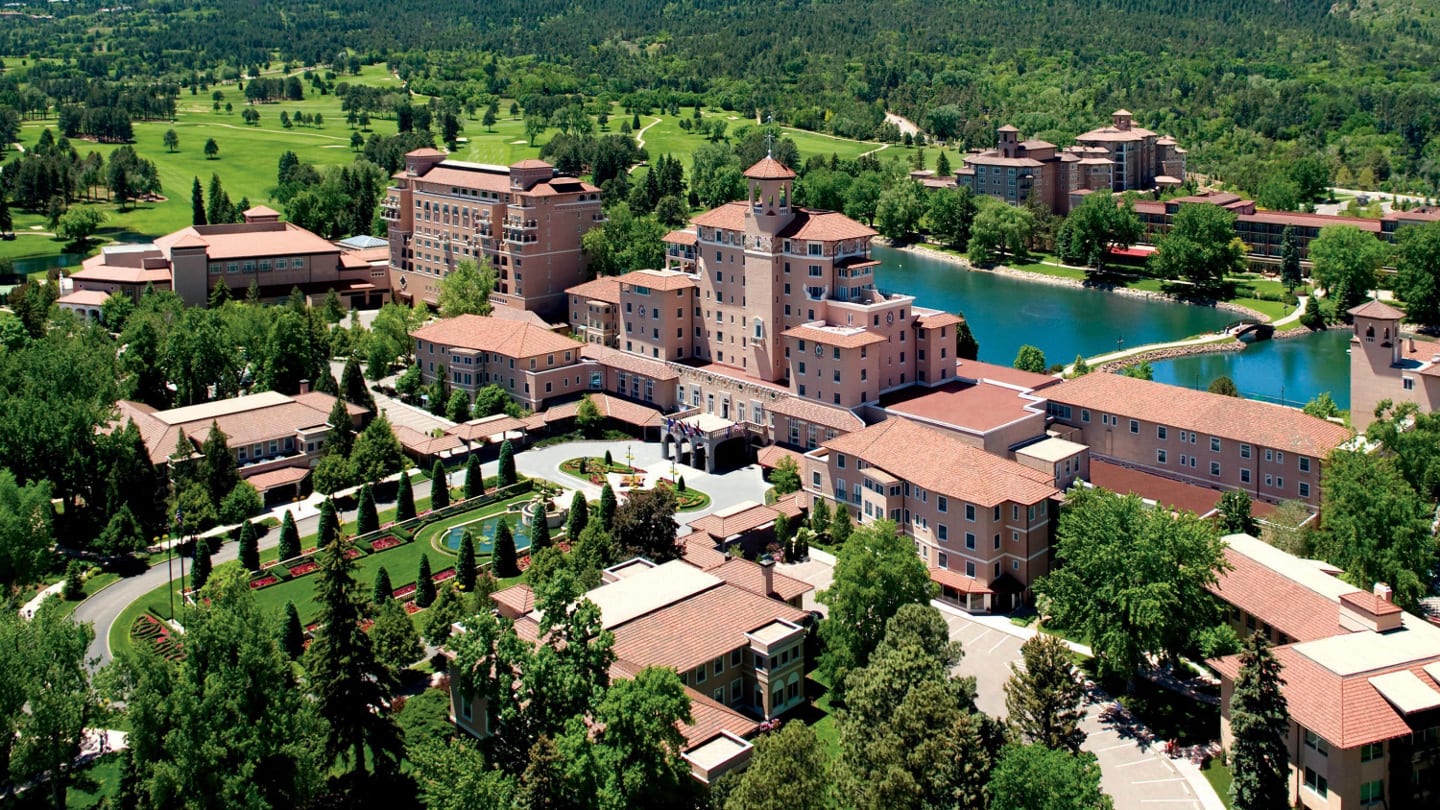 The Broadmoor is a Forbes Five-Star and AAA Five-Diamond resort with extraordinary rooms, service and amenities. The hotel is prime for those who seek luxury, history, adventure, and charm. It has been around since 1918 and is the longest-running consecutive winner of both the Forbes Five-Star and AAA Five-Diamond awards.
There are a whopping 784 lodging units at the resort, all tucked away in Colorado Springs. Each has been around for a hundred years and still offers true elegance and quality service. Area activities include horseback riding, golf and fishing. Even dining is exciting as guests have a variety of top-notch places to choose from. For individuals or families wanting the complete resort package, the Broadmoor fits the bill perfectly.
1923 | Fort Collins' Armstrong Hotel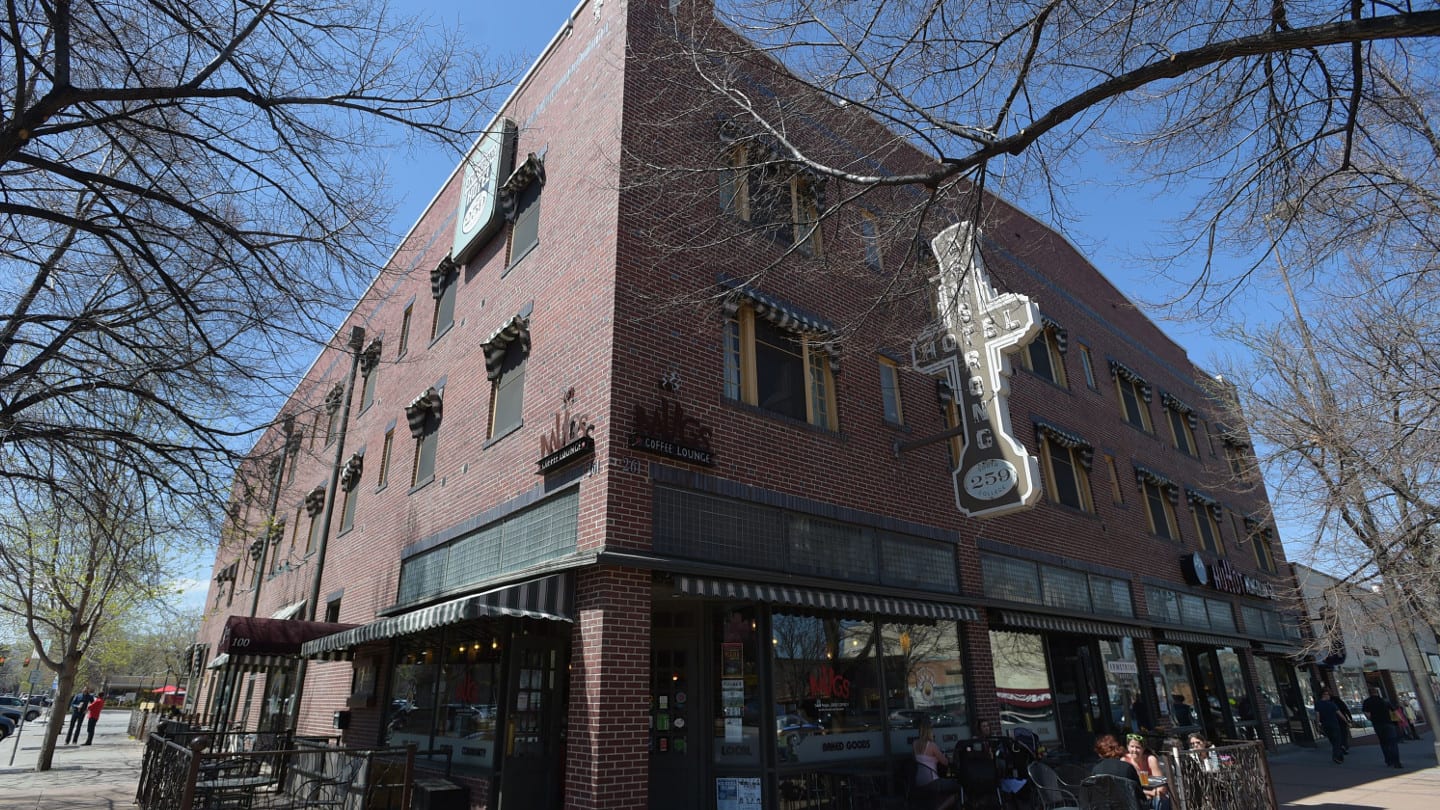 Established in 1923, the Armstrong Hotel is a perfect blend of historic and modern Fort Collins. It's located in the heart of town, making it an ideal place for both overnight lodging and private events. There are a lot of nearby attractions and on-site amenities offered at the hotel.
There are 45 individually decorated rooms that have either a vintage or modern theme. Choose to stay in a room that has an elegant timeless style or one with a modern urban vibe. They have full rooms, queen rooms, king rooms, double queen rooms, studio queen rooms, king suites, deluxe queen rooms, deluxe king rooms, and studio king suites – signature style.
The Armstrong can appeal to everyone's taste with their dual rooms and great Fort Collins location.
Just along the street is the Mugs Coffee Lounge, perfect for breakfast and lunch. A coffee shop is also a good place if guests want to work. The Choice City Butcher is an amazing place for breakfast, lunch, and dinner. If guests want to have some fun, just underground is Ace Gillett's, a subterranean lounge that features cocktails and live music with a cool olden-time feel.
1926 | South Fork's The Spruce Lodge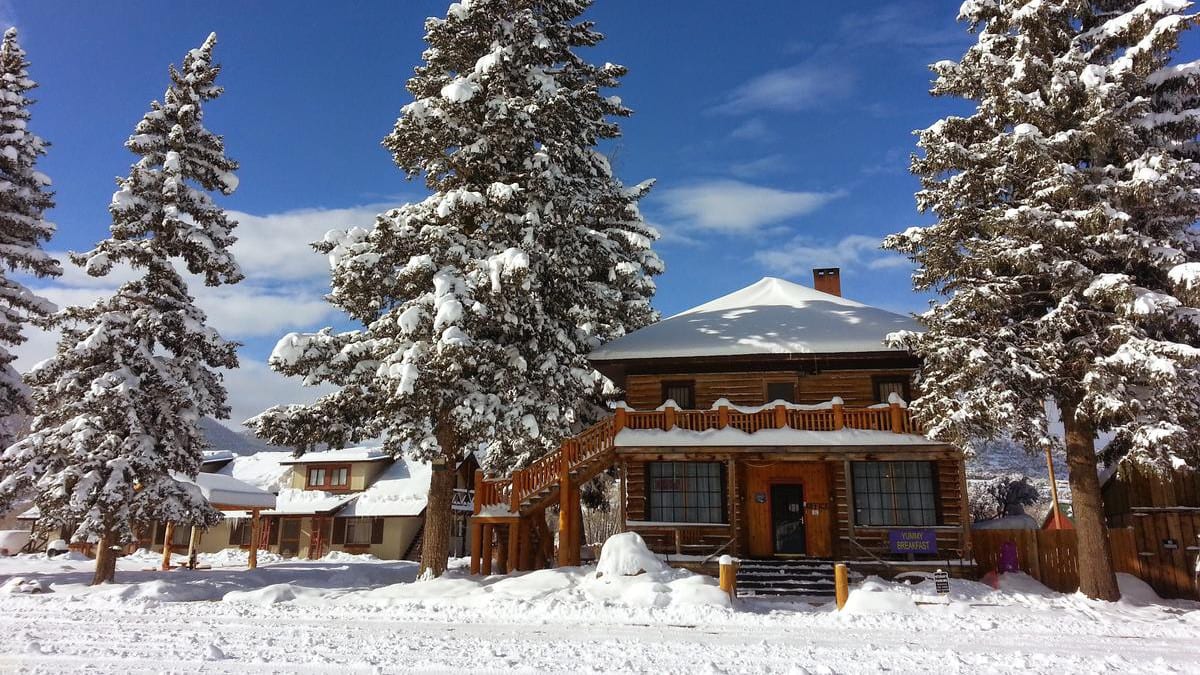 The Spruce Lodge is a solid choice if you're wanting to shred the world-class powder at the Wolf Creek Ski Area, visit the Silver Thread Scenic Byway, or tackle Southwest Colorado in another way. It's a historic ski lodge that features a number of uniquely decorated rooms and suites.
Originally, the building was constructed in 1926 as lodging for South Fork's sawmill workers. Now, the Spruce Lodge offers a unique look to the past with its specially styled rooms, vintage furnishing, and overall design. Select rooms are pet friendly with no nightly pet fee.
They have modern amenities and an award-winning restaurant on-site. Enjoy a quick complimentary continental breakfast six days a week starting at 4 am. The Spruce Lodge is a convenient place to stay in South Fork, right by the Rio Grande River and at the foot of the San Juan Mountains.
1948 | Steamboat's Bristol Hotel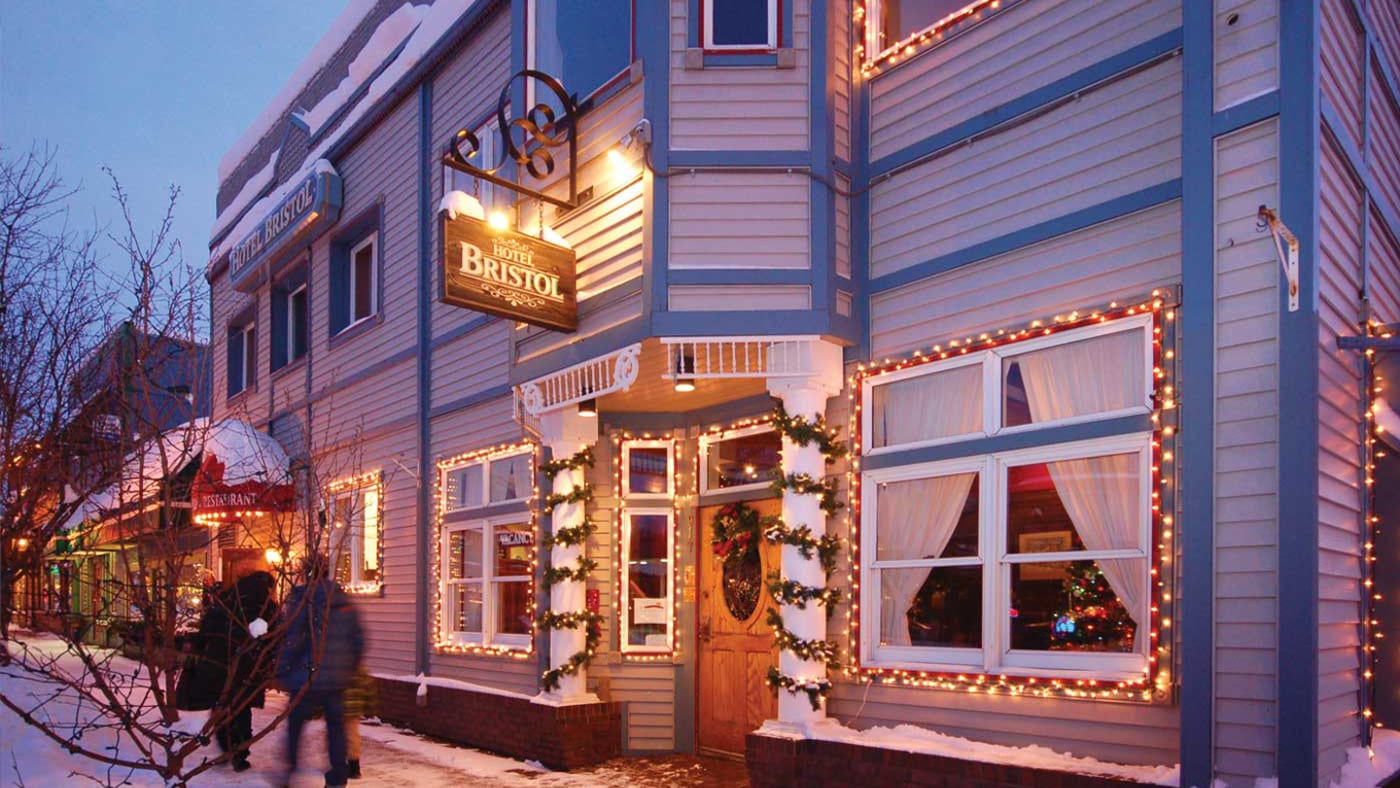 Established in 1948, The Bristol Hotel retains much of its old western character giving guests an idea of how the Old West was. It connects guests to the myriad of attractions found in Steamboat Springs, within walking distance or a short drive to nearly everything.
Their rooms are fitted with antiques and decorations that depict the olden days. They also employ modern amenities such as WiFi, cable TV, and hair dryers. There is an on-site restaurant and saloon, which serves up delicious, filling meals. Regardless of what guests came to the 'Boat for, Hotel Bristol makes a better home away from home.
Thanks for checking out the oldest historic hotels in Colorado! We may have missed one or a few, if so, please contact us and we'll get it added to the list. You can browse a slew of hotels in Colorado to find the perfect accommodation for your next trip.